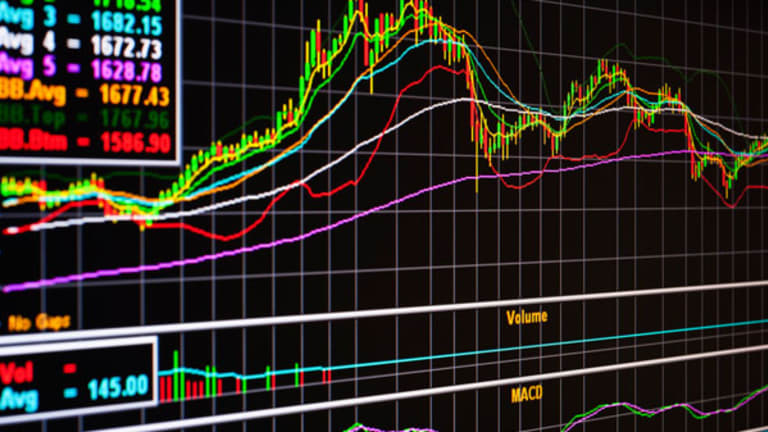 5 Toxic Stocks That Are Poisoning Your Portfolio
Here's a look at five toxic names you need to avoid.
BALTIMORE (
) -- While the broad market inches higher this week, a handful of names are strapping on cement shoes. Approximately 150 stocks made new six-month lows in yesterday's session, dropping over a period when the
S&P 500
has rallied close to 10%. That's underperformance that investors should be paying attention to in March.
Those stocks aren't just laggards. They're toxic.
>>5 Stocks Set to Soar on Bullish Earnings
That's because many poorly performing names aren't seeing an end to their stumbles from here. In fact, many are looking ready to make a new leg lower this month. Today, we'll take a closer look at five toxic names you need to avoid.
To be fair, the companies I'm talking about today aren't exactly "junk."
I mean, they're not next up in line at bankruptcy court. But that's frankly irrelevant; from a technical analysis standpoint, they're some of the worst positioned names out there right now. For that reason, fundamental investors need to decide how long they're willing to take the pain if they want to hold onto these firms this Fall. And for investors looking to buy one of these positions, it makes sense to wait for more favorable technical conditions (and a lower share price) before piling in.
>>5 Stocks Poised for Breakouts
For the unfamiliar,
is a way for investors to quantify qualitative factors, such as investor psychology, based on a stock's price action and trends. Once the domain of cloistered trading teams on Wall Street, technicals can help top traders make consistently profitable trades and can aid fundamental investors in better planning their stock execution.
So, without further ado, let's take a look at
you should be unloading in 2013.
>>5 Rocket Stocks Worth Buying This Week
Foot Locker
Up first is shoe and apparel retailer
Foot Locker
(FL) - Get Report
. Foot Locker has actually managed to more or less keep pace with the S&P this year, turning out gains of 7% since the first trading session of 2013. But it's the trading setup in shares that gives this stock its toxic status.
Right now, Foot Locker is forming a bearish descending triangle pattern, a price setup that's formed by a downtrending resistance level above shares and horizontal support below them. Essentially, as FL bounces in between those two technically significant price levels, it's getting squeezed closer and closer to a breakdown below that support level at $31.50. When that happens, we've got a sell signal for shares.
It's worth noting that FL's sell signal is conditional. Toxic though this stock may be, if buyers can take control of FL, it could avoid generating a sell signal. That said,
, measured by 14-day RSI, is on the side of sellers. The momentum gauge has been in a downtrend since August. Since momentum is a leading indicator of price, that doesn't bode very well for FL.
Universal Stainless & Alloy Products
We're seeing the exact same setup in shares of
Universal Stainless & Alloy Products
(USAP) - Get Report
, a small-cap metals firm. Like Foot Locker, USAP is being boxed in by a downtrending resistance level above shares and a horizontal support level to the downside. A breakdown below support -- currently at $32 -- is the sell signal for this stock.
Support has been "rough" in that shares have flirted with breaks of $32 several times in the last year without actually triggering the sell. That said, we've get to see an actual close below that price. That means that a close below $32 is the signal to unload shares.
With any technical pattern, it's critical to think in terms of buyers and sellers -- not just shapes. After all, triangles, head and shoulders patterns, and the like, are a good way of describing what's happening on a chart, but they're not the reason why it's tradable. Instead, that all comes down to the supply and demand caused by those buyers and sellers.
The horizontal support level at $32 is a place where a glut of buyers has been willing to step in and put a floor in the stock. A breakdown would mean that increasingly eager sellers have absorbed all of the excess demand of shares sitting at that level -- and without that floor in place, shares could fall much further than that.
Heico
Aircraft part maker
Heico
(HEI) - Get Report
is another name that's looking toxic right now. This $2.3 billion firm has been rallying hard in the last couple of quarters, climbing more than 23% higher in the last six months. But a bearish setup that triggered last week points to additional downside in this stock.
HEI triggered a sell on a head and shoulders top, a price pattern that indicates exhaustion among buyers. The head and shoulders is formed by two swing highs that top out around the same level (the shoulders), separated by a bigger peak called the head. The sell signal comes on the breakdown below the pattern's "neckline" level at $45. That level got tripped already -- and shares have been falling ever since.
There are a couple of saving graces for HEI. The first is that the head and shoulders pattern that spurred the selling in this stock is shallow, which gives it smaller trading implications. Another is the fact that HEI has a few decent support levels between current prices and the high $30 range. Those should arrest selling in shares sooner rather than later, but buyers would be well advised to wait for shares to actually catch a bid at support before trying to grab a bargain in this stock. Support may be nearby, but we're not there yet.
Tenneco
Tenneco
(TEN) - Get Report
is another stock that's looking "toppy" right now. Shares of the small-cap car part maker have rallied around 16% in the last six months, but shares look likely to give some of those gains back thanks to a double top pattern that's currently showing up in shares.
The double top is a setup that's formed by two swing highs that hit their heads at approximately the same price level. The sell signal comes on a breakdown below the near-term support level for shares, currently right at $35. If shares slip below that price, we've got a sell signal for shares. Here again, momentum adds some extra evidence to downside in shares. While TEN had an RSI uptrend while it was climbing in the fourth quarter, that uptrend has since reversed into a downtrend. That makes downside the likelier outcome for TEN from here.
If you own shares, consider setting a
just below that $35 level.
Frontier Communications
The last six months, on the other hand, have been pretty rough for $4 billion communications stock
Frontier Communications
(FTR) - Get Report
. Shares have slid nearly 10% over the time, underperforming the broad market's move higher by close to 20%. But you don't have to be an expert technical analyst to see why shares look likely to keep on moving lower.
FTR has been in a well-defined downtrend since the end of the summer. It's significant that FTR's trading channel is well defined; it means that we've got a high-probability range for shares to keep moving within. So now, with shares sitting near the middle of the channel, there's considerable room for TRQ to move lower before they can catch a bid again. Maybe worse, there's also a ton of room that this stock can move higher without actually breaking its downtrend. That fact could lure in more unsuspecting buyers only to have shares keep bouncing between trendline resistance and support.
I'd recommend avoiding this stock altogether until it exits its channel.
To see this week's trades in action, check out the
Technical Setups for the Week portfolio
on Stockpickr.
-- Written by Jonas Elmerraji in Baltimore.
RELATED LINKS:
>>5 Stocks Under $10 Set to Soar
>>4 Reasons to Buy Stocks in 2013
>>4 Big Stocks to Trade (or Not)
Follow Stockpickr on
and become a fan on
Facebook.
At the time of publication, author had no positions in stocks mentioned. Jonas Elmerraji, CMT, is a senior market analyst at Agora Financial in Baltimore and a contributor to
TheStreet
. Before that, he managed a portfolio of stocks for an investment advisory returned 15% in 2008. He has been featured in
Forbes
,
Investor's Business Daily
, and on
CNBC.com.
Jonas holds a degree in financial economics from UMBC and the Chartered Market Technician designation.