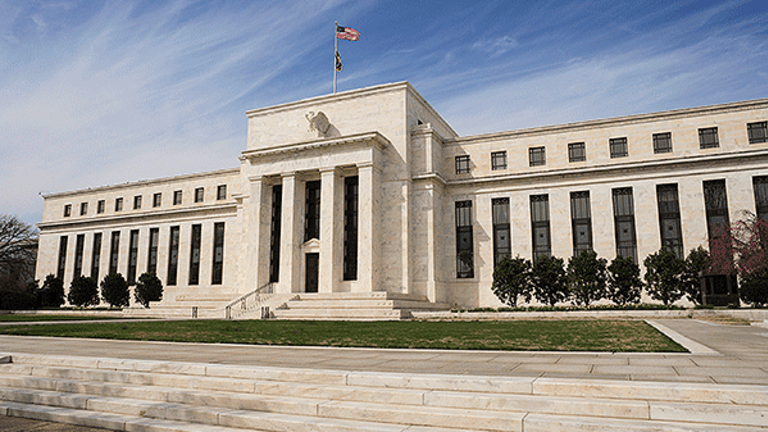 5 Things You Need to Know About Wednesday's Fed Hike and the Market's Reaction
Wednesday's reaction reflects a common mistake traders make when analyzing the Fed.
As we all expected, the Federal Reserve raised its short-term interest rate target by 0.25% after completing a two-day meeting Wednesday afternoon. Since this was entirely priced into the markets, we look to other parts of Wednesday's release for market-moving information. Here's what I saw.
The "dot plot"
The so-called "dot plot" is an exercise where each FOMC member is asked to estimate where they think the Fed's target should be if 1) they were in charge of the Fed and 2) their economic forecast came to fruition. They estimate this for year-end 2017, 2018, 2019 and the "long-term."
The market was expecting the dots to tilt higher this time around, as both hard data and survey results are pointing to a strengthening economy. Plus, most Fed speakers in recent weeks have sounded pretty hawkish. But the dots hardly moved. The median dot in both 2017 and 2018 were unchanged from December at 1.375% (i.e., two more hikes) and 2.125% (i.e., three hikes in 2018). Looking at the individual dots, it seems that three members probably moved from 1.125% to 1.375% for year-end 2017, and no one else changed.
This is meaningful because it tells us that the hawkish tone from Fed speakers recently has been to try to get the market to take their forecasts seriously, not reflecting an improving economic forecast. If all the economy is doing is fulfilling members' forecasts, then there is no reason for the dots to inch up.
And indeed, we see that the GDP, unemployment and inflation forecasts from the Summary of Economic Projections are all about unchanged from December. Fed Chair Janet Yellen herself mentioned in her prepared remarks that Wednesday's rate hike doesn't reflect a change in their economic forecast.
Kashkari dissents
Minneapolis Fed President Neel Kashkari dissented, preferring to not move rates higher. This is only interesting because it probably tells us which dot is his. We know the St. Louis Fed's James Bullard is one of the 0.875% dots in 2017 because he has said as much. Kashkari has to be the other one. Since there is only one dot at 1.125%, we know that no more than one actual board member (as opposed to regional presidents) is expecting just one more hike. This almost certainly means Yellen herself is at 1.375%.
What about tax cuts? Infrastucture?
Yellen made an off-handed remark about fiscal policy's ability to "potentially affect the economic outlook." But the fact that the Fed hasn't changed its forecast much probably means that it isn't putting much weight on how fiscal policy might unfold. That suggests there is a bit more upside to rates should fiscal policy have a major impact on the economy.
What about reducing the QE portfolio?
Yellen got a question during the press conference about the balance sheet, which she mostly dodged. But she did say that once the normalization process was "well underway" then slowing QE purchases could be considered. That sounds to me like it is a good ways off.
Bond market reaction
Prior to the release, long-term bonds were a bit lower in yield and higher in price, while the rest of the curve was mostly unchanged. In bond parlance we call that a "flattener" because the gap between short-term bond yields and long-term bond yields is getting smaller.
Since the FOMC, there has been a big change. 30-year bonds are 5 basis points lower in yield as I write, about the same as before the Fed. But shorter-term bonds are rallying big time, with 5-year bonds 10 bps lower. Clearly the market was expecting a more hawkish message.
This is a common mistake traders make when analyzing the Fed. The FOMC is a committee of mostly academics. Their views on economic growth don't change much from quarter to quarter. We market participants often project our world onto the Fed. In our world, markets can swing wildly on relatively small amounts of information, since we must act quickly before the new information becomes priced in. But the Fed isn't reacting to markets (not primarily anyway) and thus doesn't have to have this kind of trading mentality.
I think Wednesday's reaction probably reflects some people being caught offsides. Rates hit a multiyear high just two days ago, and we know shorts were heavy in the 10-year. People got a bit ahead of themselves. I still think the balance of risks is toward higher rates between 2 to 7 years.