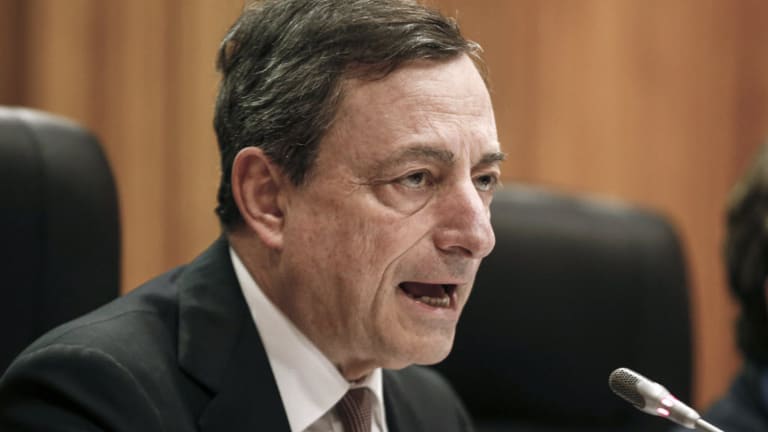 5 Things to Watch Out for at ECB Chief Draghi's News Conference
At his press conference Wednesday, Draghi will likely speak about Greece and the eurozone economy. Listen closely to his answers.
NEW YORK (Real Money) -- The European Central Bank holds its news conference on Wednesday, with all eyes on President Mario Draghi's speech and Q&A session. Here are the main things to watch out for:
1. Growth, reforms and the ECB forecasts.
On the issue of growth, Draghi will be quite pleased with the latest data. Eurozone manufacturing PMI came in at 52.2 in May, in line with the flash figure and slightly higher than April's 52.0, data from Markit show. What's more encouraging, Spain's PMI was at an eight-year high, and Italy's at a four-year high. It looks like the periphery countries are finally on the mend.
Add to that the best earnings season in many years for European companies, due to a combination of the weak euro, lowest interest rates ever and cheap fuel, and you can expect the head of the ECB to be elated. He is likely to appeal again to governments in the single currency area to do their bit now to stimulate growth.
As Alberto Gallo, head of macroeconomic analysis at RBS, pointed out: "The bottom line is, Europe needs growth in order to absorb its debt overhangs," and fiscal policy can play a role in restoring that growth. Investment in research and development "remains considerably lower in Europe than in the U.S. or Japan; Germany and Scandinavia are comparable, but the periphery invests much less ... curbing deficits by cutting education or R&D investment may be counterproductive to long-run growth, as well as in the short run."
Weaker growth in the rest of the world could become a worry for the ECB, so Draghi will have to strike a very fine balance with the central bank's June forecasts, which will be released at this meeting.
Gilles Moec, Europe analyst at Bank of America Merrill Lynch, said that the "safe course of action, against this background, is for Draghi to keep his powder dry and avoid elaborating too much on a continuation of QE after September 2016. This would call for keeping the forecasts almost unchanged from the March version."
2. How dovish can Draghi afford to be?
Two ECB members, Christian Noyer and Benoit Coeure, have already spoken in dovish tones during the last two weeks of May.
Noyer said low interest rates were indeed posing risks to insurers as they diminish returns for them and their clients, but warned against raising interest rates too quickly, saying such moves would cut the market value of their fixed income portfolios.
Coeure promised the ECB will front-load asset purchases in order to smooth gaps in supply arising during the summer lull (in July and August many Europeans take summer holidays, with activity in capital markets slowing markedly). Coeure found himself in hot water over these remarks (more about this later).
Moec believes that the statements by Coeure and Noyer show that the ECB intends to avoid any spikes in market interest rates (like the mid-May bond selloff that spooked many in the markets), as well as any upward pressure on the euro's exchange rate.
"However, the market has calmed down lately, and we think that it would be premature for Draghi to make those concerns explicit at the press conference ... at this juncture, we believe it is too early for Draghi to join the 'verbal intervention' camp," Moec said.
3. Front-loading asset purchases ... and communication issues.
Coeure said the ECB was likely to purchase more assets in May and June in order to make up for lower supply over July and August, and that if it jumps the gun it can always purchase fewer assets in September. Seems like a reasonable, if a bit boring, technical detail that would not get a lot of market attention, right? Wrong.
The speech was only published some 12 hours after it was delivered to a narrow (fewer than 100 people) audience of hedge fund managers and other types of investors gathered for dinner at a five-star hotel in an upmarket area of London. The euro fell when the speech was published, prompting critics to slam the ECB's decision not to publish the speech immediately as it gave the few who heard it a 12 hours advance.
The ECB blamed an "internal procedural error" for the fact that the speech had not been published immediately. This does not bode well for a central bank that is trying to influence markets with both deeds and words, and Draghi could get some questions about the ECB's communications policy going forward.
Data released on Monday show that the ECB's public sector purchase program (PSPP), under which it buys government bonds as well as bonds issued by supranational entities, increased by 51.6 billion euros ($56.2 billion) to 146.7 billion euros in May from April.
4. Inflation, deflation and all that jazz.
There was a time when the ECB officials did not pass any opportunity to remind investors that inflation was the central bank's "only needle in the compass." Well, the ECB seems to be in luck.
Eurozone inflation came in above expectations for May, posting a 0.3% increase year on year vs. forecasts of a 0.2% and after a flat reading in April.
What's more important and indicates that deflation is no longer a danger, if we exclude the volatile energy prices -- which were 5% percent lower in May from 12 months earlier -- consumer prices rose 1% in the eurozone.
If we look at the data on out of Germany on Monday, they show that inflation jumped to 0.7% in May from April's 0.3%. So the threat of deflation for the eurozone's largest economy, its engine of growth, has subsided. German inflation has been rising for four months, after showing negative growth in January.
But there is one big caveat. "While the national release does not include a breakdown of the headline figure, patchy information from the German states appears to confirm that the rise was due almost entirely to higher energy inflation," notes Capital Economics' senior European economist Jennifer McKeown. Not the time to give up asset purchases yet, then.
5. Last but not least ... Greece.
The markets are Greeked-out by now. The talks between the Greek government and the eurozone creditors have been going on for so long and false hopes have been raised so often that investors are probably immune to any small details about the talks. It is telling that markets did not really react to Twitter rumors on Monday that the announcement of a deal was imminent. A meeting of the country's main creditors is coming up with a final list of proposals to present to Athens.
Greece can still kick up a fuss in the markets, but it is not nearly as important as it used to be for the single European currency area. Moec noted: "Contrary to three years ago, the idea that Greece could set a general pattern for the whole periphery is much less credible. Indeed, Ireland and Portugal have successfully exited from the programs, Italy is much more stable politically and Spain much stronger economically. Greece now is very much in a league of its own."
Expect Draghi to steer clear of the politics surrounding Greece but watch out for any remarks on whether he still believes the country's banks are solvent. Greek banks have been extremely dependent on the ECB's emergency liquidity assistance (ELA) facility and they have been losing funds at an alarming rate, with deposits hitting a decade low.
Editor's Note: This article was originally published at 10 a.m. EDT on Real Money on June 2.