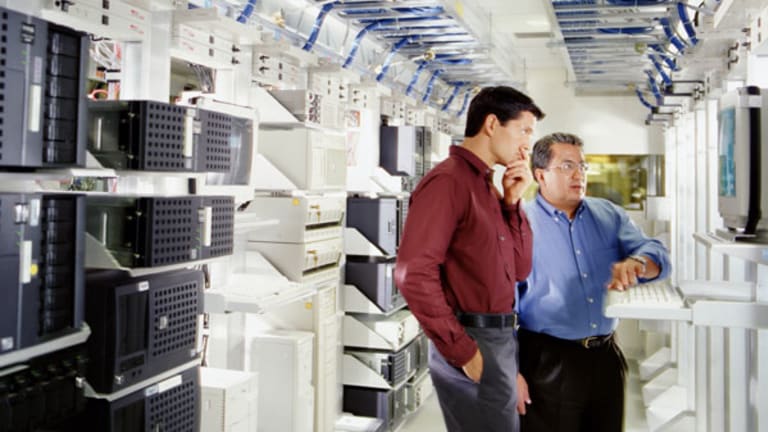 5 Things to Know When Making Your First Hires of 2013
If you're looking for hires, consider these five things before making an offer.
NEW YORK (
) -- Hiring an employee is never easy, but for small businesses, finding the right candidate can be one of the most important decisions you make all year. The smaller the company, the tighter the budget and the more likely one bad apple is to disrupt the entire operation.
If you're looking to sign talent this year, check out our top-five list of things to consider before bringing someone on board:
1. Are there dangers in hiring during an uncertain first quarter?
"The dangers will likely differ by company and industry, but the most important thing to remember is that you don't want to bet on the economy when making hiring decisions," says Kim Shanahan, managing director of the HR Center of Expertise at
Korn/Ferry
(KFY) - Get Free Report
.
"That being said, you also don't want to be hamstrung later," Shanahan says.
Employers who are making "informed" and "practical" hiring choices have no reason to not act in the first quarter.
"Good hires in any economy are important. And if they are the right ones, they will help you weather any storm and take advantage of market upswings."
2. What are the most important things to look for from candidates?
Employers should have an eye out for candidates who demonstrate best-in-class performance, Shanahan says.
"Try to find people who skew high on learning agility. This is true for hiring at any level and during any economy. You want someone who continuously seeks new challenges, solicits direct feedback, is self-reflective, makes fresh connections and, ultimately, gets the job done. Candidates should be resilient and able to add significant value in both up and down markets," she says.
Companies should also take a look at their existing employees. Many times, the talent you need can be found sitting just outside the corner office.
"Companies should spend time assessing their own talent and determining whether this talent can move into other areas or levels. This can help morale and keep employees interested and engaged while you also infuse new talent from the outside," she says.
Many companies are able to take significant market share in difficult times because they hire, develop and enable their talent, which becomes a significant competitive advantage, she says.
3. What do prospective employees want from me?
"It's not about the money," says Mark Dyson, founder and CEO of Competitive Resumes.
"Many new hires would be interested in long-term employment and commitment if the job fits into their lifestyle," he says.
In today's job market, working from home or working remotely are options that responsible hires may expect.
"Certainly it may be unrealistic for a new hire to work from home during the first 90 days of their employment, but it can be an incentive to attract top talent," Dyson says.
If your company doesn't have flexible schedule policies in place, it may be time to look at implementing them on a broader scale. For companies that use phone and Internet for the majority of workflow, it can be a positive option.
"It can bring high morale to all employees," he says. "Also, when flexible work options are available, you'll be able to attract a talented new hire who can bring evergreen value to the table."
4. What should I know about health care costs?
"Health care costs aren't going down," says Bob Tenzer, senior vice president of human resources at
C3: CustomerContactChannels
. "So for plans that are experience rated, keeping the population healthy is a priority."
"Experience rated" insurance plans look at pre-existing conditions and how much has already been spent on health care per person, taking all risk factors into consideration. If this is the type of plan your company has, it might be helpful to put health and wellness screenings in place.
"Institute health risk assessments, wellness programs and disease management with your insurance company," Tenzer suggests. "This will help identify problems before they become high cost claims that impact everyone's rates."
Make sure you inform your new hires of the type of policy your company has. If there is a waiting period before insurance kicks in, they need to know before they accept the job.
5. Once I'm ready to make an offer, what should my main focus be?
Focus on your business, not the "noise" of the economy or anything else going on at the company, Shanahan recommends. Homing in on how you want your business to grow is more important than whether the coffee machine is broken or the markets are down.
"In a small business, every hire counts and mistakes are quite costly," she says.
Focusing not only on where you want to go as a company but also where you've come from can be a great way to finalize your decision.
"Ask yourself: 'How have I grown and adapted over the years? Can I imagine this person adapting and evolving with me?'" Dyson says. "The answer may come quicker than you think."