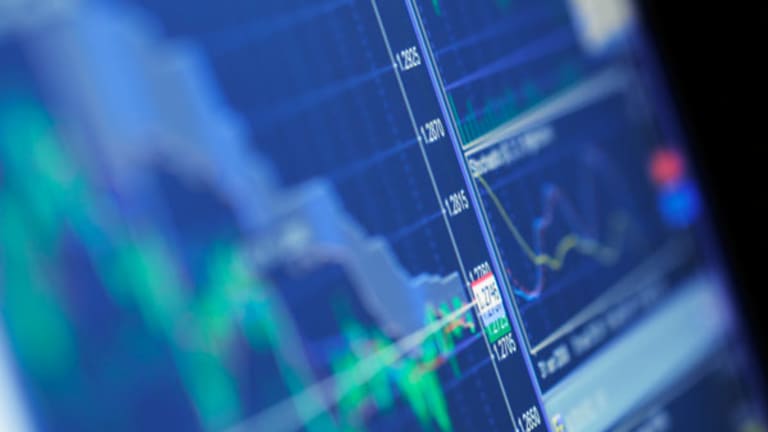 5 Technical Setups to Trade This Week
These trading setups could deliver breakout gains to your portfolio this week.
BALTIMORE (Stockpickr) -- Stocks are continuing to move sideways this week, as the VIX Volatility Index sits near six-month lows. Diminishing volatility has been the name of the game so far in 2012, a major shift from the volatile trading conditions investors had to deal with at the end of last year. But don't think that we've reached a "new normal" in volatility just yet.
Europe is continuing to be a black cloud for U.S. investors as drama starts to heat up again between Greece and its private creditors. Overnight, the euro lost ground against a basket of other currencies, briefly reminding investors that Mr. Market is still susceptible to sharp declines from the situation that continues to plague the Eurozone.
Here at home, earnings season is in full swing, with literally hundreds of firms planning on announcing their quarterly numbers to Wall Street this week; solid fundamental improvements for domestic stocks could stave off downside pressure from abroad.
>>5 Rocket Stocks to Buy This Earnings Season
One consequence of the lowered volatility we've seen lately is the abundance of technical setups that are becoming tradable in this market. This week, we'll take a look at five setups worth trading this week.
For the unfamiliar,
is a way for investors to quantify qualitative factors, such as investor psychology, based on a stock's price action and trends. Once the domain of cloistered trading teams on Wall Street, technicals can help top traders make consistently profitable trades and can aid fundamental investors in better planning their stock execution.
With that, here's a look at
that could deliver breakout gains to your portfolio this week.
ConocoPhillips
First up this week is integrated energy giant
ConocoPhillips
(COP) - Get Report
. With crude prices on the rise in recent weeks, ConocoPhillips has been a major beneficiary -- after all, as the market price for crude ratchets higher, so do COP's margins.
All told, shares are up double digits from their October lows; a bullish setup in shares indicates that more upside may be on the way.
Right now, ConocoPhillips is forming an ascending triangle pattern, a bullish formation that's identified by a horizontal resistance level to the upside and uptrending support below shares. Essentially, as COP's price bounces in between those two technically-significant price levels, shares are getting squeezed against that $74 resistance level. That increases the probability of a
to the upside.
Uptrending
, as measured by 14-day RSI, provides some additional assurance over the setup in this stock. The actual buy signal comes when shares push above $74. When that happens, I'd recommend a protective stop just below the 50-day
.
Conoco is one of TheStreet Ratings'
, with a B buy rating, and is one of
.
Statoil
A very similar setup is taking place in shares of
Statoil
(STO)
. That shouldn't come as a huge surprise -- after all, both companies are in the oil business, so they're expected to be highly correlated with one another.
So where's the actionable price on this setup?
In Statoil's case, the resistance level to watch is $27. That's the price level that's acted as a sort of ceiling for shares the past three times STO attempted to break higher.
, like the ones in Statoil and ConocoPhillips, exist because there's a glut of supply of shares above that price (think of it as a level where an abundance of sellers are willing to sell). When buyers attempt to bid shares higher, their buying gets completely overwhelmed by sellers' attempts to take gains (or enter shorts), and prices reverse.
That's why a breakout above $27 would be such a compelling buy signal. It would indicate that buyers have absorbed the glut of supply in full. Don't pay too much attention to the gaps in STO -- they're suspension gaps caused by the off-hours trading of STO shares on the Oslo Stock Exchange. From a technical perspective, they don't impact the trading implications of this stock.
Statoil is another of TheStreet Ratings'
, with a B buy rating, and it shows up on a list of
7 U.S. Stock Picks From Addison Capital
.
Research in Motion
There have been a lot of eyes on
Research in Motion
( RIMM) lately. Shares of the BlackBerry maker have gotten shellacked in the last 12 months, falling more than 74% while peers rallied on increased mobile device sales. The market didn't react well to yesterday's management shakeup, pushing RIMM another 8.47% lower by the session's close.
So where does this stock go from here?
Not up. Ignore the obvious downtrend in RIMM for a minute and take a look at this stock's price action for the last two months and change. Shares attempted to rally in early December, hitting their head on $18 resistance. Then, last week, shares topped at that same $18 level.
The presence of those two swing tops makes RIMM a potential double-top right now, despite the fact that shares are already near the bottom of their downtrend.
There's a high probability trade in the move down to support (the dashed line). A breakdown below the dashed line in the chart above makes an even stronger bear case. The 50-day moving average is a good place for a protective stop.
Research In Motion,
rated C- hold by TheStreet Ratings
, shows up on a list of
6 Tech Stocks to Avoid in 2012
and was also featured in "
5 Big Surprise Stock Losers of 2011
."
Grupo Televisa
Mexican broadcast media company
Grupo Televisa
(TV) - Get Report
is looking more optimistic right now. This $12 billion firm is forming an inverse head and shoulders setup right now, with resistance at the $22 level. The buy signal comes on a push above that price.
An inverse head-and-shoulders setup is identified by a large trough (the head) with a smaller trough on each side (the shoulders). It's a pattern that indicates exhaustion among sellers.
Even though the head-and-shoulders (and its inverse) is likely the most well known technical pattern, it's still a valuable one: an academic study conducted by the
Federal Reserve Board of New York
found that the results of 10,000 computer-simulated head-and-shoulders trades resulted in "profits
that would have been both statistically and economically significant."
That's a good reason to keep an eye on TV this week.
Grupo Televisa is
rated B- buy by TheStreet Ratings
.
MasterCard
Last up this week is
MasterCard
(MA) - Get Report
, the payment processing giant that's been exhibiting significant relative strength for the past year -- shares have rallied 45% in the trailing 12 months (and was one of the
best-performing S&P 500 stocks of 2011
). While MA has slid lower in 2012, this stock could be presenting longs with an optimal entry opportunity.
That's because MasterCard is currently locked in an uptrending channel, a range that's bounded by dynamic support and resistance. In an uptrending channel, the optimal entry comes on a bounce off of
-- it's an opportunity for traders to buy on a low-risk entry, and then ride MA as it makes its way up the channel to trend line resistance.
Keep in mind that trend lines do ultimately fail -- that's why it's important to actually wait or a bounce off of support before buying. For a high probability trade in MasterCard, we'll want to see that support level get confirmed before it makes sense to take a position in this stock.
MasterCard,
rated A+ buy by TheStreet Ratings
, shows up on a recent list of
21 Stock Picks That Experts Agree On
. I also recently featured it in "
5 Tech Sector Stocks Funds Love
."
To see these plays in action, check out the
Technical Setups for the Week portfolio
at Stockpickr.
-- Written by Jonas Elmerraji in Baltimore.
RELATED LINKS:
>>5 Breakout Stocks to Eye for a Buy
>>6 Stocks Under $10 Moving Higher
>>6 Dividend Stocks Hiking Investor Payouts in 2012
Follow Stockpickr on
and become a fan on
Facebook.
At the time of publication, author had no positions in stocks mentioned.
Jonas Elmerraji is the editor and portfolio manager of the Rhino Stock Report, a free investment advisory that returned 15% in 2008. He is a contributor to numerous financial outlets, including Forbes and Investopedia, and has been featured in Investor's Business Daily, in Consumer's Digest and on MSNBC.com.