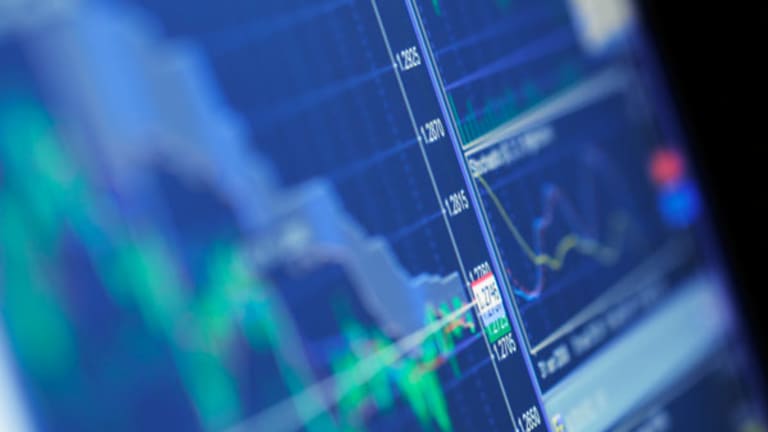 5 Technical Setups to Buy for August Breakouts
There are still pockets of strength in stocks right now. The key to finding the short-term buying opportunities is technical analysis.
BALTIMORE (Stockpickr) -- Investors are still anxious right now -- and for good reason.
With the debt ceiling debate still far from settled, the added uncertainty in the markets makes sitting on the sidelines a safer choice for risk-averse investors. One of the side effects of that is the lack of buying that
I talked about briefly last week
.
That investor ennui won't last forever; it's going to be difficult for market participants to outright ignore another quarter of strong earnings this year, given that the broad market continued to lurch sideways after last quarter's strong numbers.
Ultimately, it seems likely that buying pressures will take hold once some sort of debt ceiling resolution exists. In the mean time, there are still pockets of strength in stocks right now. The key to finding short-term buying opportunities is technical analysis.
Related:
5 Rocket Stocks to Buy This Week
Remember,
is a way for investors to quantify qualitative factors, such as investor psychology, based on a stock's price action and trends. Once the domain of cloistered trading teams on Wall Street, technicals can help top traders make consistently profitable trades and can aid fundamental investors in better planning their stock execution.
Here's a look at
.
Reed Elsevier
London-based publishing company
Reed Elsevier
(RUK)
is one of the world's biggest providers of information for medical, scientific and financial professionals. With shares of the company forming an outwardly bullish pattern, this $18 billion ADR could be due for a significant breakout. Here's how to trade it.
Right now, shares of Reed Elsevier are forming a bullish ascending triangle setup, a formation that's marked by horizontal resistance above current price levels and uptrending support below. As share prices get squeezed in between those two technically relevant levels, the potential for a breakout above that horizontal "price ceiling" increases significantly.
Don't pay too much attention to the "gappy" appearance of Reed Elsevier's chart. Those gaps, known as suspension gaps, are the result of the stock's trading on the London Stock Exchange outside of U.S. trading hours. They can be ignored from a technical standpoint. Instead, traders should be watching for a breakout above the $37 price level in RUK. Once shares materially surpass that price, it becomes a high-probability buy.
Reed Elsevier is one of the
.
>> Get your technical analysis on the go with TheStreet's iPad app.
Cypress Semiconductor
Another example of an ascending triangle is taking shape in shares of
Cypress Semiconductor
(CY) - Get Report
, a mid-cap chipmaker whose technology is used in a bevy of products, from the auto world to the 3D glasses that come with the latest generation of TVs. In Cypress' case, the significant
we're watching is $24.
The trading implications in this stock are largely the same as those in Reed. Essentially, there's an abundance of supply of shares of Cypress above $24 -- it's a price at which current shareholders begin to take profits. A sustained push above $24 means that buying pressures were able to overcome selling and that sentiment has shifted the technically significant prices for shares.
If and when shares do make their break for $24, consider a protective stop just below the 50-day
.
>>Practice your stock trading strategies and win cash in our stock game.
PetSmart
Pet product retailer
PetSmart
(PETM)
has made an auspicious run in 2011. Shares have rallied nearly 13% this year, besting the broad market by a factor of two. Now it looks as if investors will get a shot at a low risk entry in PetSmart to kick off August.
That's because shares of PetSmart have been locked in an uptrending channel for the better part of the past year. That channel essentially keeps shares boxed in between parallel, uptrending resistance and support levels -- giving traders a good overview of the stock's high-probability price behavior. With shares approaching support this week, a buy near support could be a low-risk opportunity to get shares before they make their next thrust higher.
The key to buying this setup is to wait for shares to actually "bounce" off of support. That's because support levels do eventually fail, so we want to make sure that demand for shares at around $44 is confirmed before buying.
Shorter-term traders can buy PETM in anticipation of a move to trend line resistance; longer-term traders should plan on holding the position until shares eventually break down below
.
PetSmart is one of TheStreet Ratings'
top-rated specialty retail stocks
.
Merck
Pharma giant
Merck
(MRK) - Get Report
is showing a particularly auspicious technical setup right now -- an inverse head-and-shoulders pattern. The head-and-shoulders pattern is probably one of the most well-known technical formations out there today, but just because it's popular doesn't mean it's not effective. A recent academic study on the head-and-shoulders show that the formation can be both statistically and economically significant for traders.
In Merck's case, the key price level to watch is the neckline. It's the price level that triggers the "buy" signal in this setup. Because an inverse head-and-shoulders indicates exhaustion among sellers, it'll be important to watch volume if shares to make their way above the neckline. We'll want to see any breakout occur on
.
If you do decide to take this trade, I'd recommend placing a protective stop just below the 200-day moving average. It's a price that recently acted as strong support for shares.
Merck, one of the
, was featured recently in "
David Tepper's Top 5 Dow Stocks
."
Akamai
Last up this week is content delivery network
Akamai
(AKAM) - Get Report
. At first glance, it looks like Akamai is forming a bearish pattern (the opposite of PETM's setup, in fact). But closer inspection reveals that the setup in Akamai is actually a bullish development; the key is knowing when to buy this name.
Right now, Akamai is forming a falling wedge, a setup that looks somewhat similar to a downtrending channel save for one crucial difference: In a falling wedge, the trend lines that form the channel are converging. Like the inverse head-and-shoulders in MRK, this is a statistically significant setup -- one study puts the eventual predictive power of a wedge (falling or rising) at near 90%.
To trade a falling wedge, we're looking for a breakout above that downtrending resistance line. It's absolutely essential to wait for that signal before pulling the trigger on this stock. After all, shares could fall significantly further and still remain within the channel. Once we see a breakout in this name, the 200-day moving average looks like an attainable price target.
Consider a protective stop just below the 50-day moving average.
To see these plays in action, check out the
Technical Setups for the Week portfolio
on Stockpickr.
-- Written by Jonas Elmerraji in Baltimore.
RELATED LINKS:
>>Profit From These 3 Trading Mistakes
>>5 Stocks to Sell Ahead of Earnings
>>Screening for Actionable Investment Ideas
Follow Stockpickr on
and become a fan on
Facebook.
At the time of publication, author had no positions in stocks mentioned.
Jonas Elmerraji is the editor and portfolio manager of the Rhino Stock Report, a free investment advisory that returned 15% in 2008. He is a contributor to numerous financial outlets, including Forbes and Investopedia, and has been featured in Investor's Business Daily, in Consumer's Digest and on MSNBC.com.