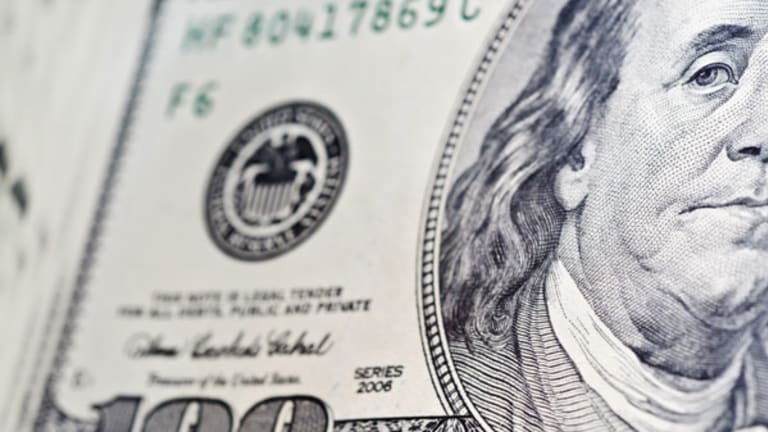 5 Technical Setups in Commodity Stocks
The case for stocks isn't as bullish as Monday's rally would have us believe. These five commodities names lower correlations to the market and are showing setups leading to a breakout.
The following commentary comes from an independent investor or market observer as part of TheStreet's guest contributor program, which is separate from the company's news coverage.
BALTIMORE (
) -- All it took was one positive day for the
S&P 500
, and already the tone on Wall Street is turning bullish...
Speculation is swarming this morning that
Facebook
could file to go public in an IPO before the end of the year that would value the total company at $100 billion. That would make Facebook the biggest tech IPO in history. As a rule, firms opt to go public when equity markets look strong (to do otherwise would be to leave money on the table), so this news is telling us where investors' minds are as we start this week.
But clearly, the case for stocks has been a whole lot less bullish than Monday's 2.92% climb in the
S&P 500
would have you believe. From a technical perspective, stocks are showing considerable weakness right now, cracking below key support at 1225 last week -- and then moving another 5.5% lower by Friday's close. But while stocks aren't showing much strength in this market, the commodity names are looking a lot better.
As a diversifying force, commodity-driven stocks offer protection against the dollar as well as lower correlations with the broad market. At a time when most stocks are showing weakness, those low correlations are crucial. That's why we're taking a look at the technical trading setups in five commodity stocks this week.
Also see: 7 Relative Strength Trades to Beat the Market in 2012
For the unfamiliar,
is a way for investors to quantify qualitative factors, such as investor psychology, based on a stock's price action and trends. Once the domain of cloistered trading teams on Wall Street, technicals can help top traders make consistently profitable trades and can aid fundamental investors in better planning their stock execution.
Without further ado, here's a look at five
commodity-driven technical setups
that could deliver breakout gains to your portfolio this week.
SPDR Gold Trust
First up this week is the
SPDR Gold Trust
(GLD) - Get Report
, a $71 billion ETF that buys physical gold and stores it in vaults under London. GLD's exposure to physical gold and status as an ETF has made it one of the most popular options for investors who want to add gold to their portfolios -- and this week might just be a good time to do that.
GLD is actually a vestige from
, when we looked at a throwback that was taking place in shares. As a reminder, a throwback happens when a stock breaks out above a resistance level, then returns to retest that level as a newfound support price. That's exactly what happened with GLD in the days since, as shares caught a bid around the $165 level and reversed higher.
That doesn't mean that gold is headed straight up right now (even if the metal does offer
plenty of macro reasons to be a buyer
). But it does mean that this metal is providing a very low-risk buying opportunity. I'd recommend picking up a position in GLD at these prices with a protective stop right at this ETF's previous swing low at $157.
Plains All American Pipeline
A similar setup is occurring in shares of
Plains All American Pipeline
(PAA) - Get Report
, a $10 billion oil and gas pipeline stock that currently pays out a 6.17% dividend yield. Plains broke out above a previous resistance level at $63 back in late October, and pushed through to new 52-week highs by the start of November, only to throw back to that newfound support level at $63 more recently. The ideal time to buy is on a bounce off that price.
Buying on the bounce is a crucial part of entering a throwback like either PAA or GLD. That's because support and resistance levels do eventually break; by waiting for a bounce, traders get added confirmation over the strength of that support level. They also see that shares have the investor demand required to spur more upside.
It looks like shares of Plains are bouncing early in today's session. If you decide to take this trade, I'd suggest keeping a protective stop at the 50-day moving average. A reasonable near-term target is just shy of PAA's 52-week high at $66.80.
Sunoco
Petroleum refining company
Sunoco
(SUN) - Get Report
is another commodity-driven name that's nearing an important technical level right now. In this case, the setup to watch is an ascending triangle that's been developing since shares of Sunoco bottomed back on Aug. 8. Traders should be watching for a breakout above sub-$40 resistance right now.
While an ascending triangle is normally thought of as a continuation pattern, this setup has been a common reversal pattern lately. It's marked by a staunch, horizontal resistance level acting as a sort of "price ceiling" for shares and uptrending support below. As shares bounce between those two price levels, they get squeezed closer and closer to a breakout above resistance.
The buy signal comes when shares breakout above their resistance level -- until that happens, this isn't a high-probability trade. We need to see the glut of supply of Sunoco at $40 get absorbed by buyers before it makes sense to take a position in this stock.
Consol Energy
Consol Energy
(CNX) - Get Report
is an $8.5 billion coal and gas producer that's showing us another actionable upside trade right now. In Consol's case, the trade to watch is an inverse head and shoulders setup -- another technical formation that's been developing since the market's Aug. 8 decline. We're watching for a breakout above CNX's neckline before it becomes buyable.
The inverse head and shoulders is one of the most well known technical patterns out there -- but it's also one of the most effective. An academic study conducted by the
Federal Reserve Board of New York
suggests that the results of 10,000 computer-simulated head-and-shoulders trades resulted in "profits
that would have been both statistically and economically significant."
For traders to replicate that success, risk management is crucial. The deep shoulders on this setup make a protective stop a bit tougher to set -- to combat that, I'd suggest keeping a protective stop at the 50-day moving average. On the breakout, $54 is a conservative upside target.
Syngenta
Another inverse head and shoulders setup is taking shape in shares of
Syngenta
(SYT)
, a Basel, Switzerland-based firm that gets its commodity exposure as an agricultural chemical producer. Because Syngenta's customers produce soft commodities, its sales are driven by the price levels growers are able to collect in the marketplace.
In Syngenta's case, the neckline level to watch is $64 -- above that price, this stock becomes a high probability trade to the upside. One thing that's immediately apparent on looking at SYT's chart is the abundance of gaps that have been occurring in shares lately. Those gaps, called suspension gaps, are the result of Syngenta's trading off U.S. exchange hours in Zurich. They can be ignored for technical trading purposes.
Despite exposure to two different types of commodities, the trading implications in SYT are effectively the same as those in Consol Energy.
To see these plays in action, check out the
Technical Setups for the Week portfolio
at Stockpickr.
-- Written by Jonas Elmerraji in Baltimore.
RELATED LINKS:
>>Are Stocks Headed for a Year-End Rally?
>>5 Rocket Stocks to Buy for a Relief Rally
Follow Stockpickr on
and become a fan on
Facebook.
At the time of publication, author had no positions in stocks mentioned.
Jonas Elmerraji, based out of Baltimore, is the editor and portfolio manager of the Rhino Stock Report, a free investment advisory that returned 15% in 2008. He is a contributor to numerous financial outlets, including
Forbes
and
Investopedia
, and has been featured in
Investor's Business Daily
, in
Consumer's Digest
and on
MSNBC.com.