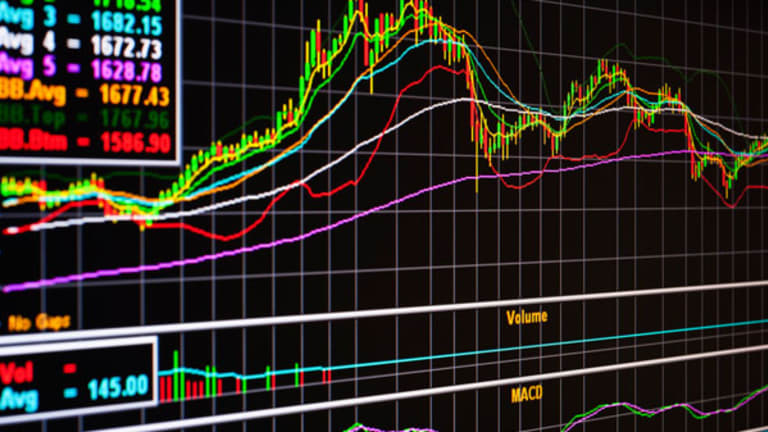 5 Stocks Your Pension Fund Loves
Here are five of pension funds' favorite stocks from the first quarter of 2012.
BALTIMORE (Stockpickr) -- Even if you don't have a pension, pension funds could help pad your retirement portfolio with cash.
Don't follow? Allow me to explain.
The days of the common pension are behind us. For a handful of reasons, most Americans shouldn't expect to get a pension as part of their jobs. There are plenty of reasons why so many companies have done away with defined benefit plans for employees: They're expensive, complicated and potentially risky for employers who plan wrong. But if you think that there isn't a lot of cash being managed by pension funds these days, you'd be dead wrong.
>>5 Hated Stocks That You Should Love
Today, pensions big enough to report to the SEC manage a combined $384 billion. That's more money than most asset managers handle -- particularly when you consider that the pension portfolios are concentrated into just 37 different funds.
So back to our original question: How can a pension help you earn retirement returns even if you don't have one? Simple. With a huge concentration of cash, pension funds employ talented investment teams with serious institutional investing resources. And by taking a look at the investments pensions are piling up on for their own retirees, we can take advantage of some of that talent for ourselves. To do that, we've got to crack some 13F filings.
Institutional investors with more than $100 million in assets are required to file a 13F -- a form that breaks down their stock positions for public consumption. From hedge funds to mutual funds to insurance companies, any professional investors who manage more than that $100 million watermark are required to file a 13F. That includes pension funds.
By comparing one quarter's filing with another, we can see how any single fund manager is moving their portfolio around -- and what investments are faring the best for them. More important, we can figure out what names are getting added to pension portfolios
en masse
; they're the stocks that the group agrees are worth buying.
Today, we'll focus on
pension funds' five favorite stocks
for the first quarter of 2012.
Bank of America
First up is
Bank of America
(BAC) - Get Bank of America Corp Report
, the controversial $75 billion banking giant that's been at the center of so many headlines in the past few years. Pension funds bought up 19.2 million shares of BAC in the most recent quarter, hiking their quarter-billion-dollar stake in the bank by close to 10%.
Bank of America is cheap right now -- it's one of the big bank banks that trades for less than its tangible book value for share. But that bargain price is for good reason. The firm's labyrinthine balance sheet includes significant legal liabilities from its Countrywide acquisition in 2008 and massive exposure to bad debt. The fact that Bank of America is hard to value right now is one of the biggest reasons for its discount, but as sophisticated investors start to gain assurance over BofA's balance sheet, retail investors should take notice.
>>5 Large-Cap Bank Stock Buys From Guggenheim
And on the flip side, the bank has scale advantages that only a handful of names can boast, including a mountain of cheap deposits that it's lending out with higher underwriting standards than in years past. With reasonable equity reserves in place right now and an income statement that's becoming less susceptible to landmine one-time expenses and charges, BofA may become less cheap quite soon.
While risks are still high enough to argue against too concentrated of a position in BAC, risk-hungry investors could do well to dip a toe in this bank.
Bank of America, also one of
Appaloosa Management's holdings
, shows up on a recent list of
5 Bank Stock Pullback Bargains
.
Vanguard MSCI Emerging Markets ETF
Emerging markets are starting to get attention again. 2008 was a big wake-up call for emerging market investors -- it reminded people that the increased rewards that EM investments enjoyed in 2006 and 2007 came with increased risks on the downside. But in 2012, emerging-markets growth is getting tapped again by pension funds, and they're doing it through the
Vanguard MSCI Emerging Markets ETF
(VWO) - Get Vanguard FTSE Emerging Markets ETF Report
. Pensions picked up an additional 12.4 million shares of the exchange-traded fund, hiking their holding by close to 40%.
VWO is a fund that tracks the MSCI Emerging Markets Index, a basket of a couple thousand stocks plucked from 21 different markets. The sheer size of the index makes it a good way to get exposure to emerging markets as a whole without the higher beta of individual names. VWO holds "only" 871 individual stocks at last count, far less than its index, but far more than most ETFs.
For investors looking for ways to harness long-term EM growth, VWO is hard to beat. The fund has an expense ratio of 0.20%, making it the cheapest fund in its category.
VWO is also one of the
top holdings at Ray Dalio's Bridgewater Associates
.
EMC
EMC
(EMC)
takes the third spot on our list of pension fund favorites for the first quarter. Pensions bought up EMC last quarter, as the value of their holdings increased by more than a third to 1.35 billion.
EMC develops and sells the software and hardware used to link storage devices together to serve the cloud, a critical part of the equation as the amount of data we need to store increases exponentially. As a result, it's benefitting from the biggest buzzword in the tech sector right now.
>>5 Tech Stocks to Buy Instead of Facebook
Cloud computing is gaining in popularity as the number of devices we use increases. Today's consumers expect their data to be available on their computers, mobile phones, tablets and even gaming consoles, making hefty storage capacity at server farms a precious commodity. Because EMC's business is built around stuffing more data into the same amount of space, its revenues have been stair stepping for the past few years.
A fortress balance sheet with more than $10 billion in cash and investments easily offsets around $3.4 billion in total debt. That financial wherewithal should help to bankroll acquisition opportunities, in turn helping to
by double-digits in the last year.
EMC shows up on recent lists of
5 Stocks Ready for Rising Data Demand
and
3 Tech Stocks to Buy on a Pullback
.
General Growth Properties
It's been a solid year for
General Growth Properties
(GGP)
; shares of the $16 billion real estate investment trust have climbed more than 12% on the year, a time when the S&P has only managed to hold onto 4.7% of its gains. Pension funds have been buying that strength in the last quarter, effectively doubling their positions in the stock with 14.5 million more shares.
GGP owns interests in approximately 170 regional shopping malls across the U.S., a business that provides the firm with a combination of consistent lease income and a smaller cut of retail sales at its properties. As a commercial REIT, it's best to think of GGP as an income generation vehicle; the firm rents out stores using long-term triple-net leases that keep volatile expenses like taxes, insurance, and maintenance off of GGP's list of responsibilities. The result is fairly predictable income that must be mostly paid out to shareholders each quarter.
That's not to say that GGP hasn't had its share of issues in the past. The REIT went bankrupt in 2009 when the collapse of the credit markets made it impossible for the firm to renegotiate its large mortgage debt load. While the firm re-emerged from bankruptcy stronger (and at a time with borrowing costs at historic lows), the drama left a bad taste in investors' mouths - that could factor into a cheaper valuation in shares.
Investors should be paying attention to the 2.4% dividend yield in shares right now.
GGP also shows up in
as of the most recently reported period.
Tyco International
Tyco International
(TYC)
is another firm with a checkered past -- and another that pensions have been buying with both hands in the first quarter of 2012. Funds added nearly 2 million shares to their portfolios last quarter, increasing their stakes in Tyco by 14%.
Tyco is making big moves internally right now. By September, the firm is expected to have completed its three-way split, breaking its ADT security business apart from its commercial security and fire business and its flow control unit. ADT is the crown jewel of the Tyco business, generating the biggest chunk of profits through long contracts and hefty recurring revenues earned at large margins. Even so, investors are hoping that the shift will squeeze some extra value out of the other parts of Tyco's business.
This isn't the first time Tyco has taken on a split-up of its operations, so investors should find some solace in the company's previous successes at unlocking hidden value in the capital markets. It makes sense to follow pension funds' lead on this name.
Tyco also shows up in
and is one of
.
To see these stocks in action, check out the
Pension Buys Q1 2012 portfolio
on Stockpickr.
-- Written by Jonas Elmerraji in Baltimore.
RELATED LINKS:
>>5 Stocks Insiders Love Right Now
>>5 Earnings Stocks Poised to Pop
>>5 Stocks to Profit From a Snapback Rally
Follow Stockpickr on
and become a fan on
Facebook.
At the time of publication, author had no positions in stocks mentioned.
Jonas Elmerraji is the editor and portfolio manager of the Rhino Stock Report, a free investment advisory that returned 15% in 2008. He is a contributor to numerous financial outlets, including Forbes and Investopedia, and has been featured in Investor's Business Daily, in Consumer's Digest and on MSNBC.com.