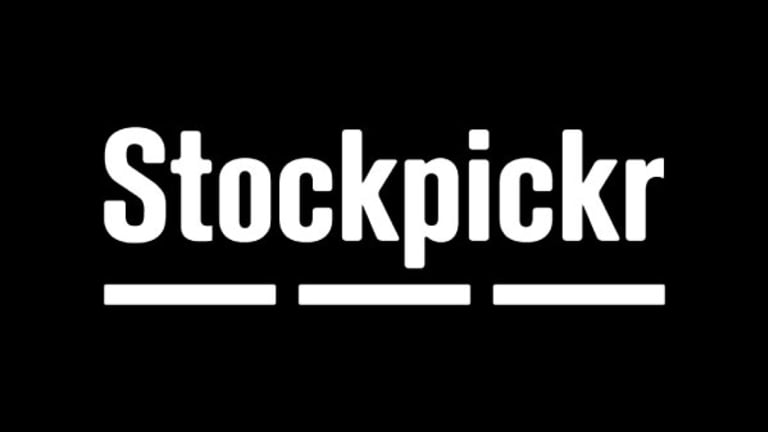 5 Stocks With Rising Expectations
This week's Rocket Stocks list of companies with short-term gain catalysts and longer-term growth potentialt includes JPMorgan and VeriFone.
BALTIMORE (Stockpickr) -- M&A activity is back on the rise in August as companies sit with record amounts of cash in their coffers right now. In the last week, $85 billion in potential deals were announced, making it the biggest single week for corporate buying since 2009.
The uptick in activity should come as little surprise to investors right now. With all of that hoarded corporate cash (more than $1.8 trillion in total) sure to draw shareholders' ire after too long sitting around unused, companies are taking advantage of this Summer's high market volatility and equity selloff to get a good deal on new businesses.
Although earnings reports have been overwhelmingly good this quarter, most industries are warning investors of continued slow recovery and a relatively unimpressive short-term outlook. That's helped push uncommitted capital to higher-quality assets such as treasuries. But it's also provided a potential buying opportunity for value investors looking for a bargain.
For that reason, we're turning to our Rocket Stock plays to deliver performance in an otherwise sideways-churning market. For the uninitiated, Rocket Stocks are our weekly list of companies with short-term gain catalysts and longer-term growth potential. In the last 57 weeks, Rocket Stocks have outperformed the
S&P 500
by 52.59%.
Here's
of Rocket Stocks to watch.
One safe haven for investors in 2010 has been London-based liquor maker
Diageo
. The company, which has managed to stay mostly flat this year, owns a portfolio of some of the world's most well-known alcohol brands, including Johnnie Walker, Guinness and Smirnoff. With preliminary earnings set for Aug. 26, Diageo could be setting investors up for a gap up on earnings surprise.
Right now, Diageo's unmatched size and premium label positioning have afforded it an enviable market position. The company's impressive distribution network has been another factor in generating net margins deep into the double digits in recent quarters -- in North America, operating margins sit above 35%. But all of that fundamental prowess could get tested if economic headwinds continue to blow against consumer-spending-reliant stocks such as Diageo.
Strong brand loyalty should help to anchor Diageo's top-line numbers in 2010; even as consumers tighten their purse strings, they're much less likely to change their spirit of choice. A 2.63% dividend yield should help solidify this stock's present attractiveness.
2010 has been slightly less auspicious for
JPMorgan Chase
(JPM) - Get JP Morgan Chase & Co. Report
. The $147 billion banking giant has seen its share value drop more than 10% so far this year, as fears over a second dip of economic trouble cut into the firm's recovery. But investor fears could be overblown right now. Conservative balance sheet positioning and government-backed fire sales helped this company get a solid footing for the future.
JPMorgan made its move to center stage back in 2008 as fundamentally weaker competitors succumbed to the financial pressures of the day. But JPMorgan's relatively conservative balance sheet helped the company maintain control over mounting credit losses and exert control over other firms' assets. With what amount to major risk subsidies from Uncle Sam, JPMorgan was able to acquire Bear Stearns and Washington Mutual at a major discount in 2008, enlarging its deposit base and shoring up its financial services offerings.
Ultimately, good diversification and sheer size are making this bank an attractive buy right now -- and institutional investors are taking notice. Analyst sentiment has steadily been increasing for JPMorgan; we're including it in our Rocket Stocks list this week to take advantage of that momentum.
Payment solution provider
VeriFone Systems
(PAY)
is set to announce its earnings numbers tomorrow, with analysts expecting profits of 30 cents per share on sales of $249 million. Good performance would be the latest feather in VeriFone's hat following a move to profitability in recent quarters.
VeriFone provides products and services that help companies collect money from their customers securely. From retail payment systems to encryption software, VeriFone's solutions can be found in nearly any retail environment. But with consumer spending on the decline lately, the company has struggled to keep its customers generating increasing revenues.
While VeriFone has focused on growing sales -- and been very successful at it, doubling its top line since 2004 -- earnings have suffered at the hands of out-of-control costs and squeezing margins. But costs have come under control lately as firms vied for Wall Street's favor in a tough economy. We're hoping for earnings surprise when VeriFone reports.
For more stocks that made this week's cut, including
Priceline.com
(PCLN)
and
Motorola
( MOT), check out
at Stockpickr.
-- Written by Jonas Elmerraji in Baltimore.
RELATED LINKS:
>>Dividend Stocks: Aflac, Torchmark
>>Must-See Charts: Bank of America, Cisco, Exxon
>>Top Ag Plays Off Fertilizer M&A Boom
Follow Stockpickr on
and become a fan on
Facebook.
At the time of publication, author had no positions in stocks mentioned.
Jonas Elmerraji is the editor and portfolio manager of the Rhino Stock Report, a free investment advisory that returned 15% in 2008. He is a contributor to numerous financial outlets, including Forbes and Investopedia, and has been featured in Investor's Business Daily, in Consumer's Digest and on MSNBC.com.