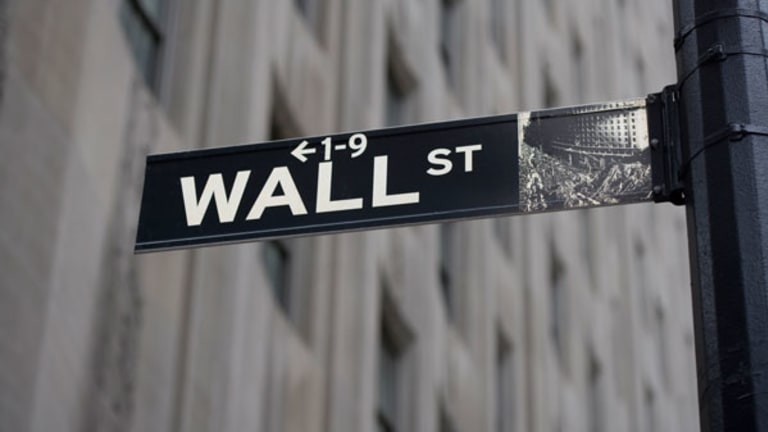 5 Stocks With New CEOs to Stick With
New management at these companies is a positive sign for investors.
New management at these companies is a positive sign for investors.
MILLBURN, N.J. (Stockpickr) -- Companies, unlike members of the animal kingdom, can theoretically live forever. But a company's CEO, the person in charge of the day-to-day operations of the company, is human, and his or her time at the top is finite.
Issues always arise for both the company's management and shareholders as to what to do when a CEO leaves, whether the departure is planned or not. While the board of directors will ultimately make the decision as to whom to appoint as the CEO, investors, in my opinion, invest as much in the company's management as they do in the company's stock.
>>5 Stocks Insiders Love Right Now
So when a CEO change is made, we must look carefully at a stock and decide whether or not the CEO change is a material event that necessitates action on our part. Sometimes a new CEO spells trouble or the continuation of problems for a company. Other times a new CEO might bring a refreshing change or opportunity for a turnaround to a company, as it did for
Ford
(
) when Alan Mullaly took over the reins at the automobile manufacturer. Quite often, new CEOs are merely another step in a line of successful managers who help to steer the company to even greater heights.
With that in mind, here are
five stocks with new or incoming CEOs that investors should stick with
.
Also check out part 2 of this series, "
5 Stocks With New CEOs to Stay Away From
."
McDonald's
McDonald's
(MCD) - Get Report
is a very interesting case study in management succession. On Jan. 1, 2003, James Cantalupo came out of a very short retirement to become CEO of McDonald's, replacing Jack Greenberg, whose reign as McDonald's CEO could only be categorized as a failure. Cantalupo began a turnaround strategy for McDonald's that continues to this day.
In April 2004, Cantaupo suddenly and unexpectedly died. He was succeeded by an Australian, Charlie Bell. Shortly after assuming the role as CEO, Bell, the force behind the McCafe concept, was diagnosed with colon cancer; he died in January 2005. Bell was replaced in 2005 by James "Jim" Skinner, who has led McDonald's through some of its best years ever.
Skinner will retire at the end of June this year and will be replaced by Don Thompson, who first joined McDonald's in 1990 as an electrical engineer and rose through the ranks to become president of McDonald's USA then its president and COO.
What we have learned ever since Cantalupo returned to McDonald's in 2004 is that the company has an excellent team of executives who have lifelong experience at the company. While we should not expect the supernormal returns that MCD has delivered in the last decade, 10% earnings growth together with 3% dividend yield for McDonald's is highly likely.
McDonald's shows up on a recent list of
12 Highest-Rated Consumer Stocks Picked by S&P
. It was also featured in "
."
IBM
IBM
(IBM) - Get Report
, known by many on Wall Street by its nickname Big Blue, was regarded by the last two generations of investors as a computer hardware company. Big Blue has made money for investors for decades but did not start out by manufacturing hardware and software for large mainframe computers.
Rather, IBM has its origins in making and selling tabulating machines as the CTR Company. These machines were invented by William Hollerith, who developed punch cards which many people refer to as Hollerith cards, which I used in high school in the 1970s and which . I used them when programming in Fortran on an old IBM 1130 while in Stuyvesant High School in the 1970s. These cards are still used today as toll cards on highways or election cards. (Remember the hanging chad? -- you can blame William Hollerith for that.)
Eventually, Thomas Watson Sr. moved over from National Cash Register to take over at CTR. Watson changed the name to International Business Machines, built the business machine and tabulating business and most notably designed the famous company culture. Watson Sr. was replaced in the 1950s by his son, Thomas Watson Jr., who went on the take IBM into the computer age. After Watson Jr. retired in 1971, the company slogged through a couple of challenging years. Then John Opel took over in 1981 on the cusp of the desktop computing age as IBM pioneered the personal computer.
IBM's big mistake was focusing on the hardware and allowing
Microsoft
(MSFT) to engineer and control the operating system. Now IBM is focused entirely on information technology consulting, systems integration and software. Now Sam Palmisano is being replaced by Virginia "Ginni"Rometty as CEO, making her IBM's first female CEO. Rommety has had a hand in building IBM's consulting businesses over the last two decades.
The stock is trading near its all-time highs and is the largest constituent stock in the
Dow Jones Industrial Average
. To me this tells me that the market has given Rometty its stamp of approval.
IBM, one of
, also shows up on a recent list of
3 Tech Stocks to Buy on a Pullback
. I featured it in a previous article, "
6 Tech Stocks That Rate Better Than Apple
."
Apple
I think this one is a lay-up. Steve Jobs,
Apple's
(AAPL) - Get Report
co-founder, passed away last year. He was instrumental in turning Apple around after returning to the company after successfully starting up and selling Pixar to
Disney
(
). He was the creative genius beyond the Mac, iPhone, iPad and iTunes, as well as a television product yet to be released.
Jobs was succeeded by Timothy Cook, who on more than one occasion had stepped in as acting CEO when Jobs was forced to take medical leaves. Cook brings one important area of expertise to the company, which helped to propel the company to the success that it achieved under Jobs. That expertise is in inventory and supply chain management. His recent handling of the Foxconn incident was excellent and prevented a Nike-like incident of third-world worker exploitation.
Since Job's passing on Oct. 5, 2011, Apple stock has surged. Analysts have price targets ranging as high as nearly $1,000, with the average in the $700s. Clearly, the market is impressed with Tim Cook, and you should be too.
Apple shows up on a recent list of
and was featured in "
5 Big STocks to Trade for Gains
."
J.C. Penney
Traditionally,
J.C. Penney
(JCP) - Get Report
has had an identity issue. The retailer, which was not as upscale as
Macy's
(
), tried hard to position itself as being classier than
Sears
(
). Unfortunately, the public perceived J.C. Penney to be Sears without the home appliances, tools and automotive products.
Interestingly enough, if you go to most shopping malls in the U.S., you will typically see one or two of the aforementioned retailers as anchor stores. Sears has struggled for years and is now attempting to restructure its business, which includes closing of stores and potentially putting up Lands' End for sale.
>>5 Rocket Stocks Ready for Blastoff
J.C. Penney has taken a different approach by bringing Ron Johnson on board as its new CEO. Johnson was coaxed away from Apple, where he was the guiding force behind that company's retail strategy, highlighted by the advent of the Apple Store and the Genius Bar, which is Apple answer to
Best Buy's
(BBY) - Get Report
Geek Squad.
Since joining J.C. Penney, Johnson has entered hit the ground running by launching several marketing and merchandising strategies and endeavors. Since he took over as the new CEO, the stock has risen about 10%. It might take a few quarters for Johnson's effort to bear fruit, but this CEO is worth buying.
American Eagle Outfitters
American Eagle Outfitters
(AEO) - Get Report
, a leading teen/young-adult retailer, has a very fickle customer base. Within the sector, companies can rise and fall rapidly as the tastes of their constituency shift.
American Eagle Outfitters was since 2003 run by CEO James V. O'Donnell. The stock was a darling of growth investors in the early part of his reign. In early 2007, before the economy really hit the skids, the stock began to fall. By the time the market bottomed in 2009, American Eagle stock lost about 70% of its value. Since then the stock and the company has struggled.
In November 2011, a change was made and former Levi Strauss President Robert Hanson was hired to replace the retiring O'Donnell. While Hanson was not in place to guide the company through Black Friday and the holiday season, since he took over on Jan. 30, the stock price has increased by over 20%.
Though the company recently forecasted disappointing sales for Hanson's first spring at the helm, his background in denim is certain to help the company, which is in a denim-centric industry, get its merchandise straightened out for the fall and winter. Analysts expect American Eagle Outfitters to post 24% earnings growth in 2012 and 16% earnings growth in 2013.
To see these stocks in action, check out the
f5 Stocks With New CEOs to Stick With
portfolio.
Also check out part 2 of this series, "
5 Stocks With New CEOs to Stay Away From
."
-- Written by Scott Rothbort in Millburn, N.J.
RELATED LINKS:
>>5 Stocks Set to Soar on Bullish Earnings
>>7 Dividend Stocks You Can't Ignore Right Now
>>5 Stocks Under $10 Set to Soar
Follow Stockpickr on
and become a fan on
Facebook.
At the time of publication, author was long Macy's stock and Apple stock and calls. Scott Rothbort has over 25 years of experience in the financial services industry. He is the founder and president of LakeView Asset Management, a registered investment advisor specializing in customized separate account management for high net worth individuals. In addition, he is the founder of TheFinanceProfessor.com, an educational social networking site, and publisher of The LakeView Restaurant & Food Chain Report. Rothbort is also a professor of finance at Seton Hall University's Stillman School of Business.
At the time of publication, author was long Macy's stock and Apple stock and calls, although positions can change at any time.
Scott Rothbort has over 25 years of experience in the financial services industry. He is the Founder and President of
, a registered investment advisor specializing in customized separate account management for high net worth individuals. In addition, he is the founder of
, an educational social networking site; and, publisher of
The LakeView Restaurant & Food Chain Report
. Rothbort is also a Term Professor of Finance at Seton Hall University's Stillman School of Business, where he teaches courses in finance and economics. He is the Chief Market Strategist for The Stillman School of Business and the co-supervisor of the Center for Securities Trading and Analysis.
Mr. Rothbort is a regular contributor to
TheStreet.com's RealMoney Silver
website and has frequently appeared as a professional guest on
Bloomberg Radio
,
Bloomberg Television
,
Fox Business Network
,
CNBC Television
,
TheStreet.com TV
and local television. As an expert in the field of derivatives and exchange-traded funds (ETFs), he frequently speaks at industry conferences. He is an ETF advisory board member for the Information Management Network, a global organizer of institutional finance and investment conferences. In addition, he is widely quoted in interviews in the printed press and on the internet.
Mr. Rothbort founded LakeView Asset Management in 2002. Prior to that, since 1991, he worked at Merrill Lynch, where he held a wide variety of senior-level management positions, including Business Director for the Global Equity Derivative Department, Global Director for Equity Swaps Trading and Risk Management, and Director for secured funding and collateral management for the Global Capital Markets Group and Corporate Treasury. Prior to working at Merrill Lynch, within the financial services industry, he worked for County Nat West Securities and Morgan Stanley, where he had international assignments in Tokyo, Hong Kong and London. He began his career working at Price Waterhouse from 1982 to 1984.
Mr. Rothbort received an M.B.A., majoring in Finance and International Business from the Stern School of Business, New York University, in 1992, and a B.Sc. in Economics, majoring in Accounting, from the Wharton School of Business, University of Pennsylvania, in 1982. He is also a graduate of the prestigious Stuyvesant High School in New York City. Mr. Rothbort is married to Layni Horowitz Rothbort, a real estate attorney, and together they have five children.