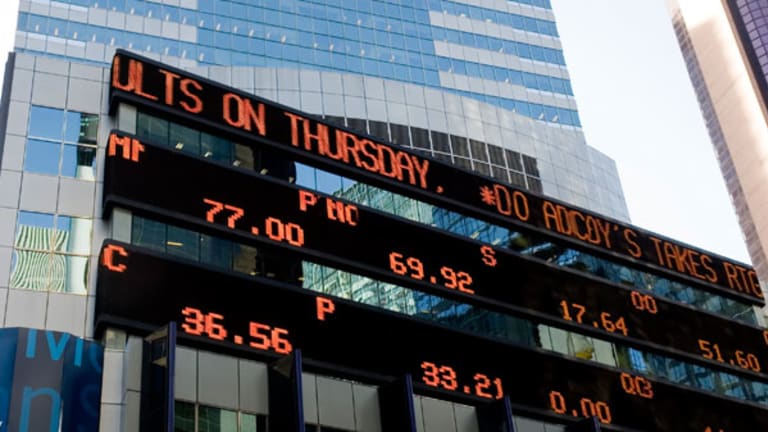 5 Stocks With New CEOs to Stay Away From
Investors should steer clear of these stocks of companies under new management.
Investors should steer clear of these stocks of companies under new management.
MILLBURN, N.J. (Stockpickr) -- Companies, unlike members of the animal kingdom, can theoretically live forever. But a company's CEO, the person in charge of the day-to-day operations of the company, is human, and his or her time at the top is finite.
Issues always arise for both the company's management and shareholders as to what to do when a CEO leaves, whether the departure is planned or not. While the board of directors will ultimately make the decision as to whom to appoint as the CEO, investors, in my opinion, invest as much in the company's management as they do in the company's stock.
>>5 Stocks Under $10 Set to Soar
So when a CEO change is made, we must look carefully at a stock and decide whether or not the CEO change is a material event that necessitates action on our part. Sometimes a new CEO spells trouble or the continuation of problems for a company. Other times a new CEO might bring a refreshing change or opportunity for a turnaround to a company, as it did for
Ford
(
) when Alan Mullaly took over the reins at the automobile manufacturer. Quite often, new CEOs are merely another step in a line of successful managers who help to steer the company to even greater heights.
We've already taken a look at five CEOs who are making their companies' stocks attractive to investors, in "
5 Stocks With New CEOs to Stick With
."
Now let's take a look at
five stocks with new CEOs that investors should avoid
.
Hewlett-Packard
For close to two decades,
Hewlett-Packard
(HPQ) - Get Report
had the perfect business model of combining desktop computing with desktop printing. It was a "hand in glove" strategy that helped propel the company to superiority over competitors such as
Dell
(DELL) - Get Report
,
Lexmark
(LXK)
and Gateway.
The company was headed up for many years, from July 1999 to February 2005, by Carly Fiorina, who helped to navigate Hewlett Packard out of the tech bubble crash until her eventual departure. The next permanent CEO to run Hewlett Packard was Mark Hurd who, during his August 2005-to-August 2010 tenure, took the company to post-bubble heights despite the U.S. credit crisis and resultant market crash and recession. Hurd resigned from Hewlett-Packard not due to his failure to successfully operate the company but rather as a result of sexual misconduct charges.
>>3 Tech Stocks to Buy on a Pullback
Unfortunately for Hewlett Packard, that was the beginning of the end for the company and its stock. Hurd was replaced with a software expert, Leo Apotheker, who made several strategic mistakes in a short period of time, including the purchase of Palm and then flip-flopping on its mobile device strategy. Apotheker was recently replaced by Meg Whitman, the former CEO of
eBay
(EBAY) - Get Report
, which she took from startup status and built into an Internet retail powerhouse.
Now Whitman is expected to do for Hewlett-Packard what she did for eBay -- but I believe that is a far reach. Hewlett-Packard has structural problems, including the decline in paper publishing and an increase in screen-based publishing from e-readers and
Adobe
(ADBE) - Get Report
software. Furthermore, the company finds itself losing competitively to
Apple
(AAPL) - Get Report
both in the desktop and mobile space.
Research In Motion
BlackBerry maker
Research In Motion
( RIMM) was for many years in direct competition with Palm (which as I mentioned was eventually purchased by HP) to capture market share in the enterprise mobile device/telecommunications business. RIMM handily won out, and for nearly a decade, it was the dominant player in the mobile enterprise space.
Then along came Apple and the iPhone. RIMM was slow to react as the consumer mobile smartphone market took off, preferring to stick to its core competency in the enterprise business. When Research In Motion did wake up to the new realities of the technology market, it produced smartphones with small screens that were just not as appealing as the iPhone.
Apple one-upped RIMM and Hewlett-Packard with its iPad. RIMM's response was the Playbook, which was, to say the least, a major flop, and now enterprise users are fleeing RIMM to Apple's platform.
>>6 Tech Stocks That Rate Better Than Apple
Shares of Research In Motion have been in rapid decline this past year. A new CEO, Thorsten Heins, is now at the helm. We recently learned that former CEO Jim Balsille had been at loggerheads with the board as he sought to open up RIMM's proprietary network to competitive products, thus maintaining control over the service aspect of the business. That might have been a smart move.
Research In Motion is clearly without a strategy or direction for the future. Don't let rumors of a takeover suck you into this stock. It is dead money.
Yahoo!
There is no doubt in my mind that
Yahoo!
(YHOO)
is one of the most dysfunctional public companies on the planet. No doubt it deserves its prominent presence on my
list of the worst-run companies
.
Yahoo!'s co-founder and former CEO Jerry Yang finally resigned from the company earlier this year. He will be long remembered as the CEO who turned down a large takeover offer from
Microsoft
(MSFT) several years ago. That came a few months following the firing of CEO Carol Bartz, who produced nothing over her nearly two-and-a-half-year tenure at the company.
Now former PayPal President Scott Thompson is Yahoo!'s CEO. Thompson plans to split the company into three divisions. Talk about rearranging the deck chairs.
Priority No. 1 should be monetizing the company's holdings in Alibaba. Priority No. 2 must be returning cash to shareholders. Priority No. 3 has to be selling the company. The problem is that the company has been up for sale for over a year now, and there are no takers.
For another take on Yahoo!, check out "
."
Sony
Howard Stringer was brought in to
Sony
(SNE) - Get Report
after a 30-year career at
CBS
(CBS) - Get Report
. Since 2005, Stringer has been the global CEO of Sony. He is being replaced by the president and CEO of Sony Entertainment, Kazuo Hirai.
It's a daunting task to describe the mess that Sony finds itself in, most of the blame for which could be placed on Stringer. The Sony Pictures unit has not led its peer studios in total gross revenue since 2006, having fallen behind Warner Brothers of
Time Warner
(TWX)
and Paramount of
Viacom
(VIA) - Get Report
. Television sales have been weak, and margins have become razor thin.
Some of this has to do with the overall market for television sets, which has weakened since the big flat panel boom of a few years ago. The rest of the problem has to do with the competition from the likes of Samsung, which has become the dominant global consumer electronics manufacturer. Plus, Sony, which once pioneered the Walkman personal music device, totally missed out on the digital MP3 revolution.
>>12 Highest-Rated Consumer Stocks Picked by S&P
This company, under founder Akio Morita, once found itself at the top of the electronic mounting, looking down at the rest of the word, but it has since fallen into the valley and has a long way to scale back to the top. Even with Hirai taking over, the company is not worth investing in.
Best Buy
Best Buy
(BBY) - Get Report
CEO Brian Dunn recently resigned under a cloud of intrigue for what was initially reported by the press as improper personal conduct. Speculation was that he had an affair with a co-worker. The reason does not really matter. Dunn is done, and the hunt for a new CEO is under way.
That new CEO will be faced with mounting problems at the nation's largest consumer electronics retailer. So don't put your capital behind the company and its new CEO, whoever that might be. In fact, the company recently reported that it will close 50 U.S. big box stores. This is not good for a company that has spent the last decade beating up on competition and expanding its presence. Best Buy has for the most part become a showroom for
Amazon
(AMZN) - Get Report
and Apple products.
As I mentioned above, the margins for consumer electronics are already being squeezed. Best Buy is a good company in a broken industry, whose graveyard is already littered with the carcasses of companies such as Crazy Eddie, Circuit City, 6th Avenue Electronics and Incredible Universe. If Best Buy does not reinvent itself, it might be looking for its own grave plot.
To see these stocks in action, visit the
5 Companies With New CEOs to Avoid
portfolio.
And also check out part 1 of this series: "
5 Stocks With New CEOs to Stick With
."
-- Written by Scott Rothbort in Millburn, N.J.
RELATED LINKS:
>>5 Big Stocks to Trade for Gains
>>7 Dividend Stocks You Can't Ignore
>>5 Rocket Stocks Ready for Blastoff
Follow Stockpickr on
and become a fan on
Facebook.
At the time of publication, Rothbort was long AAPL stock and calls, although positions can change at any time.
Scott Rothbort has over 25 years of experience in the financial services industry. He is the Founder and President of
, a registered investment advisor specializing in customized separate account management for high net worth individuals. In addition, he is the founder of
, an educational social networking site; and, publisher of
The LakeView Restaurant & Food Chain Report
. Rothbort is also a Term Professor of Finance at Seton Hall University's Stillman School of Business, where he teaches courses in finance and economics. He is the Chief Market Strategist for The Stillman School of Business and the co-supervisor of the Center for Securities Trading and Analysis.
Mr. Rothbort is a regular contributor to
TheStreet.com's RealMoney Silver
website and has frequently appeared as a professional guest on
Bloomberg Radio
,
Bloomberg Television
,
Fox Business Network
,
CNBC Television
,
TheStreet.com TV
and local television. As an expert in the field of derivatives and exchange-traded funds (ETFs), he frequently speaks at industry conferences. He is an ETF advisory board member for the Information Management Network, a global organizer of institutional finance and investment conferences. In addition, he is widely quoted in interviews in the printed press and on the internet.
Mr. Rothbort founded LakeView Asset Management in 2002. Prior to that, since 1991, he worked at Merrill Lynch, where he held a wide variety of senior-level management positions, including Business Director for the Global Equity Derivative Department, Global Director for Equity Swaps Trading and Risk Management, and Director for secured funding and collateral management for the Global Capital Markets Group and Corporate Treasury. Prior to working at Merrill Lynch, within the financial services industry, he worked for County Nat West Securities and Morgan Stanley, where he had international assignments in Tokyo, Hong Kong and London. He began his career working at Price Waterhouse from 1982 to 1984.
Mr. Rothbort received an M.B.A., majoring in Finance and International Business from the Stern School of Business, New York University, in 1992, and a B.Sc. in Economics, majoring in Accounting, from the Wharton School of Business, University of Pennsylvania, in 1982. He is also a graduate of the prestigious Stuyvesant High School in New York City. Mr. Rothbort is married to Layni Horowitz Rothbort, a real estate attorney, and together they have five children.