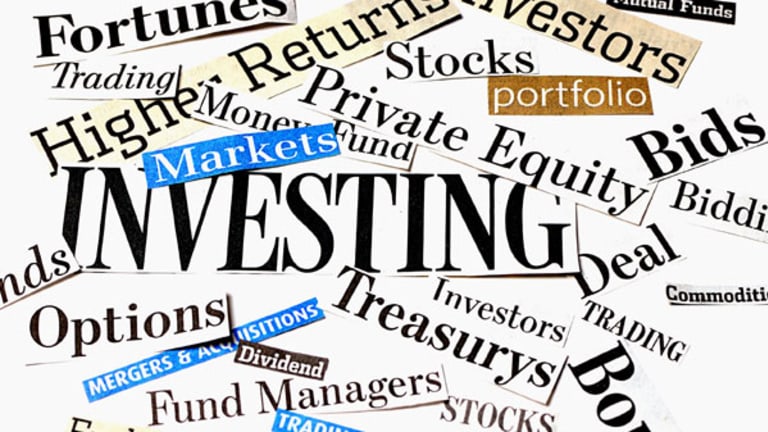 5 Stocks With High PEG Ratios to Avoid
These stocks, which have high price-earnings-to-growth ratios, invite too much risk into one's portfolio.
These stocks, which have high price-earnings-to-growth ratios, invite too much risk into one's portfolio.
MILLBURN, N.J. (Stockpickr) -- Recently, I highlighted stocks with low PEG ratios in "Stocks Promising Growth at a Reasonable Price." As a GARP investor, my investment strategy seeks out stocks selling at low price-earnings-to-growth ratios.
As a reminder, The PEG ratio adjusts the P/E ratio for growth. A stock with a P/E of 16 growing earnings at 10% per year will have a PEG of 1.6. The lower the PEG, the less we are paying for future growth. The higher the PEG, the riskier the stock is because of the dual sensitivity to both changes in current earnings and future growth.
The objective for GARP, or growth at a reasonable price, investors such as me is to seek out stocks with PEG ratios closer to 1 and avoid stocks with PEG ratios closer to 2.
Related:
This time around, I want to look at stocks at the opposite side of the ledger: those with high PEG ratios. These stocks should be avoided or risk-managed with caution, because they invite too much risk into one's portfolio.
Here are
five high-PEG stocks to keep on your radar screen
, especially as we enter earnings season. Some may be good short-sale candidates while other may require a bit of cautious oversight for long investors or traders.
SodaStream
SodaStream
(SODA) - Get Report
is a very interesting company. It is essentially a one-product company that makes a do-it-yourself at home carbonated beverage system. The concept is very simple: You purchase the SodaStream system, CO2 cartridges, flavorings and bottles from the company. It is a razor-and-razor-blades-type concept. Using tap or bottled water, you can make a carbonated beverage at home without the hassle of carrying heavy packages home from the store, storing large bottles or dealing with recycling.
SodaStream is to soda what
Green Mountain Coffee Roasters'
(GMCR)
Keurig K-Cup system is to coffee and tea. Both SodaStream and Green Mountain Coffee Roasters' stocks sell at high P/E ratios, but the similarities end there. SodaStream sells only its own products. Many coffee and tea manufacturers, including
Starbucks
(SBUX) - Get Report
and
Caribou Coffee
( CBOU), sell their products in K-Cup format. I do not expect
Coca-Cola
(KO) - Get Report
or
Pepsi
(PEP) - Get Report
to distribute DIY syrup through the SodaStream system.
Furthermore, Green Mountain Coffee Roasters is growing at a much faster rate than SodaStream is expected to grow at. Green Mountain Coffee Roasters' PEG is much closer to 1, while that of Soda Stream is above 2 and in the danger zone.
SodaStream will one day be a good short sale. I would not want to guess when that day will come, but once the stock falls from grace, you can play it from the short side.
SodaStream was also featured recently in
10 Stocks With Huge Rebound Potential
.
Salesforce.com
Salesforce.com
(CRM) - Get Report
is a Wall Street darling as a leader in the technological cloud computing revolution. The momentum crowd loves to chase this stock. I have to admit that I am all in favor of cloud technology and believe that there are excellent opportunities in this field -- but we have to be cognizant of the fact that Salesforce.com is not alone. There are plenty of big and small companies entering the cloud computing market, leaving a very richly priced stock such as Saleforce vulnerable to competition.
When looking at stock metrics for the current year, ending in January 2012, the stock is selling at way too high a PE or PEG ratio for my liking. Any slight earnings miss could cause the stock to tumble.
To the Salesforce's credit, it has consistently outdistanced Wall Street consensus estimates. So if you own Salesforce.com, enjoy the ride. I just don't know how long it will last. If and when it does hit that bump in the road, the downside could get very nasty.
I recently featured Salesforce, one of
, in "
8 Companies Microsoft Should Buy
."
Amazon.com
Amazon.com
(AMZN) - Get Report
, the world's largest e-commerce company, is a survivor of the tech/Internet bubble of the late 1990s. CEO Jeff Bezos has done a great job of growing the company in the last decade and cleaning up its balance sheet, but we have to be cognizant of several headwinds that could develop and put pressure on the company's growth rate and then its stock price.
Amazon.com's Kindle product is highly successful and was the first-of-its-kind eBook reader to hit the market a few years ago. However, that functionality is now being integrated and in some instances improved upon by many competitors, both in the bookstore world, such as with
Barnes & Noble's
(BKS) - Get Report
Nook product, and in the emerging and fast-growing mobile tablet computing space, led by manufacturers and products such as
Apple's
(AAPL) - Get Report
iPad and
Motorola Mobility's
(MMI) - Get Report
Xoom.
State and local governments are having budgetary problems. This should come as no surprise to anyone. Internet sales have been excluded from collection of sales taxes under a federal tax exemption except in cases where the vendor has a place of business or location in the state where the sale is made. The advantage currently goes to e-commerce vendors such as Amazon.com, where buyers try to avoid paying sales taxes at the point of sale, over bricks-and mortar-vendors, which have no choice other than to charge state and local sales tax. Should that federal exemption be revoked, then Amazon.com would lose its edge over much of its competition.
If I owned AMZN, I would be playing it with a trailing stop and maybe some out of the money puts.
Amazon, also one of
, is one of the
top holdings of Julian Robertson's Tiger Management
.
Dolby Laboratories
Dolby
(DLB) - Get Report
, which has a market capitalization of $4.6 billion, develops and delivers products and technologies for sound and digital audio for both professional and personal use. Dolby is in the sweet spot of entertainment technology, producing high-definition home entertainment and enhanced movie technologies in theaters.
This once fast-growing company's growth rate has slowed recently as Dolby has matured. Last fall the stock sold for as high as $70.14 and has declined by as much as 40% from that levell the stock currently trades for around $41.51. Earnings growth has declined rapidly to about 7% per annum, still leaving its PEG ratio above 2. Wall Street consensus estimates for the company's forward earnings continue to get ratcheted down.
Until and unless Dolby gets to a more reasonable PEG ratio of 1.5 or less, this stock has further room to fall.
>>Practice your stock trading strategies and win cash in our stock game.
Fortinent
Fortinet
(FTNT) - Get Report
is a global provider of network security platforms. There is no doubt that the company, which has shipped out over 700,000 units to over 100,000 since 2002, offers a much-needed technology in today's fast growing world of internet and wireless technology. However, that alone does not make Fortinet a cheap company worth investing in.
You are currently paying 74 times the current year's earnings, which is expensive by most reasonable investment criteria. And when factoring in expected growth rates, the PEG ratio is too high for my liking. Despite having over 60 patents and another 100 or more patents pending, the company remains vulnerable to slowing growth and competition.
Wall Street has become accustomed to the Fortinet's beating earnings expectations. If the company can continue that streak, you will see further stock price appreciation. Should the company falter, watch out below. My suggest is that if you own Fortinet or plan to buy the company's stock, you should play it with a 10% trailing stop to protect any downside catastrophe while capturing upside appreciation
To see these stocks in action, check out the
portfolio.
-- Written by Scott Rothbort in Millburn, N.J.
RELATED LINKS:
>>5 Heavily Shorted Market Leaders Set to Soar
>>10 High-Yield, High-Momentum Stocks
>>5 Big Stocks to Trade for Gains
Follow Stockpickr on
and become a fan on
Facebook.
At the time of publication, Rothbort was long AAPL, PEP and CBOU, although positions can change at any time.
Scott Rothbort has over 25 years of experience in the financial services industry. He is the Founder and President of
, a registered investment advisor specializing in customized separate account management for high net worth individuals. In addition, he is the founder of
, an educational social networking site; and, publisher of
The LakeView Restaurant & Food Chain Report
. Rothbort is also a Term Professor of Finance at Seton Hall University's Stillman School of Business, where he teaches courses in finance and economics. He is the Chief Market Strategist for The Stillman School of Business and the co-supervisor of the Center for Securities Trading and Analysis.
Mr. Rothbort is a regular contributor to
TheStreet.com's RealMoney Silver
website and has frequently appeared as a professional guest on
Bloomberg Radio
,
Bloomberg Television
,
Fox Business Network
,
CNBC Television
,
TheStreet.com TV
and local television. As an expert in the field of derivatives and exchange-traded funds (ETFs), he frequently speaks at industry conferences. He is an ETF advisory board member for the Information Management Network, a global organizer of institutional finance and investment conferences. In addition, he is widely quoted in interviews in the printed press and on the internet.
Mr. Rothbort founded LakeView Asset Management in 2002. Prior to that, since 1991, he worked at Merrill Lynch, where he held a wide variety of senior-level management positions, including Business Director for the Global Equity Derivative Department, Global Director for Equity Swaps Trading and Risk Management, and Director for secured funding and collateral management for the Global Capital Markets Group and Corporate Treasury. Prior to working at Merrill Lynch, within the financial services industry, he worked for County Nat West Securities and Morgan Stanley, where he had international assignments in Tokyo, Hong Kong and London. He began his career working at Price Waterhouse from 1982 to 1984.
Mr. Rothbort received an M.B.A., majoring in Finance and International Business from the Stern School of Business, New York University, in 1992, and a B.Sc. in Economics, majoring in Accounting, from the Wharton School of Business, University of Pennsylvania, in 1982. He is also a graduate of the prestigious Stuyvesant High School in New York City. Mr. Rothbort is married to Layni Horowitz Rothbort, a real estate attorney, and together they have five children.