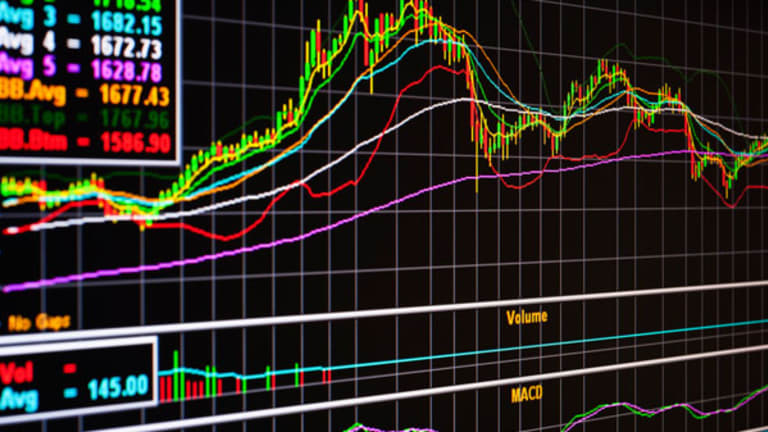 5 Stocks With Growth Potential
These stocks have both short-term gain catalysts and long-term growth potential.
BALTIMORE (Stockpickr) -- European debt concerns, sluggish economic data back home and mixed corporate earnings numbers all weighed on stocks last week, pushing major indices into slightly negative territory by Friday's close. This week, the focus will be on much of the same news items as market participants await some resolution before opting to sink their cold, hard cash into risk assets once again.
The market's relatively flat downward skew has proven particularly painful for traders in the last few weeks. With an absence of directional trading opportunities in this ranging market, the effects are being felt everywhere from institutional trading floors to retail traders' accounts. That said, some evidence suggests that the market could be soon to break free of its trading range.
Naturally, we'll want to take full advantage of any such move -- that's why we're looking at five new Rocket Stocks plays for this week.
Related:
For the uninitiated, Rocket Stocks are our list of companies with short-term gain catalysts and longer-term growth potential. To find them, I run a quantitative screen that seeks out stocks with a combination of analyst upgrades and positive earnings surprises.
In the last 104 weeks, Rocket Stocks have outperformed the
by a very material 78.44%.
Here's a look at
.
U.S. Bancorp
$51 billion diversified financial firm
U.S. Bancorp
(USB) - Get Free Report
, one of TheStreet Ratings'
top-rated diversified financial services stocks
, has its hands in a number of complementary businesses -- from retail banking to asset management. It's that varied revenue stream that helped the company make opportunistic bets during the height of the recession -- bets that investors are benefiting from now that economic recovery is under way.
Because fee-based revenue has historically rung in at around half of U.S. Bancorp's top line, the firm is considerably less beholden to the Fed's interest rate decisions than many of its peers. At the same time, that exposure to lucrative business lines has meant that USB sees regional bank sized margins that weigh in well into the double digits.
During the height of the recession, U.S. Bancorp was able to use its capital position to acquire a handful of troubled banks with FDIC assistance, a move that increased the size of USB's deposit base at a bargain bin price. With USB's impressive loan book practices being extended to the firm's new subsidiaries, expect outsized performance to increase for this best-in-breed large bank.
Betting on USB once again is
, whose Berkshire Hathaway maintained its 69 million-share position in the stock in the first quarter.
Alcoa
2011 is so far shaping up to be a fairly unremarkable year for
Alcoa
(AA) - Get Free Report
, the world's biggest producer of alumina and aluminum. Shares of the mammoth miner have managed to deliver market-matching returns but little more year-to-date. That said, with rising analyst sentiment taking place on Wall Street, investors would do well to keep an eye on this stock right now.
While Alcoa is one of the world's lowest-cost aluminum miners, that positioning has come as little consolation to investors following the massive decline in aluminum prices that was brought by 2008's recession. Even though global demand for aluminum has risen in the years since, the commodity hasn't been able to make it back to pre-recession levels, and Alcoa's income statement and long-term growth plans have taken a hit as a result.
That said, emerging market economies could be the key drivers for that aluminum demand in the next few years, bringing aluminum prices to healthier levels for Alcoa's margins. Because the firm already has the requisite cost structure in place, this stock's profitability could skyrocket given the right pressures on the London Metal Exchange price for aluminum. We're betting on shares as sentiment swings higher this week.
Also betting on Alcoa is
, which had a 5 million-share position in the stock as of the most recent reporting period, comprising 3.3% of the total portfolio.
Capital One Financial
On the other hand, 2011 has been a very impressive year for shareholders of
Capital One Financial
(COF) - Get Free Report
. The banking stock has managed to deliver stock gains of nearly 30% already this year, beating the S&P 500 by a factor of five.
Capital One has made major transformations in the past few years, increasing the credit quality of its card issuance arm and bringing its retail banking operations into the spotlight. Through it all, Capital One has been very adept at adequately pricing risk. Even when the firm's focus was on more-marginal card issuance, a solid pricing management apparatus meant that COF was well insulated from lending risks. Today, it means that the firm is well-suited to its expansion to other loan types, such as auto and small business loans.
Because Capital One's sizable retail banking operations provide the firm with an inexpensive deposit base to lend from, expect this firm to see continued improvements in profitability -- especially if the yield curve widens further.
Capital One shows up in various Stockpickr professional portfolios, including that of
, with an 18 million-share position, and
Lee Ainslie's Maverick Capital
, with a new 2.6 million-share stake. The stock also shows up on a recent list of
.
Lockheed Martin
As the world's largest defense contractor,
Lockheed Martin
(LMT) - Get Free Report
has a scale that's truly massive, bringing in nearly $46 billion in revenue last year. But that enormous exposure to Uncle Sam's purse strings has left some investors concerned about Lockheed's growth potential, particularly given the budgetary crisis being faced by Congress right now. With even the Joint Chiefs of Staff suggesting that Congress cut defense spending, Lockheed could see a painful pullback forthcoming.
To combat that, the firm and its peers have been building their IT businesses, looking to score contracts with other government agencies that will help diversify these contractors away from defense. The move may just be enough to offset any lost defense revenue, but investors should still be aware of the potential earnings drag that could come from a spending cut.
With a strong balance sheet and hefty dividend payout, expect this firm to continue to be a favorite among income investors. With rising analyst expectations under way, more institutional investors could also become fans of this contractor's shares in 2011.
Lockheed, one of
20 top-yielding aerospace and defense stocks
, shows up on a recent list of
5 Stocks With Safe, High Dividend Yields
.
Danaher
Danaher
(DHR) - Get Free Report
, one of the
top-yielding conglomerates stocks
, is a diversified manufacturer that holds dozens of brands in its portfolio of names. Manufacturing everything from medical equipment to
Sears'
(SHLD)
line of Craftsman tools, Danaher is hardly subject to the same typical industry pressures that less-diversified firms have to deal with.
One of the reasons for that is the massive amount of recurring revenues that hit the firm's income statement each year. Nearly half of all sales are recurring, a ratio that significantly reduces that amount of outlay that's required to build up sales numbers. With the proceeds, Danaher has been consistently acquiring firms that would fit well in its corporate portfolio. With the majority of recent years' sales growth coming from such acquisitions, this is likely a growth route that management will continue to take.
We're betting on shares this week as rising analyst sentiment comes into play for shares.
Also betting on Danaher are
, with a 1.9 million-share stake, and
, with 2.9 million shares as of the most recent reporting period.
To see all of this week's sentiment plays in action, check out
at Stockpickr.
-- Written by Jonas Elmerraji in Baltimore.
RELATED LINKS:
>> 8 Stocks With Recent Dividend Increases
>>Debt-Free Stocks That Could Get Squeezed Higher
Follow Stockpickr on
and become a fan on
Facebook.
At the time of publication, author has no positions in stocks mentioned.
Jonas Elmerraji is the editor and portfolio manager of the Rhino Stock Report, a free investment advisory that returned 15% in 2008. He is a contributor to numerous financial outlets, including Forbes and Investopedia, and has been featured in Investor's Business Daily, in Consumer's Digest and on MSNBC.com.