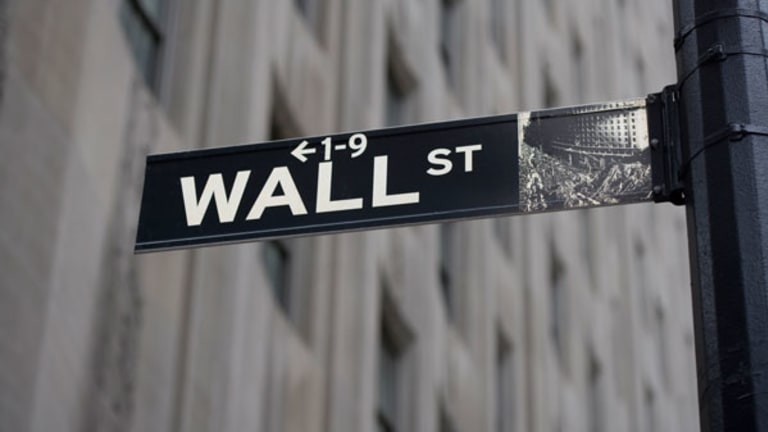 5 Stocks With Double-Digit Yields
These high-yield plays carry some risk but plenty of reward.
NEW YORK (Stockpickr) -- If you're counting on fixed-income investments to produce steady revenue streams coming in the door, then you can forget about the government. T-Bills and U.S. bonds offer some of the lowest payouts in memory, and if Fed chairman Ben Bernanke has his way, that will be the case for the next several years as well. He wants to keep rates very low to help the economy get up off of the mat.
You could turn to the corporate bonds offered up by blue chip stocks. They're quite safe, and typically offer yields in the 3% to 6% range. But for some investors, that's not enough, especially when you can find investments that yield 10% or more.
>>7 Dividend Trap Stocks That Don't Pay Off
Of course, such a high-yielding investment should raise your eyebrows. If it were a risk-free rock-solid yield, then many investors would have already bought them, which would effectively push down the yield back into the single digits.
Still, you need not avoid the group of ultra high-yielders completely. Some of these high-yielders have built up a decent track record, and though they made need to eventually reduce their payouts, the yields could still remain quite respectable.
Here are
for you to consider.
>>ACTIVE STOCK TRADERS: Check out Stockpickr's special offer for Real Money, headlined by Jim Cramer, now!
Two Harbors: 15.6% yield
Real estate investment trust
Two Harbors
(TWO) - Get Free Report
trades residential mortgage-backed securities, which are bundles of both prime and subprime loans. To help deliver high yields, the company uses borrowed funds to magnify returns on equity.
Since most of the income is paid out in the form of dividends, this stock doesn't move very much: It has traded between $8.50 and $10.50 for the past two years. Yet investors in this stock mainly care about the yield, which is currently 15%.
Of course, exposure to both RMBS and the company's own debt is likely too scary for some investors. And since this company began operations after the mortgage meltdown of 2008, there's a limited track record. How would Two Harbors fare if mortgages collapsed again? Probably not very well. Still, the odds of that happening appear less likely with each passing quarter as the housing market starts to stabilize.
>>5 Dividend Stocks to Buy With Leverage Over Apple
However, an outright collapse of the stock market isn't the real risk. Instead, it's that the housing market will start to get healthier, and more investors will be comfortable buying up RMBS, pushing their yields down. As profit spreads tighten, Two Harbors will simply make less, and the dividend may fall as low as $1 a share. Still, that equates to an almost 10% yield at current prices.
As of the most recently reported quarter, Two Harbors was one of
Appaloosa Management's holdings
.
Chesapeake Granite Wash Trust: 13.7% yield
Chesapeake Energy's
(CHK) - Get Free Report
CEO Aubrey McClendon is too clever by half. He's spent the past few years buying and selling oil-and-gas-related assets and has now put the company's stock at risk. Chesapeake's base of assets is formidable, but the company's near-term debt obligations are even more so.
One of McClendon's balance sheet tricks was to sell off the profit stream from some of its energy fields in the form of the
Chesapeake Granite Wash Trust
(CHKR) - Get Free Report
in late 2011 (the company owns three-fifths and the public owns the rest). The $19 IPO initially ran to $30 in March, 2012, but is now down below $20, creating an eye-popping dividend yield. Much of the blame goes to the sharp slump in natural gas prices, which threaten to impede cash flows -- and Chesapeake Granite Wash's dividend.
>>5 Energy Stocks T. Boone Pickens Loves Right Now
Yet investors should know that the parent company, Chesapeake Energy, will have to forego the rights to a share in the cash flow if the cash flow dips. Still, cash flow has been so sharply reduced that Chesapeake had to cut the quarterly dividend to 66 cents a share, below the 74 cents a share that many investors had been expecting.
Right now, there is some debate about whether the dividend reduction was just a one-time measure, or the start of a trend. If you're a far-sighted investor, it doesn't matter. Payouts may fall even further, pushing this yield into the high single-digits, but when oil and gas prices rebound (as they invariably do), the payouts will rise again.
More to the point, that sub-$20 stock price won't last. An eventual move back to the $30 level seen a few months ago implies 50% upside, plus that eventually restored robust payout.
Whiting USA Trust: 16.3% yield
Whiting USA Trust
undefined
is the income-sharing arm of
Whiting Petroleum
(WLL) - Get Free Report
. The company receives royalties related to sales of oil and natural gas on revenue from oil and natural gas producing properties.
If you thought there's a catch for such a high-yield, you're right. The properties from which the trust earns royalties are depleting assets. The trust terminates when 9.11 million barrels of oil equivalent have been produced and sold from the properties. Thus far, a little more than half of that target has been met, and the trust's sponsors anticipate a 10% annual decline in the payout until the oil fields' quota is met, perhaps in 2016 or 2017.
Annaly Capital Management: 12.9% yield
Annaly Capital Management
(NLY) - Get Free Report
is similar to Two Harbors, which was discussed earlier. A key distinction is that it has a much longer track record -- and it's pretty impressive -- which may account for the slightly lower yield: Investors may see this as a somewhat safer play thanks to management's track record.
Annaly has generated positive free cash flow in every year of its existence, including the distressing years of 2008 and 2009. The annual dividend now appears stuck in the $2.50 a share range and is likely to stay in that area as long as interest rates (and hence the company's borrowing costs) stay low.
Annaly shows up on a list of
3 Financial Stocks With Huge Dividends for Weak Growth
.
Cohen & Steers Global Income Builder: 11% yield
Yield: 11%
Mutual fund
Cohen & Steers Global Income Builder
(INB) - Get Free Report
employs a very unusual strategy -- but it works. The fund invests in real estate investment trusts, master limited partnerships and utilities. The twist: The fund buys up stocks but also uses options strategies such as covered calls to produce income.
It can lead to erratic results. The dividend stood at $2 a share in 2008 but has been just above $1 a share ever since. Still, the sub-$10 share price gives this a double-digit yield.
To see these stocks in action, visit the
portfolio on Stockpickr.
RELATED LINKS:
>>3 Health Care Stocks to Trade or Not
>>5 Big Stocks Set to Slingshot Higher
>>5 Stocks Insiders Love Right Now
Follow Stockpickr on
and become a fan on
Facebook.
Stockpickr is a wholly owned subsidiary of TheStreet.com.
At the time of publication, author had no positions in stocks mentioned.