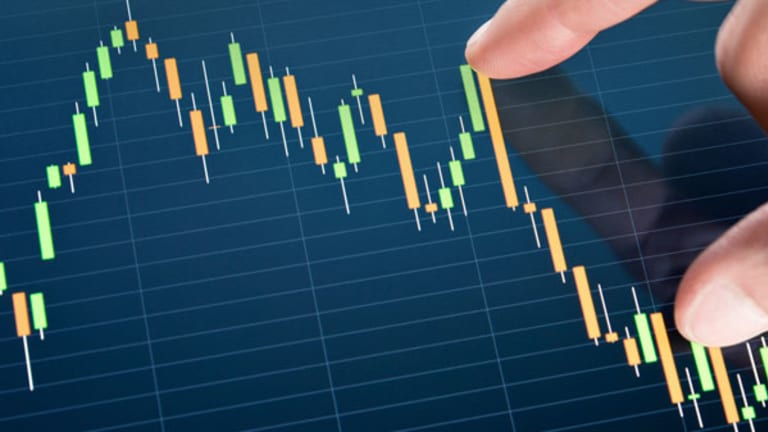 5 Stocks Warren Buffett Is Buying in 2013
Warren Buffett's two favorite stock pickers have been hard at work this summer.
BALTIMORE (
) --
has his two favorite stock pickers hard at work this summer, picking up shares of their favorite stocks for
Berkshire Hathaway's
(
,
) $89 billion portfolio. Buffett's betting big on these names; the question is, are you?
Todd Combs and Ted Weschler are former hedge fund managers hand-picked by Warren Buffett to help him manage massive chunks of Berkshire's enormous portfolio. So far, the Oracle of Omaha's lieutenants have been earning their keep: both managers beat the
by double digits last year.
But while Combs and Weschler have turned out impressive performance, don't accuse them of being creative when it comes to their trades; the seven names Berkshire increased in the second quarter were all add-ons to existing positions. Even though the buying has been cautious, it tells us a whole lot more about the stocks that these guys like than if they'd been buying with both hands.
>>5 Toxic Stocks You Should Sell
That's why today we're taking a closer look at five
conviction
buys on
Berkshire Hathaway's short list
.
That word -- conviction -- is an important distinction for the folks poring over Berkshire's latest 13F filings with the SEC.
U.S. Bancorp
U.S. Bancorp
(
) isn't the biggest financial sector buy from the second quarter (that honor goes to
Wells Fargo
(
)). But it was the biggest conviction buy of the quarter, with the addition of 16.8 million shares to Berkshire Hathaway's portfolio. The buy increased Buffett and company's stake in USB by more than 26%, a $744 million bump in dollar terms.
>>5 Stocks Poised for Breakouts
U.S. Bancorp is a $67 billion regional banking firm that operates a retail and commercial banking business in 25 states spread across the country. USB's size means that it's barely a regional bank -- save for the deep margins, financial strength and relative autonomy that this class of banks enjoys over its big-four rivals. While most banks have focused on transaction-driven income, USB's focus on fee revenues makes it especially attractive.
It's focused on the fees by building out its wealth management, credit card servicing, and trustee businesses, three units that have contributed double-digit growth rates to USB's income statement. Fee-based revenues are generally recurring, and they tend to court stickier customers than traditional banking operations could hope to. As a result, U.S. Bancorp offers up one of the larger dividend yields among big banks at 2.5%.
Berkshire is betting big on USB this quarter, and investors could do a lot worse.
General Motors
Warren Buffett likes to put his money where his mouth is: His penchant for Cherry Coke lines up with a huge stake in
Coca-Cola
(
). He liked fractional jet ownership firm NetJets so much that be bought the firm outright. And since his personal ride is a Cadillac DTS, it stands to reason that Buffett owns
General Motors'
(
) stock too.
>>5 Dividend Stocks That Want to Pay You More
General Motors was maybe the biggest conviction buy of the quarter, in fact. Berkshire increased its stake in the firm by 60% to 40 million shares. That gives the firm a $1.3 billion position in GM at last count. Today's General Motors isn't your grandfather's GM -- literally and figuratively. After going bankrupt in the Great Recession, the firm has made leaps and bounds, becoming a shining example of how to fix a broken business. The firm has shed unprofitable brands and significantly improved its build quality, churning out cars that are dramatically more competitive with their imported rivals than ever before.
GM achieved in bankruptcy what its previous iteration never could as a going concern -- it negotiated labor costs down to levels that allowed it to become competitive, and not just here at home. Indeed, nearly 70% of GM vehicles are sold outside of North America today, with a huge share coming from emerging-market countries such as China and Brazil. A new, more svelte operational structure means that GM is able to hit breakeven at much lower levels than before. And shareholders are benefitting in a big way.
While big pension obligations and a UAW labor contract two years from now do pose risks to GM's profitability, UAW's stake in GM shares helps align both sides of the table better than before. A balance sheet full of cash and renewed focus on building good cars again make GM a competitive name worth owning for core consumer cyclical exposure.
Chicago Bridge & Iron
Chicago Bridge & Iron
(
) was the only new position Berkshire Hathaway initiated last quarter, and it's another conviction buy this quarter. Berkshire increased its holdings of CBI by 3.04 million shares -- or 46%. That gives Buffet & Co. nearly 10% of CBI's outstanding shares at last count.
>>5 Earnings Stocks Everyone Hates -- but You Should Love
CBI is a worldwide engineering and construction firm. The firm's specialty comes in constructing energy facilities around the globe, but it's got a particular niche in building facilities that handle liquefied natural gas. Around 20% of CB&I's sales come from building steel plate structures that industrial customers use to store material. In recent years, CB&I has begun reaching away from its core construction and engineering business, adding on new ways to service its existing petrochemical customers. The Lummus Technology unit, for instance, sells gas processing and refining technology. While it's still a small chunk of CBI's revenues, it's a lucrative one.
Nuclear is another important stronghold for CBI. The acquisition of the Shaw Group made the firm one of the biggest manufacturers of nuclear energy facilities, which carry huge upfront construction costs in exchange for extremely low operating costs. That's an attractive tradeoff when corporate balance sheets are stuffed but uncertainty remains high. CBI may not be the most exciting name on the list from a consumer standpoint, but its recent buying spree has transformational implications for the firm's income statement.
Bank of New York Mellon
U.S. Bancorp wasn't the only conviction buy that Berkshire Hathaway made in the banking sector -- the other was
Bank of New York Mellon
(
). And like USB, BNY Mellon's best attributes are the factors that make it different from the other banks on the market. BNY Mellon is one of the biggest custody banks and asset managers in the country, catering to financial firms' back-office needs rather than lending cash to retail and commercial banking customers.
>>5 Must-See Charts to Trade for Gains
Those twin fee-driven businesses make BK a very different company than most; it earns hefty net margins that weigh in near those of a regional bank, and isn't as sensitive to the ebb and flow of the lending environment as traditional banks. And because BK has huge exposure to the investment world, the equity rally's swelling effect on assets carries over to similar gains for BNY Mellon's profits. BNY Mellon's positioning as one of the biggest in the world gives it cost advantages and lowered counterparty risk that makes it more attractive than most of the rivals it comes up against. As the firm grows its focus on the higher margin asset management business, it should be able to collect more cash for every dollar on deposit.
Berkshire Hathaway added 5.7 million shares to its stake in BNY Mellon this past quarter, hiking its stake in the bank by 31%. Investors looking for financial sector exposure without the labyrinthine balance sheet risks of a conventional bank should give BK a closer look.
VeriSign
Last up among Berkshire Hathaway's conviction buys for the second quarter is
VeriSign
(
). 2013 has been a strong year for the $7 billion tech firm -- shares have rallied more than 25% since the calendar flipped over to January. And Buffett's team thinks that that uptrend is inclined to continue.
That was reason enough to pick up 2.7 million shares of the firm, a 33% bump in their stake.
>>4 Big Tech Stocks on Traders' Radars
VeriSign is one of the biggest Internet infrastructure firms in the world, maintaining a central directory of all domains and many of the systems that run them. In a nutshell, VRSN's business is the Internet. The company is the gatekeeper to owning a .com Web address, and as a result, VeriSign is able to collect a fee for each of the more than 110 million domains that fall under its purview.
VRSN's exclusive contract with ICANN gives it a legal monopoly on the domains under its control. As a result, it's got one heck of an economic moat. That moat became slightly shallower when the Department of Commerce decided that it would have authority to approve any price hikes for VeriSign's services, ending an era of automatic revenue bumps. But it doesn't change VRSN's attractiveness right now. This firm still owns a critical (and lucrative) part of the web infrastructure in 2013.
To see the rest of Berkshire Hathaway's plays -- including a complete list of which stocks the firm added or sold off, check out the
Warren Buffett Portfolio on Stockpickr
.
-- Written by Jonas Elmerraji in Baltimore.
RELATED LINKS:
>>4 Stocks to Profit From the Bounce
>>5 Stocks Rising on Big Volume
>>5 Stocks Under $10 Set to Soar
Follow Stockpickr on
and become a fan on
Facebook.
At the time of publication, author had no positions in stocks mentioned. Jonas Elmerraji, CMT, is a senior market analyst at Agora Financial in Baltimore and a contributor to
TheStreet
. Before that, he managed a portfolio of stocks for an investment advisory returned 15% in 2008. He has been featured in
Forbes
,
Investor's Business Daily
, and on
CNBC.com.
Jonas holds a degree in financial economics from UMBC and the Chartered Market Technician designation. Follow Jonas on Twitter @JonasElmerraji