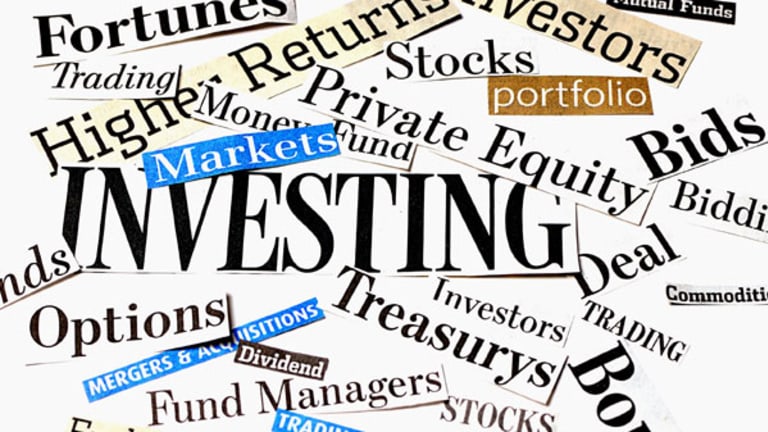 5 Stocks Under $5 That Could Soar
These small stocks might be risky, but the potential rewards are big.
MINNEAPOLIS (Stockpickr) -- I love small-cap stocks, in particular those that trade for less than $5 a share. In my long history of publishing stock recommendations, I can honestly say that the biggest money made over the years came from stocks that were trading for less than $5. While I've had many large-cap winners, the dollars made were not the same.
To be fair, it is also true that some of the biggest losers also were smaller stocks. They are certainly risky, but given the potential reward, the risk can be worth it.
A good friend of mine who has been a subscriber of many of my prior publications use to hound me for my top picks under $5. He liked the idea that I could recommend
Apple
(AAPL)
, but he didn't want to hear about it. He wanted the small stock that nobody else was talking about.
Related:
5 Dividend Stocks for Any Portfolio
The thinking behind such picks is that they allow you to pounce on an opportunity before a particular stock became popular with the rest of the market -- that is, before its price increases dramatically. In this way, you can rake in the returns.
It has been some time since I focused on under-$5 stocks. Generally speaking, at this stage of the market recovery, my own bias is to larger stocks. That said, there are plenty of interesting names to consider, including
these five stocks trading for under $5
.
Moneygram International
The financial crisis has left some significant holes in the banking system around the globe. Filling the gap are companies such as
Moneygram International
(MGI)
, a U.S.-based company that provides money transfers to consumers across the globe.
Shares of Moneygram trade below $3 per share today, but in my opinion, the company is worth more than $5 per share. Although Moneygram has had its issues over the last few years and is losing money, its fortunes are on the rise as losses evaporate and profits eventually return.
Earlier this month, the company reported earnings that beat expectations by 12 cents per share. The market yawned at this news, and shares have traded sideways in the month subsequent to the report being released.
As the economy improves and banks decide to work only with those customers with the most perfect credit scores, companies such as Moneygram are likely to thrive. I just don't see this company reporting anywhere near the $1.18-per-share loss now expected by analysts.
The minute investors realize this company will be profitable again is when shares will skyrocket. It is an easy stock to own at current prices.
Denny's
The casual dining space has been performing very well of late. Stocks such as
Buffalo Wild Wings
(BWLD)
and
Red Robin Gourmet Burger
(RRGB)
, for example, have taken off thanks to strong operating performance in the fourth quarter.
Under $5 per share restaurant
Denny's
(DENN)
has not enjoyed the same ride. It recently reported results for the fourth quarter ended Dec. 31, 2010, that missed expectations. Shares have drifted lower on the news and now trade for around $3.90 per share
I recommended this stock previously in 2009 as the editor for a penny stock newsletter. At the time I liked the story of the company. Its discounted menu fit perfectly with a contracting economy. Not much has changed since that initial recommendation, other than the stock being a bit higher.
I still like the company. Shares are attractively priced, and the growth story is solid, given an improving economy with consumer budgets that are still tight as a drum. Analysts expect the company to make 39 cents per share in the current year and 44 cents in 2012.
Buying double-digit earnings growth for a single-digit multiple of earnings has always worked very well for me in the past. I think the same will be true with Denny's.
Camtek
Camtek
(CAMT)
is an Israel-based company that manufactures optical inspection systems for high tech manufacturers. Its products are quite important to those industries requiring very precise instrument control of its processes.
The company was formed in 1987, and like many stocks trading for less than $5 per share, its shares were pummeled during the last recession. After dipping below a buck a share, Camtek has rebounded to trade around $4 today.
Over the last three months, the stock has been red-hot. Shares of Camtek have nearly doubled during that time as investors gained confidence in the company and its potential. Will that trend continue?
In the last quarter, Camtek missed analyst estimates for earnings by 2 cents a share. For 2011, Wall Street is expecting the company to make 43 cents per share. At current prices, shares trade for just 9 times that number.
That is way too cheap for a growth stock like this and is indicative of a market unwilling to take risk. That mentality is slowly beginning to change. Perhaps that explains the sharp move in Camtek during the last quarter.
I think there's more to come. If this company makes a dollar per share and trades at 10 times that number, you get a $10 stock. That may be a bit simplistic, but earning a dollar per share is not only realistic -- it is a probable outcome. The odds favor taking risk at this point with Camtek.
Jones Soda
If you like low priced stocks trading for less than $5
Jones Soda
(JSDA)
may be just for you. The stock of this specialty soft drink maker trades for just $1.37 per share. With a market cap of only $40 million, the company pales in size compared to
Coca-Cola
(KO)
.
After trading well below a buck a share, Jones Soda took off last year thanks in part to a deal to distribute its product at
Wal-Mart
(KO)
. Shares jumped to current levels as investors anticipated strong results from the partnership.
The current value of the company is based entirely on the brand. Jones Soda is losing money, and its long promise of being a niche player in the industry has failed to materialize. Certainly the company has its fans, but for the most part its drinks have failed to capture the imagination of the buying public.
What Jones Soda needs is its Snapple moment. That little brand was an upstart before self-proclaimed King of Media Howard Stern promoted the product. Should a similar spark be found for Jones Soda, the sky is indeed the limit.
This one is a purely speculative play. High risk, high reward.
Hercules Offshore
Are the riots and demonstrations in the Middle East frightening you? They should be if you care about your quality of life that is so dependent on Middle East oil. From an investing standpoint, the turmoil puts a spotlight on the sector and demonstrates once again why crude should be part of your portfolio.
With the increase in oil prices over the last decade, there are very few stocks trading for less than $5 to exploit. One possibility is
Hercules Offshore
(HERO)
. The oil spill in the Gulf of Mexico last summer nearly killed this company.
Shares of Hercules fell to nearly $2 per share in the wake of the disaster, but the collapse was shortsighted. Eventually the oil spill in the Gulf was contained. Longer-term there simply is no choice but to drill offshore, spill risk or not.
Now, with oil crossing $100 per barrel, drilling in the Gulf is fait accompli. That bodes well for Hercules, a company on track to lose 55 cents per share in 2010 and expected to lose the same in 2011.
I think those numbers are a bit too pessimistic. I think a near-breakeven year in 2011 is possible, especially with oil prices where they are today. If anything, oil prices are going higher, irrespective of the turmoil in the Middle East. A growing economy is creating demand that simply outpaces supply.
Keep in mind that Hercules was a $35 stock during peak oil in mid-2008. Of course, that was before the stuff hit the fan. Long-term we are heading back to peak oil prices. I can see Hercules doubling as a result.
To see these stocks in action, check out the
portfolio.
RELATED LINKS:
>>40 Value Stocks With Price Momentum
>>4 Silver Stocks That Shine on Pullbacks
>>5 Dividend Stocks for Any Portfolio
Follow Stockpickr on
and become a fan on
Facebook.
At the time of publication, author had no positions in stocks mentioned. Jamie Dlugosch is a founder and contributor to
MainStreet Investor
and
MainStreet Accredited Investor
. Formerly, he was president and CEO of Al Frank Asset Management. He has contributed editorially to
The Rational Investor
,
The Prudent Speculator
,
Penny Stock Winners
and
InvestorPlace Media
.