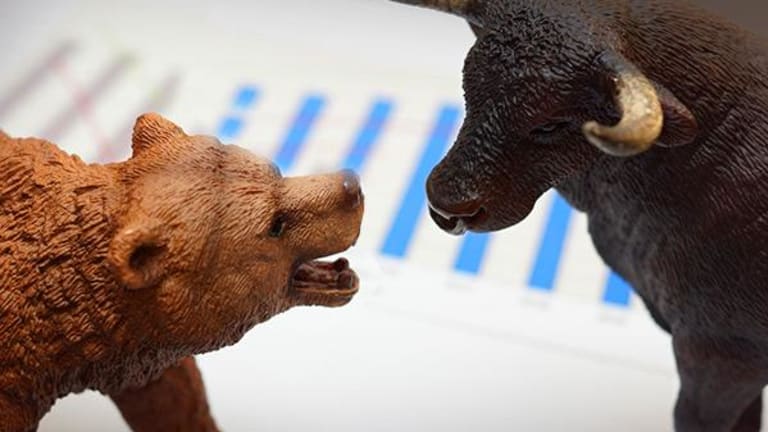 5 Stocks to Short for the Coming Bear Market
Companies like Alibaba, Caterpillar and mall REITs may be susceptible in the next bear market.
By every measure, the overall stock market is at or near all-time highs. The Dow Jones Industrial Average, the Nasdaq and the S&P 500 have all surged in recent months, on back of surging consumer and corporate confidence, continued strength in the economy and relatively little geo-political concerns around the globe.
Despite record stock prices, there are some experts that believe the good times aren't going to last forever -- and investors need to be prepared for the reckoning.
"When I look at the general stock market, I look at sentiment, valuation, breadth of the market and liquidity, and we're now at a 30-year low in cash for mutual funds," said Brad Lamensdor, portfolio manager of the AdvisorShares Ranger Equity Bear ETF (HDGE) - Get Free Report , an actively managed short-fund ETF. "Mutual funds are using every bit of cash they have to keep up with the indices -- once they start selling to deal with redemptions, that's when the trouble will start."
The fund, which has $165 million in assets under management, seeks to look for U.S.-based equities that have weak fundamentals, Lamendorf said, adding that things such as low-quality earnings or aggressive accounting practices are often red flags. In 2008, the ETF was up 96%, but has lost value in recent years, as the bull market has expanded for eight years.
That may all be coming to an end, however, as Lamendorf sees fundamentals headed the wrong way. 
"Interest rates are going in the wrong direction and with LIBOR (London Interbank Offer Rate) a full 50 to 100 basis points ahead of the 1-year ladder curve on T-Bills, bonds are very susceptible in this environment," Lamendorf said. "Once there is a huge let down in the bond market, that will be a massive headwind for the market."
What follows below is an interview with Lamensdorf on what companies investors should look out for. It has been lightly edited for brevity and clarity.
TheStreet:Tell us about the first area you're concerned about, the real estate sector.
Lamensdorf: I've hated REITs for years, but they've acted like Teflon against the market. During this so-called Trump rally, they've been one of the worst performing groups. We're short Macerich (MAC) - Get Free Report and KimcoRealty (KIM) - Get Free Report recently hit a 52-week low. 
The fundamentals and the technicals are in place for a big drop. The next serious correction we have, there's going to be serious pain in these stocks.
TheStreet:What about the next sector, automotive finance? U.S. car sales are near record highs and we've seen some moves that the Trump administration is being even more friendly to the automotive industry than the Obama administration was.
Lamensdorf: The auto finance area is in a complete bubble. Loans are at record highs and it's not sustainable. As a result, we're shorting AutoNation (AN) - Get Free Report and Credit Acceptance Corp. (CACC) - Get Free Report , which is the largest subprime auto credit provider.
TheStreet:Your next short, Caterpillar (CAT) - Get Free Report , may be even more controversial than the last, because of the pending infrastructure buildout the Trump administration has promised.
Lamensdorf: Caterpillar has pulled forward a tremendous amount of business the last three to five years. The quality of their earnings is very poor. And despite the seemingly high stock price, they've been manufacturing it by buying back a lot of stock. Right now, they're being run very poorly.
TheStreet:Alibaba (BABA) - Get Free Report , your last pick, has been mentioned a lot because of some concerns about products it sells on its platforms, but so far, nothing has happened yet. So what makes you so bearish?
Lamensdorf: We think Alibaba is allowing very fraudulent deals to be cut on their platform. A lot of their volume is being created that shouldn't be by selling counterfeit items, and as a result, we think there's some cleaning up of sales they will have to do. When they do that, there's going to be a big restructuring and the stock isn't priced for that.
Editors' pick: Originally published March 21.