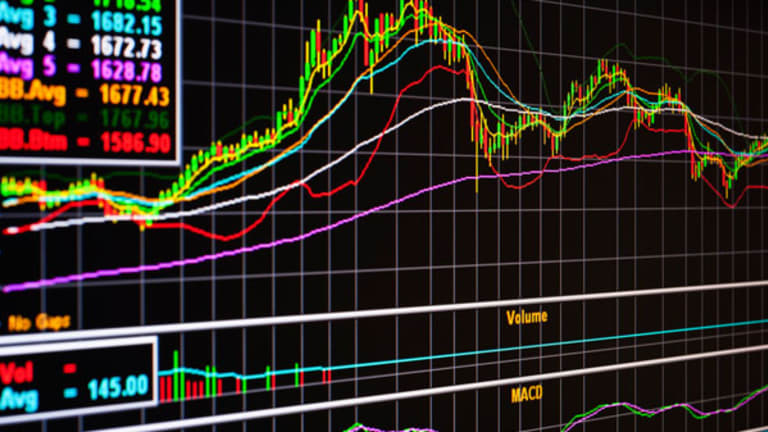 5 Stocks to Sell Ahead of Earnings
Following the market rally of the past month, we are seeing some big swings in stocks reporting earnings results.
MINNEAPOLIS (Stockpickr) -- When a company reports earnings, there is often a trading opportunity in advance of the release. Because stocks are priced on a discounting of future results, when news is announced, the market adjusts its pricing to actual events and company guidance. Stocks of companies releasing earnings can be quite volatile, and if you're on the right side of the trade, you can see big gains.
The general idea of trading earnings is to get in and get out: make the trade the day before earnings are released, and close the position in the trading day thereafter. Because earnings related moves can dissipate over time, the shorter the trade is in place the better. My holding period for earnings trades is 24 hours or less.
This earnings season we are seeing some big swings in stocks reporting results. Because the market has rallied over the last month, certain stocks are priced to perfection. In these situations, there has been a sell-the-news sort of reaction by the market no matter how good the news.
Related:
5 Rocket Stocks to Buy This Week
Case in point last week was the action in
TravelZoo
(TZOO) - Get Report
. The company lost 35% of its market value in the one day of trading after it reported disappointing results. Those short the stock in advance made a killing.
As for the stocks I highlighted last week in "
5 Earnings Stocks to Be Wary Of
,"
Chipotle Mexican Grill
(CMG) - Get Report
lost value immediately after reporting that profits were negatively impacted by higher commodity prices. It was a short-term blip, and the stock recovered lost value late in the week, but the initial trade worked for those short the stock heading into the report.
Other losers included
ITT Educational
(ESI) - Get Report
, which reduced future guidance, and
Pepsico
(PEP) - Get Report
, which announced it would raise prices in the U.S. to offset higher commodity prices. The lone exception last week was
Acme Packet
(APKT)
, whose shares soared after producing a solid report.
Heading into the current week, much of the same high-valuation dynamic exists on stocks set to report. Once again, I will focus on stocks to avoiding as they prepare to report earnings. Here are
five names to consider selling in advance
.
Baidu
Chinese search engine
Baidu
(BIDU) - Get Report
has been a growth stock with stellar performance. Shares are up 60% in 2011, making the stock one of the biggest gainers for the year. The company can do no wrong. It operates in the vastness that is China, and it dominates search there much like
Google
(GOOG) - Get Report
does here. So if Google is doing so well, how can we bet against Baidu?
The answer is valuation. Before Google released results, its shares were trading meekly. The stock had a relatively low valuation as investors speculated that a reduction in growth would be forthcoming. When the company blew away analyst estimates, shares increased in value.
That is not the case with Baidu. Analysts expect the company to make $2.66 per share in the current year and $4 per share next year. That 50% expected growth in profits is impressive, but you have to pay a big premium to get it. You can buy the stock today for a whopping 58 times earnings.
Over the last year, the company has beaten estimates but only slightly. A similar result or worse this go around will likely have investors taking profits in the stock.
One of TheStreet Ratings'
top-rated Internet software and services stocks
, Baidu shows up in the
portfolio of Chase Coleman's Tiger Global Management
. It was also featured last month in "
10 Stocks With Huge Rebound Potential
."
Amazon
Online retailer
Amazon
(AMZN) - Get Report
started in the book business, expanded to a wide range of consumer products and then morphed into an
Apple
(AAPL) - Get Report
-like business with its electronic book reader, the Kindle. Its performance has been impressive indeed.
The problem going forward for Amazon is that much of the good news is already priced into the stock. It has managed to gain 20% in 2011, but an earnings miss in the last quarter has taken some of the steam out of the stock. Since May, Amazon has traded in a range of $200 to $220 per share. The company reports results on Tuesday.
Analysts expect the company to grow profits by 56% from the current year to the next. That is a solid growth rate, no doubt, but shares already trade for 89 times 2011 estimates. Given that the company missed estimates the last time around, we could be in store for more of the same. If so, shares are likely to give up some of that premium valuation.
Amazon, one of
and a holding in
Julian Robertsons' Tiger Management portfolio
, was featured recently in "
5 Stocks With High PEG Ratios to Avoid
."
Buffalo Wild Wings
The casual dining space saw its share of challenges in the second quarter. Economic weakness or pause combined with higher raw material costs have negatively impacted results for restaurants that reported results last week. Chipotle Mexican Grill,
Cheesecake Factory
(CAKE) - Get Report
and
Ruby Tuesday
(RT)
all had disappointing reports.
Superstar stock
Buffalo Wild Wings
(BWLD)
reports results on Tuesday after the market closes. Shares of the company have soared in 2011, with the stock up 54% so far. Helping to fuel that performance is a string of earnings reports that have exceeded expectations.
Heading into the report this week, Buffalo Wild Wings is sporting a rich valuation. Wall Street is looking for growth of 19%, but shares trade for 25 times the average estimate of 2011 earnings. With such a premium valuation, one little slip and shares could tumble.
>> Keep the stock market at your fingertips with TheStreet's iPad app.
The risk this quarter is on the impact of inflation and a slowing economy in the second quarter. It is likely that Buffalo Wild Wings misses estimates this quarter, sending shares lower.
Buffalo Wild Wings is one of TheStreet Ratings'
top-rated restaurant and hotel stocks
.
Panera Bread
Given the risk of inflation in raw material costs negatively impacting earnings, I would be very cautious with any restaurant stock at the moment. That is especially true if the restaurant stock in question sports an extreme valuation. Investors tend to fall in love with fast-growing restaurants, but the restaurant category is full of boom-and-bust stories.
The latest feel-good story in the category is
Panera Bread
(PNRA)
. The little bakery that could has been growing impressively over the last few years, and investors have taken notice. Shares of Panera are up 30% this year thanks to steady earnings performance that has kept Wall Street and investors both satisfied.
Eventually, growth slows and the music stops for restaurant stocks. Over the last year, Panera has beaten estimates but only slightly. A greater negative impact on the price of flour and other items could result in the company's missing estimates when it reports results on Tuesday after the market closes.
With shares trading for 29 times 2011 estimated earnings and Wall Street looking for 16% earnings growth, an earnings miss could be disastrous for shareholders. I would sell this stock in advance of the report.
Panera is one of the
top holdings of John Hussman's Hussman Econometrics Advisors
.
Whole Foods Market
The grocery business is a high-volume game with lots of competition and thin profit margins. With food prices rising and consumers still hurting, the challenges are even more present.
On the surface it seems
Whole Foods Market
(WFM)
has figured out a way to escape the constraints of the industry. The company is growing quickly, and its focus on organic foods allows it to charge higher prices. It also caters to a higher-income customer, which makes it somewhat immune to the weak economy.
No wonder, then, that shares of Whole Foods are up 32% this year, standing in stark contrast to other grocery stocks this year, such as
Supervalu
(SVU)
, which is down 10% year-to-date. Warning bells should be ringing if you own Whole Foods.
No matter how good the story, reality eventually sets in. In this environment of rising food prices and anemic economic growth, does it really make sense to pay a huge premium for a grocery stock?
Shares of Whole Foods trade for 35 times expected earnings in 2011. What's more is that analysts are expecting earnings to grow by only 13% from this year to the next. I would sell this stock before the company reports earnings on Wednesday after the close.
Whole Foods, one of TheStreet Ratings'
top-rated food and staples stocks
, shows up on a recent list of
10 Cheapest Stocks With Best Growth Potential
.
To see these stocks in action, check out the
portfolio.
-- Written by Jamie Dlugosch in Minneapolis.
RELATED LINKS:
>>2 Pair Trades of Giant Competitors
>>7 Dividend Stocks Shoveling Cash to Shareholders
>>5 Stocks With Big Insider Buying
Follow Stockpickr on
and become a fan on
Facebook.
At the time of publication, author had no positions in stocks mentioned. Jamie Dlugosch is a founder and contributor to
MainStreet Investor
and
MainStreet Accredited Investor
. Formerly, he was president and CEO of Al Frank Asset Management. He has contributed editorially to
The Rational Investor
,
The Prudent Speculator
,
Penny Stock Winners
and
InvestorPlace Media
.