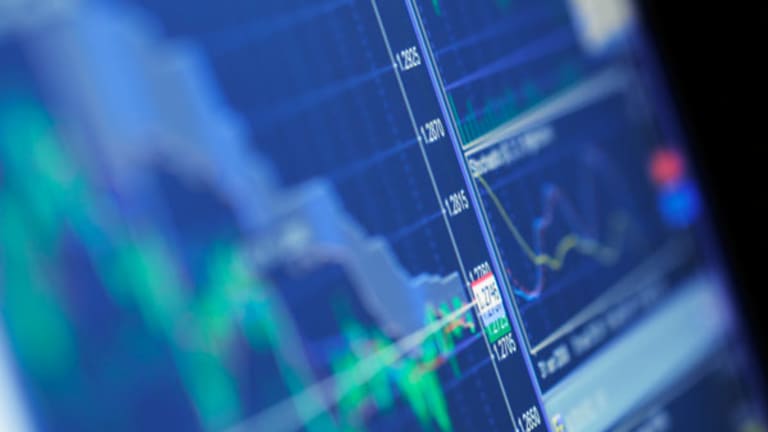 5 Stocks to Quench Your Portfolio's Thirst
Consider investing in these five beverage stocks.
MILLBURN, N.J. (Stockpickr) -- Everyone drinks some sort of beverage, and the huge beverage business continues to grow in the U.S. and internationally. The sector transcends a broad variety of drinks: hot and cold, alcoholic and non-alcoholic, caffeinated and non-caffeinated, carbonated and flat, flavored or just plain water.
With this in mind, let's take a closer look at my
.
>>5 Rocket Stocks Worth Buying This Week
Diageo
Diageo
is a U.K. distiller, brewer, bottler and distributor of a multitude of alcoholic products sold under recognizable brands such as Johnnie Walker, Bailey's, Smirnoff, Royal Crown, Tanqueray, Jose Cuervo, Seagram's, Guinness and Red Stripe. For its fiscal year ended June 2011, earnings per share, in pound sterling rose 16%. Gross margins rose 70 basis points during that period. In the first half of fiscal 2012, earnings also grew by 16%.
Compare these results to that of
Beam
(BEAM)
, which grew earnings by 10% in 2011 and is expect to do so again in 2012.
Brown Forman
(BF.B) - Get Brown-Forman Corporation Class B Report
, another distiller, is expected to have a more challenging year in 2012, as earnings are expected to decline.
On a valuation basis, Diageo is also the cheapest of all three competitors, selling at 15 times earnings vs. 22 for Brown Forman and 24 for Beam.
Caribou Coffee
Caribou Coffee
( CBOU) is the second-largest company-owned premium coffeehouse operator in the U.S. based on the number of coffeehouses. The company sells premium coffee and hand-crafted espresso-based beverages, as well as specialty teas, baked goods, whole bean coffee, branded merchandise and other coffee lifestyle items. In addition, Caribou Coffee supplies its products to grocery stores, mass merchandisers, club stores, office and foodservice providers, hotels, entertainment venues and e-commerce channels. Furthermore, Caribou Coffee licenses third parties to use the Caribou Coffee brand on quality food and merchandise items.
Caribou Blend coffee can be purchased across the country and can be brewed using the Keurig K-Cup system at home or at the workplace. Think of the Keurig system as the razor and the coffee cups as the razor blades. While Keurig is owned by the troubled
Green Mountain Coffee Roasters
(GMCR)
, the patent for the Keurig system is about to expire. This will mean that more companies can sell a version of the system, which will provide more channels of distribution for Caribou's products.
>>5 Stocks Set to Soar Off Bullish Earnings
As of Jan. 1, Caribou had 581 coffeehouses, including 169 franchised locations, in 20 states, the District of Columbia and nine international markets. This compares with 407 company-owned coffeehouses and 147 franchised and licensed locations as of July 3, 2011. More domestic and international expansion is planned for 2012 and beyond.
The coffee market continues to grow domestically and internationally.
Starbucks
(SBUX) is all too saturated in the U.S. and is looking toward the Far East for growth.
Dunkin Donuts
(DNKN) is too concentrated in the Northeast. Caribou, on the other hand, is headquartered in Minnesota and is slowly spreading through the nation with significant opportunities for expansion in its future.
Coffee prices have been on the decline since peaking in the spring of 2011. I expect those prices to continue to decline in early 2012 and then moderate. With consumers now accustomed to higher coffee prices, this will result in increased margins for a company like Caribou.
Coca-Cola
Coca-Cola
(KO) - Get Coca-Cola Company Report
is the world's largest diversified beverage company, dwarfing the market capitalization of its closest competitor
PepsiCo
(PEP) - Get PepsiCo, Inc. Report
by about $60 billion or 60%.
Coca-Cola is best known for its Coca-Cola-branded carbonated soft drink popularly referred to as Coke and Diet Coke. However, the company has a portfolio of over 3,500 products which is sold in over 200 countries. In addition to Coke, the company has other flavored sodas, energy drinks, juices, sports drinks, tea, coffee and water. The company even produces Caribou Iced Coffee under an agreement with the above-mentioned Caribou Coffee.
While PepsiCo has struggled over the past year or more and expects to face some headwinds in 2012, Coca-Cola continues to forge ahead. Of the three major carbonated soft drink companies, Coca-Cola is expected to grow earning the most in 2012, by 6% vs. 4% for
Dr Pepper Snapple
(DPS)
and an expected decline in earnings for PepsiCo in what management considers a "transition year."
Coca-Cola, one of
10 Top Warren Bufett Dividend Stocks
, was included recently in the
"Ultimate Stock Pickers" Portfolio
.
Boston Beer
Boston Beer
(SAM) - Get Boston Beer Company, Inc. Class A Report
is a handcrafted beer brewer that manufactures its beer under the Sam Adams label. The U.S. craft beer market continues to expand in what is estimated in annual mid teen percentage rates. In the meantime, total domestic beer sales are flat to slightly lower. This is a trend which should continue for some time.
Boston Beer continues to expand across the country from its humble beginnings in Massachusetts. This expansion is not only in bottled form but also in draft form as craft beers are taking market share in all distribution channels. You might assume that beer giants such as
Anheuser-Busch Ambev
(BUD) - Get Anheuser-Busch InBev SA/NV Report
,
Molson-Coors
(TAP) - Get Molson Coors Beverage Company Class B Report
and
SABMiller
would not be concerned by this smaller competition, which has a market cap of just about $1.4 billion.
Quite the opposite: Those suds makers are trying to develop their own handcrafted brands. It may come down to one of these larger companies making an unsolicited bid for Boston Beer one day. I would also not rule out an acquisition by a beverage or snack business such as Coca-Cola or PepsiCo.
Recently, Boston Beer acquired Angel City Brewing, a privately held Los Angeles-based craft brewer. This is a strategically important acquisition as Boston Beer now has a West Coast base of operations to further catalyze its growth.
The stock sports a premium multiple of nearly 24 time earnings when compared to more traditional beer companies. I believe that this is justified given the huge opportunity for growth that the company has, or the possibility of a takeover. I have a $120 price target on shares of Boston Beer for the end of 2012. However, as the stock tends to be quite volatile, I consider Boston Beer to be a high risk investment with excellent long term growth opportunities.
Monster Beverage
Monster Beverage
(MNST) - Get Monster Beverage Corporation Report
, known as Hanson Natural until Jan. 9, markets and distributes popular brands of beverages such as Monster Energy Drinks and Hansen Natural. Hansen Natural produces soda, juice, lemonade, tea and flavored water.
Energy drinks are one of the fastest growing segments of the soft drink market, much as the handcrafted beer market is for the beer business. The most popular energy drink in the market place is Red Bull, which is owned by a privately held an Austrian company. Monster is second in market share behind Red Bull. Energy drinks sell for anywhere between $2 and $3 per can and hence have a much more robust profit margin that soda.
Monster Beverage increased earnings by 34% in 2011 and is expected to do so by 23% in 2012. The stock sells for 30 times 2012 earnings. The company carries no debt and as of the most recent quarter held nearly $800 million of cash and short-term investments. The company's stock split 2-for-1 in the middle of February.
As of the most recently reported period, Monster Beverage is one of the
top holdings of Renaissance Technologies
.
-- Written by Scott Rothbort in Millburn, N.J.
RELATED LINKS:
>>5 Stocks Under $10 Setting Up to Trade Higher
>>7 Undervalued IPO Stocks That Could Rebound
>>5 Stocks Insiders Love Right Now
Follow Stockpickr on
and become a fan on
Facebook.
At the time of publication, Rothbort was long CBOU, SAM and MNST, although positions can change at any time.
Scott Rothbort has over 25 years of experience in the financial services industry. He is the Founder and President of
, a registered investment advisor specializing in customized separate account management for high net worth individuals. In addition, he is the founder of
, an educational social networking site; and, publisher of
The LakeView Restaurant & Food Chain Report
. Rothbort is also a Term Professor of Finance at Seton Hall University's Stillman School of Business, where he teaches courses in finance and economics. He is the Chief Market Strategist for The Stillman School of Business and the co-supervisor of the Center for Securities Trading and Analysis.
Mr. Rothbort is a regular contributor to
TheStreet.com's RealMoney Silver
website and has frequently appeared as a professional guest on
Bloomberg Radio
,
Bloomberg Television
,
Fox Business Network
,
CNBC Television
,
TheStreet.com TV
and local television. As an expert in the field of derivatives and exchange-traded funds (ETFs), he frequently speaks at industry conferences. He is an ETF advisory board member for the Information Management Network, a global organizer of institutional finance and investment conferences. In addition, he is widely quoted in interviews in the printed press and on the internet.
Mr. Rothbort founded LakeView Asset Management in 2002. Prior to that, since 1991, he worked at Merrill Lynch, where he held a wide variety of senior-level management positions, including Business Director for the Global Equity Derivative Department, Global Director for Equity Swaps Trading and Risk Management, and Director for secured funding and collateral management for the Global Capital Markets Group and Corporate Treasury. Prior to working at Merrill Lynch, within the financial services industry, he worked for County Nat West Securities and Morgan Stanley, where he had international assignments in Tokyo, Hong Kong and London. He began his career working at Price Waterhouse from 1982 to 1984.
Mr. Rothbort received an M.B.A., majoring in Finance and International Business from the Stern School of Business, New York University, in 1992, and a B.Sc. in Economics, majoring in Accounting, from the Wharton School of Business, University of Pennsylvania, in 1982. He is also a graduate of the prestigious Stuyvesant High School in New York City. Mr. Rothbort is married to Layni Horowitz Rothbort, a real estate attorney, and together they have five children.