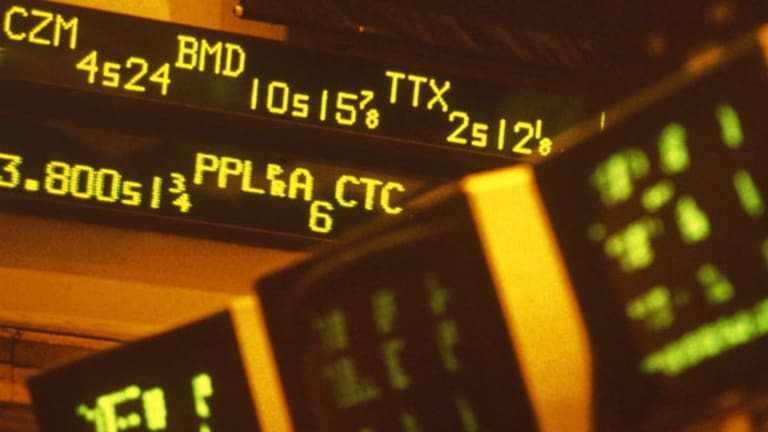 5 Stocks to Buy to Be Like Buffett
Here's a closer look at five stocks Warren Buffett bought in the second quarter.
Here's a closer look at five stocks Warren Buffett bought in the second quarter.
BALTIMORE (Stockpickr) -- There probably isn't an investor on the face of this planet who's generated more famous quotes than Warren Buffett. Clearly, the Oracle of Omaha has two gifts: investing and the art of making the complex simple.
Some prescient favorites include: "Be fearful when others are greedy, and be greedy when others are fearful" and "It's better to hang out with people better than you. Pick out associates whose behavior is better than yours and you'll drift in that direction."
So it makes sense if we hang out with everyone's favorite octogenarian billionaire for a moment and peer into the stocks his firm,
Berkshire Hathaway
(BRK.B) - Get Report
is adding to its portfolio right now.
>>View Warren Buffett's Portfolio
It's a little bit misleading to put all of the focus on Buffett. His addition of former hedge fund managers Todd Combs and Ted Weschler to Berkshire's investment team means that the new faces likely had a big influence in picking up new positions for the firm. But attentive investors would do well to remember that there probably aren't any better Buffett-esque investors than the ones that Buffett hand-picked himself.
In the second quarter, Berkshire was particularly selective, only clicking "buy" on 10 individual stocks while unloading or leaving alone nearly 30. That means that there's some significance to the names Buffett and company are adding to the portfolio now.
>>5 Stocks Poised for Big Breakouts
Today, we'll focus on
five names that are either newly initiated positions or position increases
for Warren Buffett's portfolio at Berkshire Hathaway.
Phillips 66
Topping the new buys list last quarter was
Phillips 66
(PSX) - Get Report
, the independent refiner and petrochemical firm that began trading on the NYSE earlier this year after splitting off from
ConocoPhillips
(COP) - Get Report
. The split turned PSX into the downstream arm of COP, focusing on the part of the process that happens after the oil and gas come out of the ground.
Berkshire piled up on shares of PSX last quarter, picking up 27.16 million shares for a 4.2% stake in the firm that's worth nearly $1 billion right now.
>>10 Century-Old Blue-Chips Still Earning Their Keep
Clearly, Buffett likes Phillips 66.
That may come as a surprise though. Downstream energy businesses typically come with lower margins than successful E&P businesses do, meaning that PSX is the low-return side of the operation. But don't think that Phillips 66 is merely a refiner and gas station chain. Phillips also owns a lucrative chemicals business and more than 62,000 miles of pipelines. If the firm decides to, it could easily push the nat gas unit into a tax-advantaged structure (think MLP) for investors' benefit.
Ultimately, there's more to PSX than meets the eye. That fact that it was split off from a profitable supermajor doesn't hurt either. The firm is well-capitalized and boasts a portfolio of refinery properties that have big structural advantages over competitors. With shares within a buck of new highs, investors had better look sooner rather than later.
National-Oilwell Varco
Phillips 66 wasn't the only energy name that Buffett and company bought last quarter. In fact, both of Berkshire Hathaway's newly-initiated positions were energy stocks.
The other is no recent IPO, however; it's
National-Oilwell Varco
(NOV) - Get Report
. Berkshire bought 2.84 million shares in the second quarter, taking on a $183 million stake in the drilling equipment supplier.
>>9 Oil Stocks With Hot Prospects
NOV isn't a pure play on energy. Instead, the firm provides tools, services, and consumables used to drill for oil and gas. That bodes extremely well for the firm right now, especially while oil prices remain in the high end of their historic ranges. Higher prices mean that pricier oil and gas projects suddenly become economically viable, driving drilling demand, which drives profits for National-Oilwell Varco.
To boot, the need for new production capacity is pushing up the need for new offshore rigs, a drilling vessel that NOV specialized in. That should play out well for the firm in the next several years.
NOV's expertise is critical. Because the firm has experience in helping oil companies pull commodities out of the ground, it's got immeasurable advantages over upstart rivals emerging overseas -- especially as the average age of oil projects lengthens and E&Ps look to get more life out of them. While an acquisition appetite (most recently with a bid for
Robbins & Myers
(RBN) this month) has built up NOV's debt load, it's largely offset by a large cash position right now.
Investors looking for energy exposure shouldn't ignore the atypical plays like NOV and PSX.
NOV is also one of
T. Boone Pickens' BP Capital holdings
.
DaVita
Most of Berkshire Hathaway's buys in the second quarter were focused on stocks that the firm already had positions in, not new names. The biggest add-on buy came from
DaVita
(DVA) - Get Report
, a $9.2 billion company firm that runs more than 1,700 clinics and in-patient hospital dialysis units across the U.S., serving patients who suffer from chronic kidney failure.
Berkshire picked up 3.3 million shares of the firm last quarter, increasing its position by 50% and hiking its stake in the firm to 9.9% of outstanding shares.
>>5 Stocks With Big Insider Buying
DaVita's clinics serve patients who suffer from long-term kidney issues. That means that the firm's customers tend to be sticky: the better care DVA can provide, the healthier its 140,000 patients are, and the longer they'll be able to remain patients. As health problems like obesity continue to spread across the U.S. and tax Americans' kidneys, the number of diseases that require treatment from DaVita clinics should also continue to increase.
The firm is in the process of taking on a huge $4.4 billion merger that would change DVA's business from being dialysis-focused only into a more diversified healthcare facility portfolio. It's a move that makes sense for DVA, and Berkshire's investment managers know it. While healthcare reform will eventually knock Medicare payouts slightly, the larger pool of insured patients should lift DaVita's business overall - especially with a broader focus.
Wells Fargo
Everyone knows that Warren Buffett loves
Wells Fargo
(WFC) - Get Report
. He's said on record that it's his favorite big bank, and he's been conspicuously buying shares through Berkshire for years.
So it should come as no surprise that Wells was Berkshire's second-biggest add-on position in the second quarter. The Omaha-based firm picked up 16.7 million shares, bringing the firm's total stake to a whopping $13.75 billion.
Here's the thing: It's hard to argue with Buffett's opinion on Wells. Yes, the company is the best of the big-four banks, in part because it's a decent stock and in part because the other three are writhing creatures that frighten most investors by mere mention of their ticker symbols (I won't dare mention them here). The long and short of the Wells Fargo investment thesis is simple: Wells avoided the mistakes that its peers made before the credit crisis, and now it's in prime position to grow earnings even faster while its share price plays catch-up.
If you're looking to buy a big bank, by all means, follow Warren's example and buy Wells Fargo. But if you don't want a big bank in your portfolio, I don't blame you. In fact, I think Berkshire's other bank purchase is more appealing.
Wells Fargo, also one of
, shows up on a recent list of
8 Undervalued Stocks Getting Help From the U.S.
Bank of New York Mellon
That other bank, of course, is
Bank of New York Mellon
(BK) - Get Report
, a $26 billion financial services stock that doesn't have the same household name status that Wells Fargo does. And that's for good reason.
BNY Mellon built its business around serving other financial firms' back office needs, building itself as one of the biggest asset custodians in the industry, and establishing a big presence as an asset manager. That means that BNY Mellon isn't interested in writing you a mortgage, but it is very interested in keeping an eye on your other accounts in exchange for fees. Those fee-based businesses are attractive because they don't come with the potential balance sheet black holes that traditional risk-taking banks do.
With a quiet stock rally going in full force as we enter the Fall, BNY should see its custody accounts start to swell when investors start to realize what's going on. And with hefty net profit margins from fees, it should be able to pass even more cash onto investors through a 2.3% dividend yield that's going to be subject to less regulatory scrutiny than WFC's.
Berkshire agrees. The firm bought 13.11 million shares of BNY Mellon in the past quarter, tripling its position in the firm and piling its position to nearly half-a-billion dollars. If you have to pick between one of BRK's banks, I'd suggest going with BK.
To see the rest of Warren Buffett's plays - including a complete list of which stocks he added or sold off, check out the
Warren Buffett Portfolio on Stockpickr
.
-- Written by Jonas Elmerraji in Baltimore.
RELATED LINKS:
>>5 Huge Stocks Set to Slingshot Higher
>>5 Stocks Getting Ready to Pay Bigger Dividends
>>5 Toxic Stocks You Need to Sell Now
Follow Stockpickr on
and become a fan on
Facebook.
At the time of publication, author had no positions in stocks mentioned.
Jonas Elmerraji is the editor and portfolio manager of the
Rhino Stock Report
, a free investment advisory that returned 15% in 2008. He is a contributor to numerous financial outlets, including
Forbes
and
Investopedia
, and has been featured in
Investor's Business Daily
, in
Consumer's Digest
and on
MSNBC.com
.