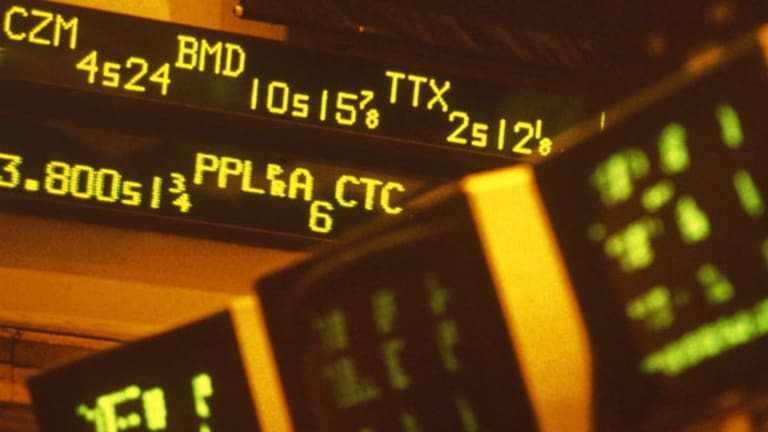 5 Stocks to Buy for an End-of-Year Rally
Historical statistics favor an end-of-the-year rally in 2011; here are several strategies to consider.
Historical statistics favor an end-of-the-year rally in 2011; here are several strategies to consider.
MILLBURN, N.J. (Stockpickr) -- After a horrible September, the markets delivered a glorious October, only to have the goblins ruin November, which turned out to be a big turkey.
So will we see a Santa Claus Rally at the end of the year? And if so, what stocks should we be buying here?
First, let's look at some of the pertinent statistics that may help answer our questions. (I use my own proprietary statistics that quantify and analyze the
S&P 500
from 1950 through 2010.)
Historically, December is the best month for the S&P 500, with an average gain of 1.65%. The second best-performing month, on average, is November.
December is also the least historically volatile month, with a standard deviation of returns of 3.17%. The next least-volatile month is March.
Since 1950 (61 years), the S&P 500 has declined on 21 occasions, not including this year, in November. In only three of those years did a down December follow a down November: in 1969, when the S&P 500 declined by 1.87%; in 1974, down 2.02%; and in 2007 , down 0.86%.
The average return in December following a down November is 2.61%. Excluding those three down Decembers, the average gain is 2.8%.
In years before a presidential election, such as 2011, December has gained on average 3.34%, more than double its usual annual return. Only 2007 was a down year for November and December in the year before the presidential election.
>>4 Beaten-Down Stocks Poised for Rebounds
Have there been other years in which September was down, October was up and November was down for the S&P 500? Certainly. That occurred seven times, followed by both up and down Decembers: in 1956, when the S&P 500 rose 3.52% in December; in 1963, up 2.44% in December; in 1969, down 1.87% in December; in 1974, down -2.02%; in 1991, up 11.16%; in 1993, up 1.01%; and in 1994 up 1.23% in December. That average December return was a 1.78% gain.
So yes, there is most definitely some statistical evidence that a rally could occur this December. With that in mind, here are several
stocks and strategies for a 2011 Santa Claus Rally
.
Indexed Exchange-Traded Funds
I would be inclined to point you in the direction of the
SPDR S&P 500
(SPY) - Get Report
, an ETF that tracks the S&P 500 on a 1-to-10 basis (the SPY is approximately one-tenth of the SPX). This will allow you to participate in the expected positive performance in the index.
Furthermore, the SPY is expected to go ex-dividend in mid-September for approximately 62 cents, which is about 0.5%.
>>10 Best-Performing S&P 500 Stocks Heading Into 2012
For those of you who are a little more daring and less risk-averse, you may want to look at the leveraged version of the SPDRs, the
ProShares Ultra S&P 500
(SSO) - Get Report
. The ProShares Ultra S&P 500 provides a 2-times return of the S&P 500. However, be forewarned that the double gearing is recalculated every day and is not intended to be held for long period of time.
Furthermore, the volatility on these leveraged exchange-traded funds is far greater than the non-leveraged variety.
Options Plays
Clearly, implied volatility expanded greatly during November. Therefore, if you are hoping for a short-term rally, then I would caution against buying short-term volatility. That means you should be selling options rather than buying them.
This brings added risk as well. Thus, I would suggest selling option spreads to protect your trade from the possibility that December does not pan out as expected. In order to do so, we would have to sell put spreads.
If our expected return for December is somewhere in the range of 1.65% to 3.3%, then I would suggest selling a put spread with the higher strike that is about 3 or 4 points higher than the lower strike. I would use the options on the SPDRs to achieve this objective. Furthermore, I would use an expiration day to coincide with the end of the fourth quarter.
Stocks
The analyst community believes that the holiday shopping season will be up 2% year over year. I think we could have a more robust season. Already,
Black Friday spending rose 7%
over 2010, and
.
However, as always, this will be a bifurcated market. I would suggest focusing in on the retailers and consumer-based companies that have something to put in the sleigh for the holidays.
Here are a few that should work for that Santa Claus rally.
Retail: Amazon.com
Amazon.com
(AMZN) - Get Report
is hoping that its new Kindle Fire will generate sales. The Kindle Fire could be the right product for people who do not want to pay up, at least initially, for the
Apple
(AAPL) - Get Report
iPad.
In the long run, the iPad will do to the Kindle what the iPhone did to the BlackBerry. But in the short run, and here we are talking about a short term strategy, the Kindle will sell and likely create halo effect of add-on sales for Amazon.com.
The stock was off about 10% in November, is up over 2% so far in December and could gain nicely on a market snap back and strong sales.
Amazon, one of
, shows up on a recent list of
5 Holiday Stock Picks Sure to Please Investors
and was featured in "
5 Stocks the Big Fund Love for 2012
."
Travel: Hertz
Travel reportedly increased for this year's Thanksgiving holiday over last year's, and I anticipate this trend to continue well through the end-of-the-year holidays. A big beneficiary will be airlines, but that is an untradeable and uninvestible sector. There is no way to play the rails from the perspective of the public traveler. So I want to reach out to the auto rental companies.
My first thought was
Zipcar
( ZIP), an IPO from earlier this year, but that company is still operating at a loss, and it seems that
the IPO class of 2011 is not performing well
.
Instead, I headed to the checkout counter at
Hertz
(HTZ) - Get Report
. Hertz will benefit from the rush to travel out of town. Earnings are expected to grow 76% in 2011 and 41% in 2012. The stock sells at a very cheap 8 times forward earnings, which makes this company both an interesting investment and themed trade.
Short Squeeze: Quidel
If we expect a Santa Claus Rally, than the short-selling Grinches will be the first to spring to action and will begin to cover shorts. Many of the shorts have earned some nice gains shorting high-beta and high-price to earnings stocks in the last month. Just witness what has happened to
Salesforce.com
(CRM) - Get Report
,
Netflix
(NFLX) - Get Report
,
Green Mountain Coffee
(GMCR)
and
Baidu
(BIDU) - Get Report
.
But some heavily shorted stocks have not been so kind to the short-sellers over the last few months. One of them is
Quidel
(QDEL) - Get Report
, a manufacturer of medical testing products and devices. This is a growth area within the health care sector. Quidel's stock has increased in value since the summer's market lows. Short interest is approximately 20% of the float and represents around 34 days of trading volume; a larger short squeeze could be in the works if the market rallies.
Quidel was also featured recently in "
5 Stocks Setting Up to Break Out
."
-- Written by Scott Rothbort in Millburn, N.J.
RELATED LINKS:
>>5 Trades to Find Gains in the Eurozone
>>5 Rocket Stocks to Buy for December
>>7 Stocks Paying Out Higher Dividends Right Now
Follow Stockpickr on
and become a fan on
Facebook.
At the time of publication, author was long AAPL stock and calls and short SPY and CRM, although positions can change at any time.
Scott Rothbort has over 25 years of experience in the financial services industry. He is the Founder and President of
, a registered investment advisor specializing in customized separate account management for high net worth individuals. In addition, he is the founder of
, an educational social networking site; and, publisher of
The LakeView Restaurant & Food Chain Report
. Rothbort is also a Term Professor of Finance at Seton Hall University's Stillman School of Business, where he teaches courses in finance and economics. He is the Chief Market Strategist for The Stillman School of Business and the co-supervisor of the Center for Securities Trading and Analysis.
Mr. Rothbort is a regular contributor to
TheStreet.com's RealMoney Silver
website and has frequently appeared as a professional guest on
Bloomberg Radio
,
Bloomberg Television
,
Fox Business Network
,
CNBC Television
,
TheStreet.com TV
and local television. As an expert in the field of derivatives and exchange-traded funds (ETFs), he frequently speaks at industry conferences. He is an ETF advisory board member for the Information Management Network, a global organizer of institutional finance and investment conferences. In addition, he is widely quoted in interviews in the printed press and on the internet.
Mr. Rothbort founded LakeView Asset Management in 2002. Prior to that, since 1991, he worked at Merrill Lynch, where he held a wide variety of senior-level management positions, including Business Director for the Global Equity Derivative Department, Global Director for Equity Swaps Trading and Risk Management, and Director for secured funding and collateral management for the Global Capital Markets Group and Corporate Treasury. Prior to working at Merrill Lynch, within the financial services industry, he worked for County Nat West Securities and Morgan Stanley, where he had international assignments in Tokyo, Hong Kong and London. He began his career working at Price Waterhouse from 1982 to 1984.
Mr. Rothbort received an M.B.A., majoring in Finance and International Business from the Stern School of Business, New York University, in 1992, and a B.Sc. in Economics, majoring in Accounting, from the Wharton School of Business, University of Pennsylvania, in 1982. He is also a graduate of the prestigious Stuyvesant High School in New York City. Mr. Rothbort is married to Layni Horowitz Rothbort, a real estate attorney, and together they have five children.