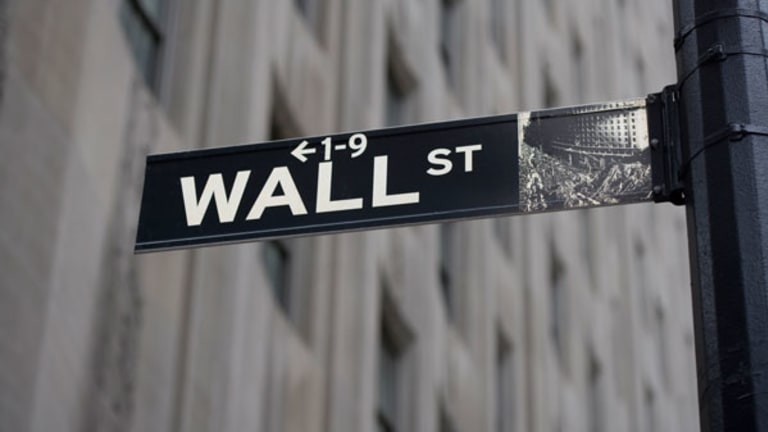 Publish date:
5 Stocks to Benefit From the Changing Media Landscape
These five companies hope to be major players when the current entertainment industry transition is complete.
These five companies hope to be major players when the current entertainment industry transition is complete.
NEW YORK (Stockpickr) -- Unless you've been invested in Apple (AAPL) - Get Report, you've probably lost money in most of your media-oriented investments. That's because the major networks, the record labels, the video game console makers and the live music promoters have all seen a slowdown in business as consumers spend more time on their iPhones, iPads and iPods.
Yet behind the scenes, there are a range of companies that aren't ready to concede "game over." They're adapting to new media consumption habits, figuring out ways to get consumers' attention, or at least help existing media companies win back lost mind share.
>>5 Big Trades From the Financial Sector
Here are
five companies that hope to be major players
when the current entertainment industry transition is complete.  
Coinstar
Telecom service provider
Verizon
(VZ) - Get Report
had big plans for its FiOS cable service that offers super-fast internet connections. Trouble is, consumers haven't been in the habit of watching cable TV as much these days. To create a more compelling offering to attract customers, Verizon has partnered with
Coinstar
(CSTR) - Get Report
, jointly promoting that firm's Redbox DVD service that will soon offer Netflix-style streaming services.
This digital download effort marries Verizon's massive customer base (including mobile users that can stream movies) with Coinstar's already large base of installed customers that have been using its DVD-by-kiosk service.
>>8 Big Tech Stocks Leading the Market
Shares of Coinstar have fallen from $70 to $45 in the past three months on concerns about high upfront costs to launch the DVD streaming service, which creates a solid entry point for this media/technology game-changer. Shares now trade for less than 10 times projected 2013 profits.
Rentrak
Consumer research firm
Nielsen Holdings
(NLSN) - Get Report
has been the vendor of choice for broadcast networks that want to measure the size of their audiences. Yet consumers are no longer holed up in front of TV set as much anymore, and it's becoming harder to track them. Even when they do watch shows, they are increasingly doing so through sites like Hulu.com.
That's where
Rentrak
(RENT)
comes in. The company offers media consumption measurement services, but well beyond the basic TV. Rentrak monitors consumers habits in the online world, providing a clearer read of what is being viewed and by whom. It's an essential service for advertisers as they wade into the still-uncertain landscape of online viewership.
At first blush, this may not seem like much of a growth story/ Fiscal first-quarter sales (ended June) grew just 4% from a year ago, as results were dampened by a declining legacy business that had been tracking DVD sales. It's the new media consumption measurement biz--known as Advanced Media & Information -- that is the real growth story: This division saw sales rise 31% in the quarter, and based on recent new customer wins, should keep growing at a similar rate in coming quarters.
>>10 Multimedia Stocks With Double the S&P 500's Gains
For folks at Nielsen, Rentrak has become a rival to watch.
Rovi
Rovi
(ROVI)
might be seen as an industry loser in the changing media landscape -- its shares have tumbled from nearly $70 in early 2011 to a recent $14.50. Rovi was a leading player in DVD software, yet as more content is enjoyed online and not on discs, this company has lost some relevance.
Yet Rovi has another division that holds a great deal of promise -- and could fuel a sold rebound for this stock. Note that television set makers are looking to roll out a new generation of consoles that allow consumers to view all of their content on TV -- no more switching to your laptop when it comes time to search for Youtube videos, Hulu TV shows and other content. A number of these TV set makers are looking at using Rovi's online programming software. You may be familiar with this software when it powered the popular TV Guide channel of listings. Rovi has struggled to keep that business relevant, but the new world of internet-enabled TV sets might just give it newfound relevance.
Shares don't look challenging, trading at less than eight times projected 2013 EPS of around $1.90.
Tivo
Digital video recorders have become the must-have entertainment device for many couch potatoes. But as it often happens in the land of high-tech, the company that comes up with a great idea isn't always the one to ultimately get rich from it, making
TiVo
(TIVO) - Get Report
something of an afterthought for investors.
>>3 Tech Stocks Hedge Funds Are Buying
Well, behind the scenes, TiVo is pushing hard to become a growth stock again. The company has poured millions into software development, and its DVR systems now have capabilities that many cable operators have only begun to think about. For example, TiVo's software allows you to set up recording from anywhere, and it also facilitates video playback to your mobile device, even if the show is stuck on a hard drive back at your house.
TiVo has been making the rounds with major cable operators, imploring them to give up their home-brewed DVR software and switch back to Tivo's software. The campaign is working: Spain's ONO and the U.K.'s Virgin Media have become big customers. Here in the U.S.,
Charter Communications
(CHTR) - Get Report
and other cable operators are also said to be taking the company's newly revamped software for a test drive.
Yet it's the balance sheet you should also be watching. A string of legal victories -- and big cash settlements -- have boosted Tivo's cash from $209 million in fiscal (January) to a recent $540 million, and that figure could swell above $700 million, thanks to a just-announced legal settlement with Verizon. Still, pending lawsuits with
Cisco Systems
(CSCO) - Get Report
and
Google
(GOOG) - Get Report
could push cash towards the $1 billion mark. The whole company is valued at just $1.3 billion, meaning the core software business is accorded little value.
MDC Partners
This is an ad agency -- with a twist. Although
MDC
(MDCA) - Get Report
offers the usual agency services offered by bigger rivals such as
Interpublic
(IPG) - Get Report
and
Omnicom
(OMC) - Get Report
, it's real focus is on digital marketing. MDC is an expert at helping old world companies get their brands in front of the new breed of digital consumer, whether they are in front of a computer or on their smart phones.
Shares of MDC had fallen from $20 last summer to below $10 this spring, but have begun a rebound back towards the low teens as the company starts to deliver more impressive cash flow. Cash flow had been constrained by a series of acquisitions that also diverted management's attention. Nowadays, management is focusing on making the most of what is on its plate, with a goal of squeezing a lot more cash flow out of this business in the quarters to come.
To see these stocks in action, visit the
5 Firms Capitalizing on the Changing Media Technology Landscape
portfolio.
RELATED LINKS:
>>5 Big Stocks to Trade This Earnings Season
>>5 Stocks Under $10 Set to Soar
>>5 Stocks Poised for Breakouts
Follow Stockpickr on
and become a fan on
Facebook.
Stockpickr is a wholly owned subsidiary of TheStreet.com.
At the time of publication, author had no positions in stocks mentioned.