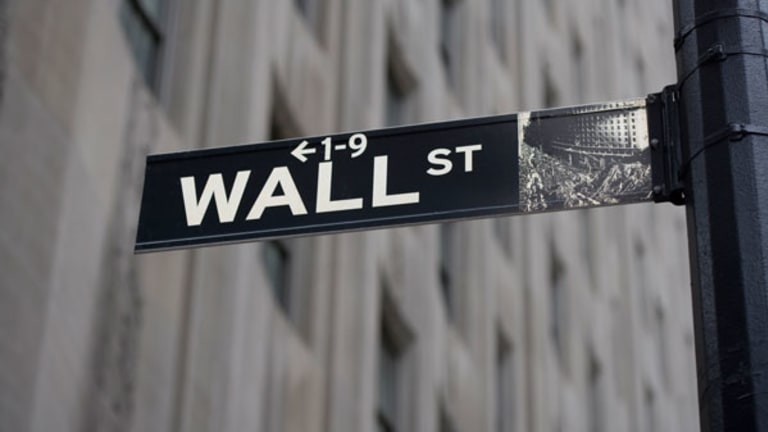 5 Stocks to Benefit From an Improving Economy
These companies are poised to benefit from what is likely to be the next upgrade and replacement cycle.
These companies are poised to benefit from what is likely to be the next upgrade and replacement cycle.
MILLBURN, N.J. (Stockpickr) -- Since the Great Recession of 2008-2009, Americas have worked very hard to pay down their consumer debt levels and improve their personal balances sheets. This all occurred against a backdrop of declining employment and housing woes. Americans have in some way become frugal as well, opting to defer certain expenditures until the economy improves.
The economy has slowly begun to emerge from its static funk of the past few years. Payrolls are on the rise, and this trend is likely to continue for the next few years.
>>7 Hot Stocks on Traders' Radars
Now we could begin to see Americans making purchases that they had delayed for several years. This will create opportunities for many industrial and retail companies that will benefit from what is likely to be the next upgrade and replacement cycle.
With that in mind, here are
several stocks for the coming upgrade and replacement cycle
.
Ford Motor
The average age of the U.S. vehicle fleet at the end of 2011 reached a record 10.8 years. For cars, the average age in service increased to 11.1 years. That implies that the average production date for a car on the road in the U.S. dates back to 2000.
For January 2012, automobile sales rose 11.4%, and industry experts are expecting a combined 13.9 million new vehicles (automobiles plus trucks) to be sold in 2012, a year-over-year increase of 10%. This will occur despite any government incentives such as the Cash for Clunkers program in 2009 but will be helped by record low interest rates.
Ford Motor
(F) - Get Report
went into the financial crisis with sufficient funding to weather the storm. The company did not accept TARP money from the U.S. government and did not file for bankruptcy protection. Rather, Ford continued to engineer new and better cars, which Americans bought as they shunned foreign-designed vehicles, especially after the woes that
Toyota
(TM) - Get Report
has dealt with in the past few years.
Recently, Ford reinstated its dividend. While earnings for 2012 might feel some pinch from the slowdown in Europe, there is no denying that the company will sell more cars and generate more cash than it did in 2011.
Ford, one of TheStreet Ratings'
, shows up on a list of
19 S&P 500 Laggards That Could Be Leaders in 2012
.
Hanesbrands
and
Gildan Activewear
It is well-know that during poor economic times, underwear sales decline as people get the most out of their skivvies. When the economy picks up, people will freshen up their wardrobes both inside and out.
There are two companies that specialize in underwear manufacturing that I want to bring to your attention:
Hanesbrands
(HBI) - Get Report
and
Gildan Activewear
(GIL) - Get Report
. Let's first start with Hanesbrands or, as it is commonly referred to, Hanes. Hanes' sales declined during 2008 and 2009 but have since picked up for 2010 and 2011 and are expected to do so again in 2012. The stock sells at a fraction of its sales, about 0.54, compared with most of its competitors, which sell for between 1 and 2 times sales.
I expect that the stock will rise and surpass its
of $33.36, which is about a third higher that it currently sells for.
>>8 Stocks Hitting New 52-Week Highs
Then there is Gildan Activewear. Gildan is a Montreal-based manufacturer of apparel products including T-shirts, underwear, sport shirts, uniforms, athletic tear wear and, in particular, the Gold Toe brand of socks, recently acquired by the company. The company's sales declined by 17% in 2009 and then rebounded by 26% in 2010 and 32% in 2011. Unfortunately, when the company most recently reported its results, it delivered a major blow to investors by significantly lowering its 2012 guidance, specifically noting a loss for its first quarter. As a result, the company's stock fell precipitously.
The Gold Toe acquisition is yet to be fully absorbed into the company's operating results. Furthermore, Gildan continues to seek out other acquisitions. Taken together, the stock's recent selloff might provide an opportunistic buy point with potential upside to the mid-$20s.
Whirlpool
Whirlpool
(WHR) - Get Report
is a manufacturer of home appliances, including laundry washers and dryers, refrigerators, ovens, ranges and dishwashers under brand names such as Whirlpool, Maytag, KitchenAid and Jenn-Air. The company recently reported worse-than-expected results, but that was trumped by significantly better EPS guidance in 2012 of $6.50 to $7 per share vs. consensus estimates of $5.84.
Durable goods orders have increased in five of the last six months as the economy is headed toward slow yet sustainable growth as opposed to the double-dip recession feared just a few months ago. Homeowners who have struggled to make mortgage payments are now finding some money to upgrade overage and overworked home appliances. Home sales have slowly been improving as well, which will work to Whirlpool's benefit.
Furthermore, the U.S. Department of Commerce continues to be concerned over the dumping of small appliances by Chinese manufactures. The U.S. is not alone in those concerns.
Whirlpool stock moved higher in the past week as short sellers rushed to cover their positions after the Whirlpool guidance announcement. This stock could sell for as much as $85 in the coming year, so it is not too early to embrace the coming appliance trend.
Whirlpool, one of the
top-yielding consumer durables stocks
, shows up on a recent list of
6 Stocks Driving the Economy in 2012
.
Men's Wearhouse
I have shopped at
Men's Wearhouse
(MW)
for many years. The store manager at my branch often asks me what my current analysis is on the company's stock, which I have also followed for years. Let me tell you right now: I would be a buyer.
The company has two main business lines: men's dress clothing and tuxedo rentals. Both of these businesses are ready for an upswing. Dressy clothing sales are improving as more men are going back to work and need to freshen up their wardrobe with shoes, shirts, ties, suits or casual dress attire.
As economic growth contracts, new household formation will slow as well. Household formation has been below historical trends, but an improving economy should put that trend to a halt. Rising new household formations will drive demand for weddings and tuxedo rentals.
Men's Wearhouse has suffered from price/earnings contraction for several years. With earnings expected to rise by 13% in the current fiscal year ending in January 2013, I foresee the stock once again being priced at 18 to 20 times earnings, equating to a target price of $47.50 to $52.50.
-- Written by Scott Rothbort in Millburn, N.J.
RELATED LINKS:
>>5 Rocket Stocks to Buy for February
>>5 Small-Cap Growth Stocks With Zero Debt
>>7 Dividend Stocks Paying Out More Cash in 2012
Follow Stockpickr on
and become a fan on
Facebook.
At the time of publication, Rothbort was long Ford warrants, although positions can change at any time.
Scott Rothbort has over 25 years of experience in the financial services industry. He is the Founder and President of
, a registered investment advisor specializing in customized separate account management for high net worth individuals. In addition, he is the founder of
, an educational social networking site; and, publisher of
The LakeView Restaurant & Food Chain Report
. Rothbort is also a Term Professor of Finance at Seton Hall University's Stillman School of Business, where he teaches courses in finance and economics. He is the Chief Market Strategist for The Stillman School of Business and the co-supervisor of the Center for Securities Trading and Analysis.
Mr. Rothbort is a regular contributor to
TheStreet.com's RealMoney Silver
website and has frequently appeared as a professional guest on
Bloomberg Radio
,
Bloomberg Television
,
Fox Business Network
,
CNBC Television
,
TheStreet.com TV
and local television. As an expert in the field of derivatives and exchange-traded funds (ETFs), he frequently speaks at industry conferences. He is an ETF advisory board member for the Information Management Network, a global organizer of institutional finance and investment conferences. In addition, he is widely quoted in interviews in the printed press and on the internet.
Mr. Rothbort founded LakeView Asset Management in 2002. Prior to that, since 1991, he worked at Merrill Lynch, where he held a wide variety of senior-level management positions, including Business Director for the Global Equity Derivative Department, Global Director for Equity Swaps Trading and Risk Management, and Director for secured funding and collateral management for the Global Capital Markets Group and Corporate Treasury. Prior to working at Merrill Lynch, within the financial services industry, he worked for County Nat West Securities and Morgan Stanley, where he had international assignments in Tokyo, Hong Kong and London. He began his career working at Price Waterhouse from 1982 to 1984.
Mr. Rothbort received an M.B.A., majoring in Finance and International Business from the Stern School of Business, New York University, in 1992, and a B.Sc. in Economics, majoring in Accounting, from the Wharton School of Business, University of Pennsylvania, in 1982. He is also a graduate of the prestigious Stuyvesant High School in New York City. Mr. Rothbort is married to Layni Horowitz Rothbort, a real estate attorney, and together they have five children.