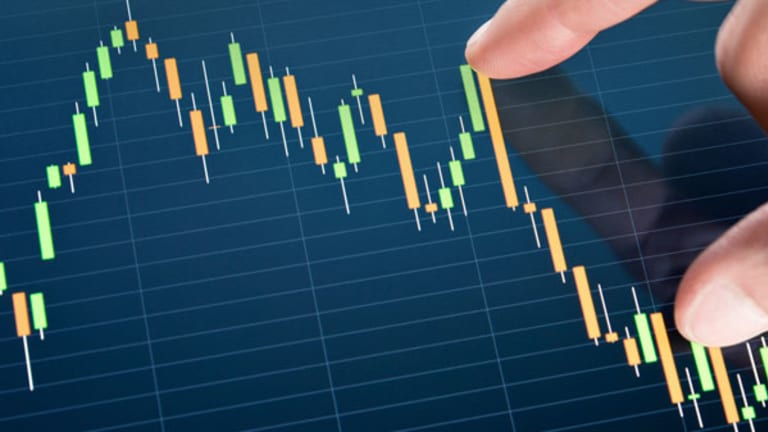 5 Stocks That Want to Pay You More This Quarter
With earnings season still in full swing right now, there are some big opportunities to step in front of dividend hikes in the first quarter.
BALTIMORE (
) -- Don't just chase dividends -- ambush them.
With earnings season still in full swing right now, there are some big opportunities to step in front of dividend hikes in the first quarter. That's why we're zooming in on five companies that look primed to hike their dividends in the near-term.
>>5 Cash-Rich Stocks to Buy in 2013
In other words, these five firms are getting ready to boost dividends; they just don't know it yet.
In the past few months we've had some stellar success in finding future dividend hikes just by zeroing in on a few key factors. Now we'll look at our crystal ball and try to do it again.
For our purposes, that "crystal ball" is composed of a few factors: namely a solid balance sheet, a low payout ratio, and a history of dividend hikes. While those items don't guarantee dividend announcements in the next month or three, they do dramatically increase the odds that management will hike their cash payouts, especially as investors start to get antsy about whether or not 2013's rally will be able to hang on.
>>5 Stocks With Huge Insider Buying
Without further ado, here's a look at
five stocks that could be about to increase their dividend payments
in the next quarter.
Qualcomm
Wireless technology firm
Qualcomm
(QCOM) - Get Qualcomm Inc Report
is riding the quick growth of the mobile device market as smartphones, tablets, and subnotebook computers. Qualcomm is best known as a wireless chipmaker, producing everything from processors to wireless communications cards, but it's also a major a major tech IP licensor. The firm's patents effectively mean that every handset maker in the world has to pay Qualcomm royalties if they want their phones to operate on 3G and 4G networks.
>>4 Tech Stocks Under $10 Spiking Higher
That royalty income angle makes QCOM an ideal dividend payer. Right now, the firm pays out a 25-cent quarterly dividend for a 1.6% yield.
Mobile phones have been advancing rapidly in recent years, and handset makers have enjoyed breakneck volume as consumers switched to smartphones and upgraded older units. And every phone sale generates cash for Qualcomm, even if the firm's chips aren't used. Even down the road, that isn't likely to change as handset makers need to retain backward compatibility to sell phones.
Mobile chips are still the biggest part of QCOM's revenues; the firm's offerings are critical components in phones such as the Samsung Galaxy line and the iPhone 5. Qualcomm's new Snapdragon processor stands to be the jewel in the firm's crown, offering more processing power for OEMs and more revenues per chip for QCOM.
A debt-free balance sheet and more than $27 billion in cash and investments give Qualcomm plenty of liquidity to keep paying shareholders on top of its impressive cash flow generation. That sets the stage for a dividend hike in 2013, especially given chipmakers' stock price action over the last year. These firms need to reward shareholders with returns; a dividend hike does that.
Goldman Sachs
It's been a great year for the face of Wall Street,
Goldman Sachs
(GS) - Get Goldman Sachs Group, Inc. Report
. The $68 billion investment bank has rallied more than 33% in the last 12 months, climbing higher as the whole financial sector enjoyed stellar relative strength. That performance has been buoyed by strong fundamentals for the firm, as revenue and profits grew considerably from 2011.
>>5 Bank Stocks That Can't Stop Posting Profits
Goldman has a history of delivering substantial shareholder yield, so even though its dividend only stands at 1.38%, the firm is deploying much more cash to boost investor value. The appearance of a smaller dividend payout could spur a hike in the next quarter.
Goldman's reputation as a well-connected legacy investment bank precedes it. That reputation alone holds a lot of cachet with many clients, particularly in the investment management side of the business, where wealthy retail clients want the Goldman Sachs name on their statements. But ultimately the institutional and investment banking sides of GS' business make up a much more significant piece of the revenue pie - and there, the firm's decision to become a bank holding company is likely to continue to constrain the level of risk that the firm is able to take on.
The increased scrutiny isn't necessarily a bad thing -- it helps to prevent Goldman from conspicuously over-leveraging itself in chase of returns. Yes, that does mean that Goldman's profit potential is reduced, but the bigger market share and more lucrative businesses that the firm has been enjoying post-recession should easily offset that. Goldman's balance sheet looks more like a big bank than anything else. That said, cash flows should easily fuel a dividend hike in 2013, especially if an equity rally helps to boost all of the firm's businesses this year.
DuPont
Chemical giant
DuPont
(DD) - Get DuPont de Nemours, Inc. Report
is focused on better living through chemistry. The firm's most famous products include nylon, Kevlar, Teflon, and Tyvek -- materials that have become wildly successful in the decades since they were introduced. More recently, DuPont has focused on less consumer-centric projects, establishing itself as one of the biggest genetically modified seed producers in the world and investing in its food ingredient arm.
Management's willingness to invest cash into R&D is critical for DuPont. The firm's biggest blockbusters came from internal investment in R&D (as opposed to merely acquiring its tech from others and marketing it), and that emphasis on innovation is baked into the corporate culture.
A lot of DuPont's growth prowess comes from its agriculture business, where supplying consumable modified seeds at home and in ag-hungry emerging economies should continue to be a hot market. Like other chemical industry names, DuPont carries a fair debt load on its balance sheet. That said, cash accounts for much of that debt, decreasing the leverage that shareholders are buying into.
Right now, DuPont pays out a 43-cent quarterly dividend that translates into a 3.6% yield. This stock looks like it's in good position to hike its payouts in the next quarter.
Dominion Resources
Energy firm
Dominion Resources
(D) - Get Dominion Energy Inc Report
is involved in everything from power generation (it owns 27 gigawatts of generation capacity), gas transportation and storage (through 11,000 miles of pipeline and 950 billion cubic feet of storage capacity), and power transmission (with another 6,300 miles of power lines in its portfolio). The firm is also the local power or gas utility for 5.8 million regulated and unregulated customers in 17 states.
The fact that Dominion has a hand in a disparate group of energy commodities in its business is a good thing for investors -- it means that operations aren't overly impacted by unfavorable market prices in electricity, or in natural gas. Better still, because Dominion's business is integrated (from generation or gathering to distribution) in many of the areas that it operates in, the firm is able to mitigate the impact of market prices.
Typically, utilities and dividends go hand in hand. While Dominion's hefty non-regulated exposure makes it a less conventional income option, the firm still generates enough free cash to easily support a nearly 4% yield right now, and bigger payouts going forward. Expect a boost to the firm's 52.75-cent quarterly cash payout in the next quarter.
WellPoint
Health insurer
WellPoint
(WLP)
is one of the biggest names in the U.S. health insurance business, providing coverage to more than 33 million people. The firm is the licensee for Blue Cross/Blue Shield in some of the most populous states in the country, giving it a trusted brand name for corporate benefits administrators.
Size matters in the health insurance business. Not only do large operations help to bring down per-user administrative costs, they also give WellPoint considerable leverage when negotiating treatment and service costs with healthcare providers. And because switching costs are usually unsurmountably high in health insurance (users of employer-offered insurance, typically don't have a choice in providers), that huge scale is unlikely to get reduced in the foreseeable future.
While so-called Obamacare does close some of the holes WLP had to exit costly insurance payouts, it also comes with increased Medicare subsidies that should help provide more fee revenues for WLP. Right now, that fee-based revenue primarily comes from employers who opt to self-insure and have WellPoint administer its policies -- those work out to around 60% of the firm's accounts, giving it much less risk exposure than many peers have.
Fees generally equal consistent dividend payouts, and WLP looks due for a hike to its own 28.75-cent quarterly cash dividend. Keep an eye out for an announcement.
To see these dividend plays in action, check out the at
Dividend Stocks for the Week portfolio
on Stockpickr. 


And if you haven't already done so,
today to create your own dividend portfolio. 


-- Written by Jonas Elmerraji in Baltimore.
RELATED LINKS:
>>5 Stocks Under $10 Poised to Pop
>>4 Stocks Rising on Big Volume
>>5 Cash-Rich Stocks to Buy in 2013
Follow Stockpickr on
and become a fan on
Facebook.
At the time of publication, author had no positions in stocks mentioned. Jonas Elmerraji, CMT, is a senior market analyst at Agora Financial in Baltimore and a contributor to
TheStreet
. Before that, he managed a portfolio of stocks for an investment advisory returned 15% in 2008. He has been featured in
Forbes
,
Investor's Business Daily
, and on
CNBC.com.
Jonas holds a degree in financial economics from UMBC and the Chartered Market Technician designation.