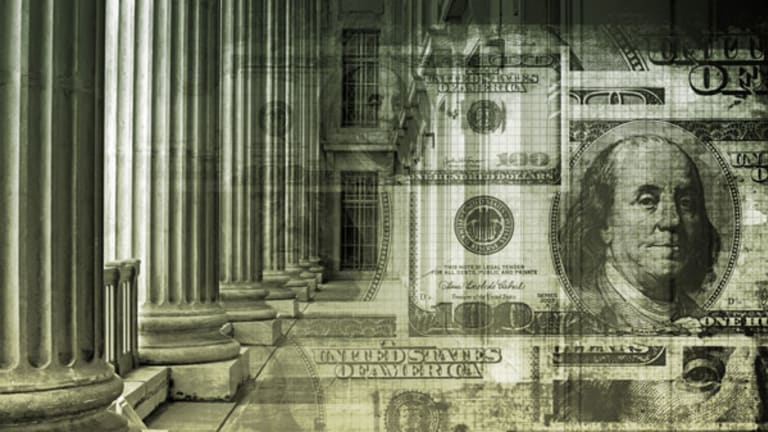 NEW YORK (TheStreet) -- Treasury bonds provide safety to investors but, after a rally that started in late 2008, now lack return. Dividend stocks, on the other hand, can easily give you twice the gain with little additional risk in certain cases.
With uncertainty over the direction of the European and U.S. economies, the stock market is worrying investors. Over the past year, more money was poured into bond funds than equity funds. As a result, the spread between bond and equity mutual fund investing reached $1.2 trillion in 2011, an unprecedented level.
To be sure, there has been some good news that has calmed investors' nerves. The unemployment rate last month declined to 8.3%, the lowest in about three years. Manufacturing and the service industry have shown signs of improvement.
Understandably, there isn't a robust turnaround, and investors are still concerned about putting money in the stock market. Still, low-yielding bonds don't seem all that economical.
That's especially true, given that Federal Reserve Chairman Ben Bernake is committed to keeping the Fed Funds rate at zero for at least three years. The 10-year Treasury yields 2%, just above the recent low of 1.8%.
Doubling the 10-year Treasury yield isn't that difficult. There are plenty of dividend-paying stocks that pay at least twice what the government or certificates of deposit will give you. The key is to ensure the stability of the dividend and health of the company.
Below are
five stocks that offer dividend yields of 3.7% or better
and are included in the benchmark
S&P 500
or the
Dow Jones Industrial Index
. The analysis includes stocks with sustainable cash flows and dividend payments. REITs are excluded.
NextEra Energy
(NEE) - Get NextEra Energy, Inc. Report
Company Description:
A clean-energy company. NextEra generates energy through natural gas, wind, nuclear, oil, coal, hydro, and solar sources.
Dividend Yield:
3.7%
Stock Price Performance Year-to-Date/12 Months:
-1% / 10%
NextEra has a history of paying a dividend since 1990 and has a five-year annual growth rate of 8%. As the country grows more environmentally conscious with the help of regulation, NextEra stands to benefit, boosting the prospects for the dividend.
H.J. Heinz
(HNZ)
Company Description:
Makes ketchup, condiments and sauces, as well as a number of other food products. Brands include Heinz, Smart Ones and Classico pasta sauce.
Dividend Yield:
3.7%
Stock Price Performance Year-to-Date/12 Months:
-4% / 9%
Heinz has a very long history of paying a dividend, which is no surprise given its steady cash flow that has grown at an outsized pace in the last couple years. (Also, growth has been faster than sales.) With a five-year growth rate of 7%, this is a safe dividend play.
Darden Restaurants
(DRI) - Get Darden Restaurants, Inc. Report
Company Description:
Operates the Red Lobster, Olive Garden and Long Horn Steakhouse eateries.
Dividend Yield:
3.75%
Stock Price Performance Year-to-Date/12 Months:
3% / 4%
Recently sales at the Olive Garden chain have languished as the company wasn't able to pass raw-material cost increases on to the customer. Despite this headwind, performance at the other brands, which make up over 50% of revenue, has been solid, and management has reiterated its commitment to cutting costs. Darden's dividend increased 30% over the past year and has a five-year growth rate of 33%. While growth of the dividend may slow in the near term, the sustainability is solid.
Microchip Technology
(MCHP) - Get Microchip Technology Incorporated (MCHP) Report
Company Description:
Manufactures semiconductor chips.
Dividend Yield:
3.8%
Stock Price Performance Year-to-Date/12 Months:
3% / 2%
Last quarter's financial results were hurt by weak demand, but cash flow remains strong and the company holds $7 in cash per share on its balance sheet (vs a dividend of $1.39 over the past four quarters). Dividends have steadily increased since the company began paying a dividend in 2002 and will likely continue to do so.
ConocoPhillips
(COP) - Get ConocoPhillips Report
Company Description:
Integrated international energy company.
Dividend Yield:
3.9%
Stock Price Performance Year-to-Date/12 Months:
-4% / -3%
The pending split of ConocoPhillips (expected in the second quarter of 2012) into two companies (Phillips 66 being the second) will actually benefit current shareholders. ConocoPhillips plans to maintain its $2.64 per share dividend and pay a $0.80 dividend to Phillips 66 shareholders. Doing the math, for every two shares of COP owned, investors will get one share of Phillips 66, which equates to a total dividend of $3.04 per COP share ($2.64 COP dividend + $0.40 for half of the Phillips dividend). Based on current prices, that's a 4.3% yield, more than double the rate of the 10-year Treasury.
>>To see these stocks in action, visit the
5 Stocks That Pay You Twice as Much as Treasuries
portfolio on Stockpickr.
--
Written by Lindsey Bell in
New York.
>To follow the writer on Twitter, go to
Lindsey Bell
.