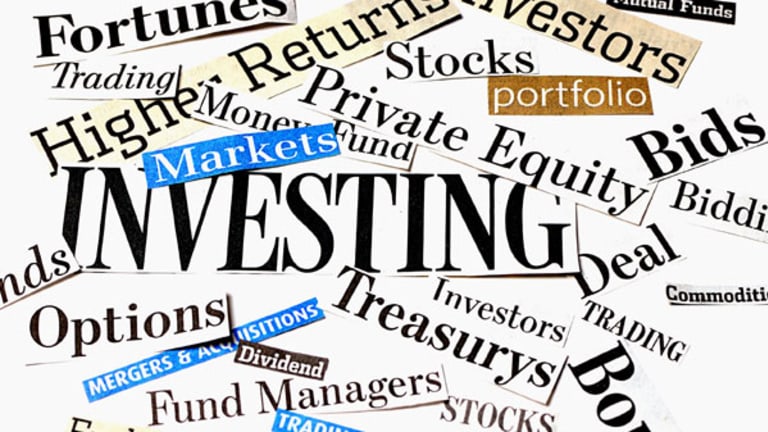 Publish date:
5 Stocks That Make Prime Acquisition Targets
These medical device firms could hold great appeal for the industry's larger players.
These medical device firms could hold great appeal for the industry's larger players.
NEW YORK (Stockpickr) -- It doesn't take a lot of vision to predict that the medical device industry will see a lot of acquisitions in 2012. After all, it happens every year.
The industry's biggest players, such as
Medtronic
(MDT) - Get Report
,
Boston Scientific
(BSX) - Get Report
and
Roche Holdings
, struggle to find ways to organically boost revenue. So they do the next best thing: Buy their way into growth. These deal-makers typically seek to bring in more products for their sales forces to pitch to customers, or they look to expand their technological knowhow by incorporating other firm's products and R&D efforts into their own.
>>5 Rocket Stocks Ready to Blast Off
Case in point: Roche Holdings recent efforts to acquire
Illumina
(ILMN) - Get Report
. Roche wants to quickly establish a strong presence in the field of DNA analysis, and Illumina, the industry leader, provides just such an entry into the space.
Here are
five other medical device firms that could hold great appeal
for the industry's larger players.
Nuvasive
Nuvasive
(NUVA) - Get Report
has quickly gained traction in the field of minimally invasive spinal surgery. Sales grew steadily throughout the last decade, and management poured the company's cash flow back into R&D and an expanded salesforce.
Trouble is, the shaky health care spending environment has led to temporary reimbursement challenges from insurers. As a result, Nuvasive's sales growth is slowing. 25% top-line growth is now in the teens and could hit just 10% in 2013.
Yet over the long haul, this should remain a steady grower. Nuvasive's technology yields shorter hospital stays and reduced recurrences of back pain, which saves the health care system money in the long-term.
Many investors focus on
Intuitive Surgical
(ISRG) - Get Report
as the clear leader in this space, but shares aren't cheap, trading at 12 times trailing sales. For Nuvasive, that figure is less than 2. That low valuation has surely placed Nuvasive on the radar of potential acquirers.
AngioDynamics
AngioDynamics
(ANGO) - Get Report
sells a wide range of vascular devices used in surgery and post-operative environments. The company's sales have always grown at a moderate -- if unspectacular -- pace and now top $200 million. What AngioDynamics might lack in cutting edge technology, it surely makes up for in terms of low company valuations. Nearly half of the $300 million market value is accounted for in cash, which means shares trade for less than one times sales on an enterprise value basis.
>>5 Stocks Set to Soar on Bullish Earnings
New management has come in to clean up operations. In the past few years, this company had developed a reputation for sloppy manufacturing practices, which raised the ire of regulators at the Food & Drug Administration. Those concerns are now being addressed, and management is so convinced that business will improve that it's been buying up shares with its own funds.
This stock is down from $20 in 2007 to a recent $12.44. It could move back up to that five-year high if it were to be acquired at a value in line with peers.
BSD Medical
BSD Medical
(BSDM)
is a company with impressive technology but limited capital to exploit it, making it the ideal acquisition target. BSD's systems are used to treat certain tumors with heat (hyperthermia), while increasing the effectiveness of other therapies such as radiation therapy.
The clinical data in support of BSD's devices have been quite strong. Trouble is, these devices are fairly expensive, and few customers have signed up so far. BSD has been trying to place devices with the industry's leading oncology surgery centers, in hopes that word for mouth will lead to further new sales leads.
As a micro-cap, this is a speculative play, but it may soon pop on more investors' radars as industry buzz finally starts to build.
Derma Sciences
Derma Sciences
(DSCI)
is another micro-cap (market value: $105 million) with big plans. It has a steady market share of private-label wound care products. It's a growing market thanks to the rising incidence of diabetes, as diabetics tend to be slow healers at heightened risk of infections with open wounds.
>>5 Stocks Under $10 Poised for Breakouts
In recent quarters, the company has been pouring considerable R&D funds into a new treatment that targets diabetic foot ulcers. Derma's DSC127 has shown strong results in the first two phases of clinical testing and will soon enter Phase III. The company recently raised nearly $20 million to fund more research but would gladly find a major partner to most effectively market DSC127 if it gets FDA approval.
Companies such as
Johnson & Johnson
(JNJ) - Get Report
and
Abbott Labs
(ABT) - Get Report
have expressed the desire to deepen their presence in the wound care market, and Derma Sciences would help expedite that goal.
Pacific Biosciences
As noted earlier, Roche is willing to pay more than $5 billion to acquire gene sequencing firm Illumina. But other firms looking to enter the space may end up targeting another industry player for just a fraction of that price.
Pacific Biosciences
(PACB) - Get Report
currently is worth less than zero, after you remove the company's $161 million cash balance from the equation. PACB is valued at $143 million on the open market.
The stock is so cheap simply because this gene sequencer is roughly a half decade behind Illumina on the development curve. While Illumina is expected to boost sales roughly 8% in 2013 to around $1.2 billion, Pacific Biosciences' sales won't likely top $40 million by then.
Yet investors may be overlooking how much money has already gone into the company's technology base. Pacific Biosciences has spent a cumulative $250 million in R&D over the last three years, giving the company a considerable headstart for any firm that wants to enter into this biotechnology niche.
Right now, this stock is getting little investor affection simply because it is unprofitable -- and will likely remain that way for at least a few more years. Yet for potential acquirers, that loss can be easily absorbed if it means getting control of the company's technology platform.
To see these stocks in action, visit the
.
RELATED LINKS:
>>5 Stocks Setting Up to Break Out
>>5 Stocsk Ready to Boost Dividends
>>5 Stocks That Insiders Love Right Now
Follow Stockpickr on
and become a fan on
Facebook.
Stockpickr is a wholly owned subsidiary of TheStreet.com.
At the time of publication, author had no positions in stocks mentioned.