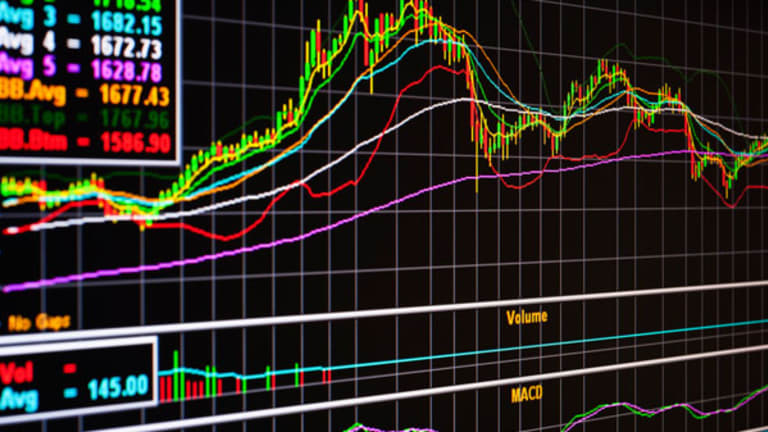 5 Stocks That Make for Healthy Investments
Here are five ways to play the growing health food craze.
Here are five ways to play the growing health food craze.
MILLBURN, N.J. (Stockpickr) -- With obesity, diabetes and heart disease on the rise in the U.S., consumers are getting the message, seeking out healthier foods and diet supplements.
The companies that stand to benefit range from food producers and processors to supermarkets to specialty retail and weight-management programs.
With that in mind, here are
five stocks that will keep you fit and your investment account healthy
.
Whole Foods
Whole Foods
(WFM)
might not be one of the largest supermarkets in the nation, but it is amongst the fastest-growing. The company is also the largest publically owned chain that exclusively sells natural and organic groceries and fresh food.
The company has locations in 39 states and the District of Columbia. Whole Foods operates 310 stores and 10 distribution centers in the U.S., Canada and United Kingdom. Sixty-seven of the company's stores are concentrated in California, and only 15 reside outside the U.S.
>>5 Stock Trades for a Confusing Market
For comparison's sake, grocery chain
Kroger
(KR) has about 2,400 stores, and Safewy has about 1,700, but those chains can't compare to Whole Foods in terms of quality. Other high-end and natural/organic supermarkets include
Trader Joe's
, with about 350 stores in 31 states, and
The Fresh Market
(TFM), with 115 stores concentrated in 21 states.
As you can see, there is ample opportunity for Whole Foods to grow. Check out its past and projected sales and earnings growth:
Should the company begin to ramp up expansion, and I believe that it will come 2013 and 2014, then Whole Foods would be the stock to own for the next decade.
The Fresh Market
The Fresh Market
(TFM)
is a smaller competitor to Whole Foods in the organic and natural foods business, and in that respect, the company also makes a compelling investment. But TFM's estimated growth rates -- 17% for sales in the current year and 18% in the following year, and 21% for EPS in the current year and 25% in the following year -- could make it an even more compelling investment.
There is another factor worth considering. Several years ago, in 2007, Whole Foods purchased a smaller competitor, Wild Oats Markets, for $700 million. The market capitalization of The Fresh Market is $2.5 billion. While I am not saying that Whole Foods would acquire The Fresh Markets, it is quite conceivable that one of the larger domestic national supermarket chains or an international chain seeking to get into the organic and natural food retail business could.
Hain Celestial
Hain Celestial
(HAIN) - Get Report
is a producer of natural and organic foods and personal care products, including such brands as Terra, Celestial Seasonings, Health Valley, Earth's Best, Casbah Foods, DeBoles Pasta and Hain Pure Foods. In addition, the company has a line of gluten-free foods, which is increasingly important as diagnosis of celiac disease is on the rise. The company has also purchased several lines of products for distribution in Europe.
Hain Celestial has grown over the years both from organic sales growth (pun intended) and through small incremental acquisitions. There is no doubt that the healthy and organic foods and personal products businesses are growing much more rapidly than conventional food sales.
Hain Celestial is one of the largest suppliers to the Whole Foods chain of supermarkets. While one's first instinct would be to buy Whole Foods or The Fresh Market as I mentioned above, Hain Celestial also supplies products to the traditional supermarket chains, so the company can and does benefit additionally from the sale of its products to end users who might otherwise not shop at the high-end organic retailers.
>>5 Consumer Stocks That Could Pop
Hain Celestial has also begun to accelerate sales and earnings growth. For the fiscal year ended June 2012, earnings are expected to grow by 28%, and sales are expected to surge 30%. In its 2013 fiscal year, earnings per share are expected to rise 16% and sales are expected to increase 14%. The stock currently sells at a 26 times current year's earnings per share, which is modest compared to the implied growth rates.
Annie's
Annie's
(BNNY)
, the California-based manufacturer of organic and natural foods with the bunny rabbit logo, recently went public. When the stock was sold to the public, it quickly surged and closed nearly $17 above its IPO price of $19 on the first day of trading.
Annie's may appear to have a rich price-to-earnings multiple of approximately 70 and a high price-to-sales ratio of about 5, but I am willing to overlook these facts, at least right now. The organic and natural foods business is one of the fastest-growing businesses in the country. I expect that to remain the case for many years to come.
When I look at Annie's just after its IPO, I see an opportunity that was presented to investors many years ago by companies such as Whole Foods and Hain Celestial. Annie's, however, is at a much earlier part of the growth and earnings cycle than those more-established companies. It is worth noting that WFM and HAIN are still enjoying supernatural growth rates.
By the way, HAIN is never shy about reaching into its pocket and buying a company. Another stock worth recalling is American Italian Pasta. That company grew rapidly several years ago and then was acquired by
Ralcorp
(RAH) at a premium price in 2010.
As a public company, Annie's can expand more rapidly now that it has more ready access to the capital markets. The company generated about $20 million from the IPO proceeds with the rest of the total $95 million in IPO stock being sold by shareholders.
>>5 Stocks to Buy Instead of Facebook
GNC Holdigns
GNC Holdings
(GNC) - Get Report
is a retailer of health and wellness products such as vitamins, minerals and supplements. The company primarily sells its products in branded retail locations, many of which are located in shopping malls,
Rite Aid
(RAD) stores and over the internet.
As a result of Americans' poor eating and exercise habits, their bodies require many of the products that GNC offers. Athletes will also use their product to help bolster sports nutritional requirements. Doctors are increasingly suggesting that their patients augment prescription medications with supplements and vitamins as many pharmaceuticals or diseases will deplete the body of essential vitamins and nutrients.
The company went public just over a year ago at $16 and now sells at around $40. In that short period of time as a public company, earnings have bettered analysts' estimates by a wide margin each of the three reporting periods. Gross profit margins are consistently generated at just over 36%, which is quite strong. Furthermore, GNC has generated long-term same-store sales growth.
GNC is expected to grow earnings per share by 27% in 2012 and then another 16% in 2013. The stock currently sells at 19 times current year's estimates which is quite reasonable given its earnings history and forecasts.
-- Written by Scott Rothbort in Millburn, N.J.
RELATED LINKS:
>>5 Stocks Feeling the Insider Love
>>6 Stocks to Play if the Market Tanks
>>5 Stocks With New CEOs to Stay Away From
Follow Stockpickr on
and become a fan on
Facebook.
At the time of publication, Rothbort was long HAIN, although positions can change at any time.
Scott Rothbort has over 25 years of experience in the financial services industry. He is the Founder and President of
, a registered investment advisor specializing in customized separate account management for high net worth individuals. In addition, he is the founder of
, an educational social networking site; and, publisher of
The LakeView Restaurant & Food Chain Report
. Rothbort is also a Term Professor of Finance at Seton Hall University's Stillman School of Business, where he teaches courses in finance and economics. He is the Chief Market Strategist for The Stillman School of Business and the co-supervisor of the Center for Securities Trading and Analysis.
Mr. Rothbort is a regular contributor to
TheStreet.com's RealMoney Silver
website and has frequently appeared as a professional guest on
Bloomberg Radio
,
Bloomberg Television
,
Fox Business Network
,
CNBC Television
,
TheStreet.com TV
and local television. As an expert in the field of derivatives and exchange-traded funds (ETFs), he frequently speaks at industry conferences. He is an ETF advisory board member for the Information Management Network, a global organizer of institutional finance and investment conferences. In addition, he is widely quoted in interviews in the printed press and on the internet.
Mr. Rothbort founded LakeView Asset Management in 2002. Prior to that, since 1991, he worked at Merrill Lynch, where he held a wide variety of senior-level management positions, including Business Director for the Global Equity Derivative Department, Global Director for Equity Swaps Trading and Risk Management, and Director for secured funding and collateral management for the Global Capital Markets Group and Corporate Treasury. Prior to working at Merrill Lynch, within the financial services industry, he worked for County Nat West Securities and Morgan Stanley, where he had international assignments in Tokyo, Hong Kong and London. He began his career working at Price Waterhouse from 1982 to 1984.
Mr. Rothbort received an M.B.A., majoring in Finance and International Business from the Stern School of Business, New York University, in 1992, and a B.Sc. in Economics, majoring in Accounting, from the Wharton School of Business, University of Pennsylvania, in 1982. He is also a graduate of the prestigious Stuyvesant High School in New York City. Mr. Rothbort is married to Layni Horowitz Rothbort, a real estate attorney, and together they have five children.