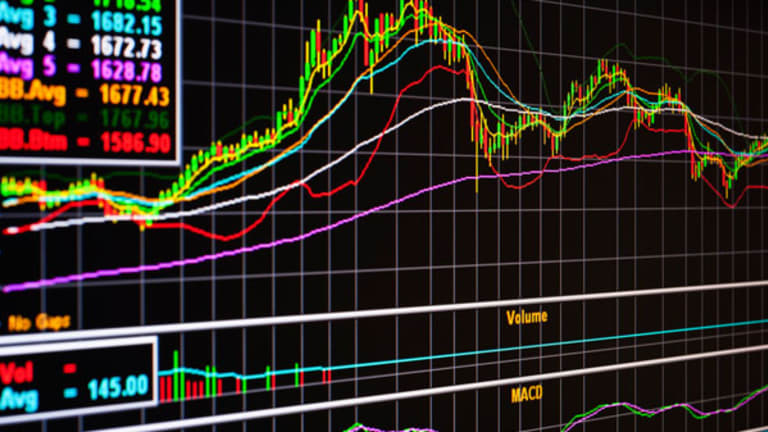 Publish date:
5 Stocks That Have Yet to Recover From the 2008 Crisis
These companies are now poised to regain their footing and catch up to the rest of the market.
These companies are now poised to regain their footing and catch up to the rest of the market.
NEW YORK (
) -- Five years ago, the stock market began its stunning meltdown. The
S&P 500
slid 10% in June 2008 and would fall much more sharply in the following months.
>>5 Hated Earnings Stocks You Should Love
Sure, many stocks would go on to post stunning rebounds, and in recent quarters, certain stocks have been repeatedly making new all-time highs. But dozens of other companies in the S&P 500 are still licking their wounds from the 2008 market plunge, trading well below levels seen five years ago.
Some of these companies surely deserve to be shunned, but a select few hold the seeds of renewal.
With that in mind, here are
five companies that are now poised to regain their footing
and catch up to the rest of the market.
Charles Schwab
It's hard to feel sorry for investors of
Charles Schwab
(
) -- the stock has nearly doubled from its 52-week low to a recent $21.38. Still, that's below trading levels seen before the 2008 financial crisis took root. Back then, shares appear to have peaked out around $25, but this time around, the upside is far more robust.
In the intervening years, Schwab has done a remarkable job attracting new clients. Many independent stock brokers and financial advisors have left the big firms and brought their clients' assets to Schwab, and once interest rates normalize, look for this company's earnings to soar. That's because Schwab can generate impressive interest income on its clients assets, as massive cash balances are parked on the balance sheet.
>>4 Big Stocks on Traders' Radars
A few key figures tell the tale: Schwab now has 8.9 million client brokerage accounts, runs the retirement programs for more than 1.5 million people and collectively manages $2.1 trillion in assets. Those represent 30% to 50% increases from levels seen five to six years ago. And considering that Schwab earned more than $1 a share back in 2008, the future earnings power could handily exceed $1.50 a share.
Corning
Shares of
Corning
(
) have fallen close to 50% in the past five years, compared with a 20% gain for the S&P 500. Blame goes to the rapid maturation of both the telecom and television set industries. Corning is a key provider of components in both fields, and management has been focusing on keeping sales and profits aloft in the face of relentless competitive pressures.
>>5 Stocks Charts You Need to See
Yet a quick glance at this company's income statement hardly paints the picture of distress. Consider that in both 2006 and 2007, before the financial crisis, Corning generated around $600 million in annual free cash flow, while over the past three years, that figure has averaged $1.3 billion. In fact, analysts at Merrill Lynch see that figure topping $1.5 billion by 2014.
What is Corning doing with all that cash flow? Well, it has boosted its dividend at a double-digit pace in the past three years; the dividend yield now stands at 2.8% and is poised to rise higher. And the company has bought back 90 million shares over the past six quarters. In April, 2013, Corning announced plans to buy back $2 billion more.
Xerox
After being stuck in a $6-to-$8 trading range for several years, shares of
Xerox
(
) have recently moved up above $9. Still, that's cold comfort for anyone who owned this stock five years ago, when it traded for $14. The good news: This office equipment and services titan is poised to re-visit those 2008 levels in coming years, thanks to prodigious free-cash-flow generation.
>>4 Red-Flag Stocks to Sell This Summer
For a bit of context, Xerox generated an average of $1.2 billion in annual free cash flow in the years 2004 through 2008. Yet in three of the past four years, that figure has exceeded $1.8 billion. What's Xerox's secret? A $6.4 billion to acquire Affiliated Computer Services in early 2010, a leading provider of outsourced services. It's a business with low growth prospects but very steady cash flow thanks to long-term contracts. Xerox's customer base was largely blue-chip companies, while ACS brought a customer base of mid-sized businesses.
Goodyear Tire & Rubber
Shares of tire maker
Goodyear Tire & Rubber
(
) have slid 30% in the past five years, as global car and truck sales remain below peak levels. But as auto sales move back to pre-recession levels, look for impressive free cash flow from this company.
Over the past few years, Goodyear has spent billions to modernize its global network of factories, which drained away cash flow. Those investments are now complete and are already bearing fruit. Goldman Sachs expects operating cash flow to rise from $280 million this year to $900 million in 2014 to a hefty $1.5 billion by 2015. Much of that should convert into free cash flow as capital spending sharply slows. Shares currently sport a free cash flow yield of 11% based on that 2015 Goldman Sachs projection.
Nabors Industries
Five years ago, oil prices were still firmly above $100 a barrel, and shares of oil drilling equipment firm
Nabors Industries
(
) traded at around $45. These days, shares trade in the mid-teens, having never recovered from a deep slump in 2009. That year, Nabors saw revenue drop 32% to $3.5 billion as drilling activity slowed in the face of falling oil prices. Since then, demand has steadily rebounded, and revenue hit a record $6.7 billion in 2012.
Part of the rejuvenation stems from heavy investments in a very modern fleet of rigs, which is enabling Nabors to secure very firm lease rates for its equipment. Look for the good times to continue; analysts see sales exceeding $7.3 billion by 2015. Per-share profits should rise in tandem, from around one dollar in 2013 to $1.30 in 2014 to around $1.60 in 2015. The still-depressed shares don't reflect the ever-brightening outlook.
To see these fallen stars action, visit the
5 Stocks That Have Yet to Recover From the 2008 Crisis
portfolio.
RELATED LINKS:
>>4 Tech Stocks Under $10 to Watch
>>3 Hot Stocks to Trade (or Not)
>>5 Stocks Under $10 Set to Soar
Follow Stockpickr on
and become a fan on
Facebook.
Stockpickr is a wholly owned subsidiary of TheStreet.com.