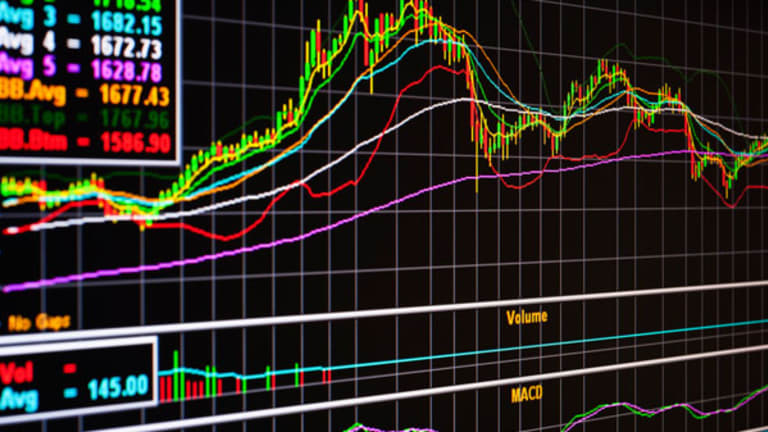 5 Stocks That Could Rebound in Second Half of 2011
These stocks were disappointments in the first half of 2011 but could be poised for turnaround performances in the second half.
These stocks were disappointments in the first half of 2011 but could be poised for turnaround performances in the second half.
MILLBURN, N.J. (Stockpickr) -- I think it is fair to describe the stock market for first half of 2011 as "manic-depressive." If you listened to many commentators in the financial media, and even on this site, you were likely misled to believe that we are in the midst of another financial calamity. Despite the roller coaster rides so far in 2011, all of the major domestic stock indices on a price basis are higher by about 3% to 7%. The S&P 400 Midcap Index (MID) is the leader among the pack, returning just under 8% on a price basis.
There are a whole host of stocks that did not fare as well as the broad market indices and managed to decline for the first half of the year. Some of these stocks could potentially rebound and return positive gains for the second half of 2011. While I would not necessarily categorize all of these stocks as long-term investments, they do provide trading opportunities for the second half of the year.
Related:
5 High-Beta Stocks That Could Explode
Here's a look at several
stocks poised to rebound in the second half of 2011
.
Cisco Systems
(CSCO) - Get Report
Trading Opportunity
: Cisco Systems was once a tech darling of the 1990s, the undisputed leader of networking and telecommunications devices. The company's routers were among the most sought-after devices for Internet and telephone communications. CEO John Chambers was an icon of Silicon Valley and Wall Street.
Over the past few years, though, the company's growth rate has dwindled into the low to mid-single digits. Chambers has lost much of his credibility with Wall Street as time and time again he continues to deliver downbeat news about the company. This has led analysts to cut their earnings estimates of Cisco, which has allowed the company to consistently report better-than-expected earnings. It is like expecting your child to earn a D on her report card and she comes home with a C -- she's still a C student.
In the meantime, competitors such as
Juniper
(JNPR) - Get Report
are producing better and more desirable products. Cisco has spent an enormous amount of money, close to $70 billion, buying back stock over the last decade.
While all that I just mentions sounds horrific, the stock has gotten incredibly cheap, selling for less than 10 times the current year's earnings estimates. Just this year, the company's board of directions got religion and finally instituted a common stock dividend, which currently yields about 1.6% per annum. After declining nearly 24% so far this year, Cisco could very well be poised for a snapback in the second half of this year. I would not rule out the potential for a 10% to 20% upside trade in Cisco -- but don't hang around too long, because the company's troubles will not have disappeared.
Cisco shows up on recent lists of
5 Tech Titans Teetering at the Brink
,
Top Stocks to Buy and Hold Through 2011
and
5 Dow Stocks to Buy for a Market Rebound
.
Best Buy
(BBY) - Get Report
Trading Opportunity
: Consumer electronics retailer Best Buy has seen its shares decline this year, despite reporting two consecutive quarter of better-than-expected results. There does, however, appear to be a slowing down of business.
In the most-recent quarter reported earlier in June, total same-store sales declined 1.7%; company-wide gross margins declined 60 basis points year over year to 25.3%; international gross margins declined 40 basis points to 25.9%; domestic sales declined 1%, with comps down 2.4%, after a 5.5% comp decline in the prior quarter; international sales rose 8%, mostly from foreign exchange, on 0.4% comp increases; Canada and Europe had low single-digit comp declines; and the Five Star stores in China delivered 9% comps vs. 30% a year ago. Weakness was evident in TVs and digital cameras. TV comps were down in the high single digits, primarily on bets being made, wrongly, that the consumer would eat up 3D video products. Component shortages from the Japan earthquake negatively impacted inventories.
But it's not all bad news, and there are hopes for improvement in the back half of the year. The company is focusing its energies into a few strategic areas -- namely, Internet sales, tablets, mobile phones, appliance and gaming. Best Buy is taking advantage of the growth in technologies such as mobile computing and tablets as well as expanding its e-commerce business in order to deliver a better-than-anticipated quarter. The situation in Japan is already beginning to improve. With the price of gasoline having peaked, consumers are likely to be opening up their wallets to more discretionary spending.
Best Buy's stock could easily rebound to $40 in the coming six months, making it worthy of a trade.
Best Buy, one of
11 Retail Stocks Boosting Dividends
, was highlighted recently in "
7 Dividend Stocks Shoveling Cash to Shareholders
" and "
."
Teva Pharmaceutical
(TEVA) - Get Report
Investment Opportunity
: Teva Pharmaceuticals manufactures, develops and markets a wide portfolio of generic and branded drugs. On a proprietary basis, Teva is engaged in research into solutions for multiple sclerosis, ALS, Crohn's disease and other neurological, autoimmune and oncology disorders. The company's Copaxone injection therapy is one of the leading solutions for MS. Furthermore, Teva is one of the largest manufacturers of generic drugs in the world, which is a very lucrative business.
The stock has performed poorly over the course of the last year, falling steadily from a peak of about $63 in May 2010 to where it now stands at around $49. Earnings for the company continue to grow in the low double-digit percentages. Recently, the company agreed to purchase
Cephalon
( CEPH) for $6.2 billion. This acquisition will add nearly $3 billion to Teva's nearly $19 billion in annual sales.
Teva currently sells for 9 times earnings, which is less than its growth rate. This stock is poised for a rebound in the second half of 2011 and could rally back to its 2011 high of around $56 making for a nice mid teen percentage trading gain.
Teva, one of the
, shows up on a recent list of
10 Large-Cap Stocks With Upside
.
Cummins
(CMI) - Get Report
Investment Opportunity
: Cummins manufactures, distributes and services engines and related technologies, including fuel systems, controls, air handling, filtration, emission solutions and electrical power generation systems. Cummins' engines are built for heavy- and medium-duty trucks, buses, recreational vehicles, light-duty automotives, agricultural, construction, mining, marine, oil and gas, rail and governmental equipment products.
The company reported very strong first-quarter earnings of $1.75 a share, vs. expectations for $1.44. The stock was ramping to new all-time highs until late April. Then fears of a global slowdown and rising crude oil prices knocked the stock down to such an extent that it ended the quarter in the red by 9%. However, there is no indication that demand for the company's products is slowing down, especially from overseas customers.
Cummins is expected to grow earnings by 58% to $1.98 in the second quarter. While that is a lofty goal, nevertheless it is achievable. If the company meets or exceeds that consensus estimate then it would certainly rebound by at least 10% to be flat and possibly even eclipsing its April highs of $121.49.
>>Practice your stock trading strategies and win cash in our stock game.
Mosaic
(MOS) - Get Report
Investment Opportunity
: Mosaic is a leading agricultural specialty chemical company that specializes in potash and phosphate fertilizers. The stock and its fertilizer peers have all struggled this year, with the possible exception of
Potash
(POT)
. To some extent, this sector was overbought and overleveraged. To another extent, there were global concerns for a global slowdown. Both may have negatively impacted the sector.
But what may have weighed on Mosaic most of all is the recent secondary stock offering by majority shareholder Cargill, which was completed at the end of May. I bought some shares on that secondary offering for my clients at LakeView Asset Management. Furthermore, just this week, agricultural seed and chemical company
Monsanto
(MON)
reported a better-than-expected quarter and raised its guidance citing strong demand in the agricultural sector.
Mosaic can easily tack on 10% to 15% as a bid comes back into the stock and related sector.
To see these stocks in action, check out the
Stocks Poised for a Second-Half 2011 Rebound
portfolio.
-- Written by Scott Rothbort in Millburn, N.J.
RELATED LINKS:
>>Stocks Selling Below Cash Per Share
>>5 Stocks to Consider Ahead of Earnings
>>5 Stocks to Capture Summer Sentiment Swing
Follow Stockpickr on
and become a fan on
Facebook.
At the time of publication, Rothbort was long CMI and MOS, although positions can change at any time.
Scott Rothbort has over 25 years of experience in the financial services industry. He is the Founder and President of
, a registered investment advisor specializing in customized separate account management for high net worth individuals. In addition, he is the founder of
, an educational social networking site; and, publisher of
The LakeView Restaurant & Food Chain Report
. Rothbort is also a Term Professor of Finance at Seton Hall University's Stillman School of Business, where he teaches courses in finance and economics. He is the Chief Market Strategist for The Stillman School of Business and the co-supervisor of the Center for Securities Trading and Analysis.
Mr. Rothbort is a regular contributor to
TheStreet.com's RealMoney Silver
website and has frequently appeared as a professional guest on
Bloomberg Radio
,
Bloomberg Television
,
Fox Business Network
,
CNBC Television
,
TheStreet.com TV
and local television. As an expert in the field of derivatives and exchange-traded funds (ETFs), he frequently speaks at industry conferences. He is an ETF advisory board member for the Information Management Network, a global organizer of institutional finance and investment conferences. In addition, he is widely quoted in interviews in the printed press and on the internet.
Mr. Rothbort founded LakeView Asset Management in 2002. Prior to that, since 1991, he worked at Merrill Lynch, where he held a wide variety of senior-level management positions, including Business Director for the Global Equity Derivative Department, Global Director for Equity Swaps Trading and Risk Management, and Director for secured funding and collateral management for the Global Capital Markets Group and Corporate Treasury. Prior to working at Merrill Lynch, within the financial services industry, he worked for County Nat West Securities and Morgan Stanley, where he had international assignments in Tokyo, Hong Kong and London. He began his career working at Price Waterhouse from 1982 to 1984.
Mr. Rothbort received an M.B.A., majoring in Finance and International Business from the Stern School of Business, New York University, in 1992, and a B.Sc. in Economics, majoring in Accounting, from the Wharton School of Business, University of Pennsylvania, in 1982. He is also a graduate of the prestigious Stuyvesant High School in New York City. Mr. Rothbort is married to Layni Horowitz Rothbort, a real estate attorney, and together they have five children.