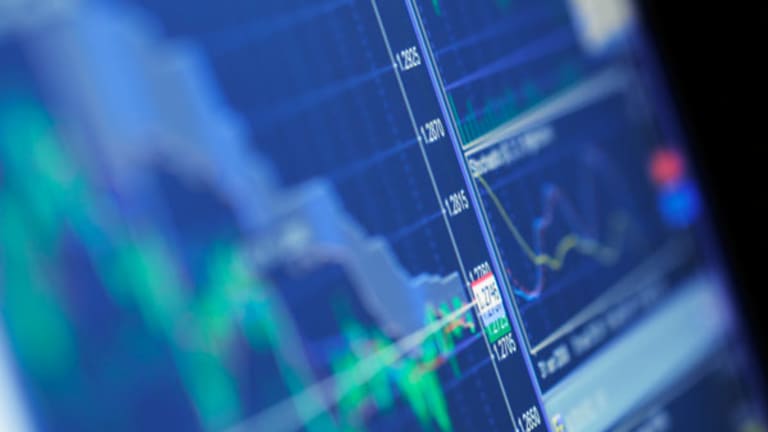 5 Stocks Seth Klarman Loves
Here's a look at five stocks Klarman's Baupost Group bought in the second quarter.
BALTIMORE (Stockpickr) -- Investors are willing to pay a lot for insights from Baupost Group's Seth Klarman, the money manager behind the famous value-focused hedge fund.
That's not limited to the management fees Baupost charges -- even Klarman's book commands a hefty fee by most hardcover standards. A copy of the out-of-print 1991 title
Margin of Safety: Risk Averse Investing Strategies for the Thoughtful Investor
will set you back between $700 and $3,000.
No, there's no Kindle version.
>>5 Unloved Stocks to Crush the S&P
But there's a less pricey way to peer into Klarman's value investing methodology: Take a look at his 13F. Institutional investors with more than $100 million in assets are required to file a 13F -- a form that breaks down their stock positions for public consumption. From hedge funds to mutual funds to insurance companies, any professional investors who manage more than that $100 million watermark are required to file a 13F. And with Baupost's assets under management weighing in at $29.4 billion according to HedgeStats.com, Klarman and company certainly fit that description.
Baupost's 13F for the second quarter of 2012 is hot off the presses, so it a good time to take a closer look at the firm's favorite stock investments. Without further ado, here's
a look at five stocks that Klarman bought in the second quarter
.
Oracle
So what's Baupost's favorite stock? Right now, it looks like
Oracle
(ORCL)
, the $156 billion enterprise software giant.
In the second quarter, Baupost picked up 15.8 million shares of Oracle, for a $469 million stake in the newly initiated holding, committing a very hefty 12.3% of Baupost's stock holdings to the firm. That bet appears to be paying off too -- in the last quarter, shares of Oracle have rallied more than 25%.
Oracle's biggest business is application software; the firm sells mission-critical software packages to firms that need database tools for everything from customer resource management to supply chain analysis. Because Oracle's software is integrated so tightly into firms' operations, customers have extremely high switching costs and competitors have big barriers to entry. Oracle's entry into cloud computing has also caught considerable attention in the industry. Hosted versions of Oracle's software could open the firm up to a significant source of recurring revenues in the next couple of years.
From a financial standpoint, Oracle is in stellar shape. The firm has nearly twice as much cash on its balance sheet as it does debt, a ratio that's only been growing in recent years. With growth-by-acquisition central to Oracle's business strategy, this firm has plenty of dry powder to add onto its empire.
Oracle also shows up on a recent list of
5 Dividend-Paying Stocks for the Next Decade
.
Genworth Financial
Genworth Financial
(GNW)
is another name that Klarman and company like right now. Baupost picked up 15 million shares of the mid-cap insurance firm, taking on just over 3% of Genworth's outstanding shares with an $84.9 million position in the stock. Genworth provides mortgage insurance, life insurance, and more nuanced products like long-term care insurance.
The firm was a unit of
General Electric
(GE)
until 2004, when it was spun-off from the blue chip and sent on its own way. Since initially going public, GNW has seen its shares tumble 72%. (It was one of the
10 Worst-Performing S&P 500 Stocks in the Second Quarter
.)
A lot of that poor performance has come from exposure to the worst parts of the market. As a major mortgage insurer, a wave of mortgage defaults meant big payouts and the need to raise capital through dilutive equity offerings and increased debt leverage. While the firm has stabilized itself at this point, GNW isn't out of the woods just yet. Another economic hiccup could spark the need for more capital.
>>5 Financial Stocks Hedge Funds Love
In spite of those challenges, Genworth is at least starting to look cheap right now. While the firm's valuation is in line with peers, GNW was known for being one of the more conservative mortgage underwriters going into the crisis, and increased exposure to international mortgage insurance (rather than housing here at home) makes it an even better risk. And even though the firm had to raise capital after the recession, the debt load is more than tenable right now, especially given the mountains of cash that Genworth threw off in the most recent year.
I'd suggest that risk-averse investors steer clear of this stock -- there are a lot of unknowns that still need to get worked out here. But investors looking for a little more excitement could do worse than following Seth Klarman's lead.
Hess
$17 billion integrated oil stock
Hess
(HES)
may not get the attention of the supermajors, but that doesn't mean that you should eschew this energy firm.
Hess may be best known for more than 1,360 gas stations spread across the Eastern U.S., but the firm's bread and butter is oil production. Hess has a portfolio of oil and gas projects throughout North America, Australia, North Africa and the Middle East that flow through to Hess' refinery capacity of more than 280,000 barrels a day. The firm's total proven reserves currently stand at 1.5 billion barrels of oil equivalent.
>>9 Oil Stocks With Hot Prospects
Hess has been transitioning in a big way in the last few years. While the firm has seen substantial success in its exploration and production arm, its downstream assets have been less fruitful. The decision to close its refinery in the Virgin Islands (while keeping its terminal there) means that the closure of its New Jersey refinery seems likely. Refining simply lacks the margins that Hess can earn in the E&P business, and management's acknowledgement of that fact is a good sign.
While the firm's balance sheet is leveraged with around $7.8 billion in debt, the oil business is capital intense and Hess' financials don't look out of sort from its peers. With more than $800 million in cash and investments and a $4 billion credit facility, Hess isn't likely to have any liquidity problems in 2012. Baupost group added the position to its perfolio last quarter, picking up 1 million shares for what's now a $50 million stake in the company.
Hess is also one of
David Einhorn's Greenlight Capital holdings
.
Hewlett-Packard
It's fair to say that
Hewlett-Packard
(HPQ)
is the most surprising name on Baupost Group's buy list -- the hedge fund picked up 9.6 million shares of the computer company, nearly doubling the fund's position in the firm to a $128 million stake.
But HP has more than a few headwinds against it right now, particularly given that its unattractive computer business makes up a full third of its sales. In the last several years, computers have largely become commoditized, with consumers comparing the specs of a PC rather than comparing the brand label on it.
>>10 Profitable and Oversold Stocks Ready to Move Higher
While the printer business (namely supplying ink) is attractive, it's only 20% of HP's sales. So why is Klarman buying this stock?
The single shining beacon of hope for HP shareholders is its enterprise arm, both selling hardware and services to corporate IT departments. But there are a couple of problems with that plan. While HP is better situated than most to succeed in enterprise, it faces stiff competition from nearly every other computer firm. They all have the same idea. Couple that with the fact that Hewlett-Packard overpaid for its $13.9 billion EDS acquisition (reflected by a big goodwill impairment charge HP took earlier this month), and the future looks a whole lot less certain.
I wouldn't be buying this firm with both hands right now.
BP
Another name that Baupost added onto last quarter was
BP
(BP)
, the London-based energy firm. Klarman's hedge fund picked up 4.14 million shares of the company, increasing the fund's stake in the firm by more than 40%.
BP is finally starting to shake off the after effects of the Macondo oil spill, an event that's going to linger on BP's balance sheet in the form of obligations long after most of the public has forgotten about it. But normalcy is returning for BP in 2012. The firm generates significant cash, wherewithal that BP has been using to fuel a hefty 4.5% dividend yield right now. The firm popped to substantial profits for 2011, a good sign that the setbacks are behind it.
In a market with triple-digit oil prices, BP is better aligned to benefit than most other supermajors. After all, its energy assets are more than 60% oil, versus the nearly even split between oil and gas that others have been shooting for. While many analysts have argued that high oil prices could lead to substitution and a price hike in natural gas (an analysis that I subscribe to), those oil prices need to stay high for that scenario to pan out. Either way, then, oil-rich firms like BP stand to benefit.
With a big black eye on the firm following Macondo, I think that BP makes for one of the most interesting supermajor plays for 2012.
To see the rest of Seth Klarman's plays - including a complete list of which stocks he added or sold off, check out the
Seth Klarman - Baupost Group Portfolio on Stockpickr
.
-- Written by Jonas Elmerraji in Baltimore.
RELATED LINKS:
>>5 Stocks Insiders Love Right Now
>>5 Rocket Stocks to Buy This Week
>>5 Hated Stocks Poised to Pop on Earnings
Follow Stockpickr on
and become a fan on
Facebook.
At the time of publication, author had no positions in stocks mentioned.
Jonas Elmerraji is the editor and portfolio manager of the
Rhino Stock Report
, a free investment advisory that returned 15% in 2008. He is a contributor to numerous financial outlets, including
Forbes
and
Investopedia
, and has been featured in
Investor's Business Daily
, in
Consumer's Digest
and on
MSNBC.com
.