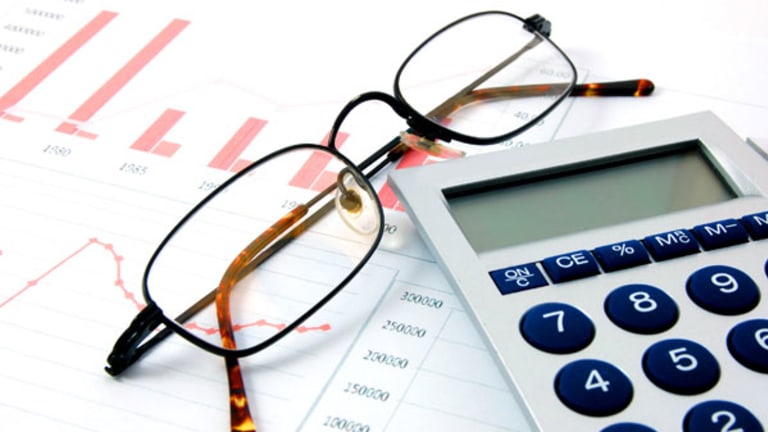 5 Stocks Set to Fall on Earnings This Week
The Fresh Market and Campbell Soup are among those stocks that could be easily torpedoed by earnings reports.
MINNEAPOLIS (Stockpickr) -- The stock market moved higher last week, but the fundamental issues facing investors and the economy have not changed. We are at a tipping point for sure that goes beyond fearful selling and panic. What we are witnessing today is a business cycle that is clearly aging and possibly in its last legs.
The end may be coming sooner than most predict, but is that at all surprising? It should not be considering the trillions of dollars of lost asset values from the collapse of the housing and banking sectors. The last recession was far from normal thus it makes sense that a recovery would be far from normal as well.
The average business cycle lasts four years. Typically a cycle begins with pent-up demand that catapults economic activity higher as spending energy is released. The end of a cycle is typified by exhaustion. Demand weakens and the economy contracts. Even if you know very little about economics, it would be fairly easy to see the tiredness of the American economy today.
Related:
2 Pair Trades for Big Swings in the Market
The end of the cycle should not be something that is feared. It is healthy and sows the seeds for the next expansion. For investors these inflection points can be exploited. Specifically Wall Street analysts tend to be very slow and reluctant to reduce earnings estimates. When companies release results that miss the mark the damage to shareholder value can be sharp and quick.
Over the last two weeks I have witnessed this scenario several times. The most recent example occurred on Friday when
Omnivision Technologies
(OVTI)
sank 30% after its earnings report and guidance disappointed the market. At the same time the lethargy of the moment is making it difficult for stocks reporting solid results to move higher. That was the case with
Express, Inc.
(EXPR) - Get Express, Inc. Report
when it announced earnings that beat expectations including raised guidance for the year and the stock barely budged.
For those trading stocks of companies releasing earnings then, the easy money would appear to be on the short side of the market. Being correct in your analysis is likely to result in significant gains. Even if you are wrong, the downside would appear to be limited by weak action in stocks to the upside.
Here then are
5 stocks that could sink on poor earnings
:
The Fresh Market
Organic food is all the rage. Consumers appear to be willing to pay premium dollars for natural products. The trend has changed the dynamics of the grocery business. Typically grocery stores run on very thin profit margins. With organic food, margins expand.
Investors recently observed the power of this new model with the recent earnings report of
Whole Foods
. A strong earnings report pushed shares higher despite general weakness in the market. This week investors will hear from
The Fresh Market
(TFM)
when the company reports earnings results on Wednesday.
This newly traded stock as of late last year has been on a volatile ride. Shares have oscillated several times between its high near $44 per share and the low of $32 per share. Operating performance has been strong in that the company has beaten analyst estimates in all three of the quarters it reported. With shares trading at the low end of the above range, Fresh Market would appear to be poised for a rebound.
I think otherwise. My main concern is valuation. At current prices Fresh Market trades for 33 times current year estimates of earnings. That is steep even if the company is growing profits by the expected 24% from this year to the next. An earnings miss could result in this stock losing significant value. I would trade expecting such an outcome.
Zale Corporation
Luxury jewelry store,
Tiffany
(TIF) - Get Tiffany & Co. Report
gained nearly 10% on Friday after the company reported earnings that beat Wall Street estimates. Will the results translate to other names in the space? On Wednesday, mall jewelry store,
Zale Corp.
(ZLC)
reports earnings results for the quarter ending July 31, 2011.
Over the last year, both Tiffany and Zale have done quite well for investors. Both stocks are up significantly with Zale showing the largest gains. For Zale that performance has come despite volatile earnings performance. Last quarter the company exceeded estimates by a wide margin, but that result came on the heels of a big earnings miss in prior period.
Clothing retailers catering to a similar market have had mixed performance during the current earnings period. With Zale's expected to lose money this year and the next, I would expect the market to be more unforgiving with this stock if results fail to meet expectations. Look no further than Pacific Sunwear to see the disastrous results for a company that is struggling missing earnings estimates.
It is not a pretty sight. Zale could lose 10 to 20% of its value if it misses the mark on Wednesday.
Ciena Corp.
The extreme losses in Omnivision Technologies should serve as a warning to anyone owning technology stocks. The risks are extreme given current valuations, economic conditions, and market sentiment. The time to sell is before earnings are released. Investors will have the opportunity to dump shares of
Ciena Corp.
(CIEN) - Get Ciena Corporation Report
before it reports results on Thursday before the market opens.
The communication and network equipment company is expected to lose 21 cents per share in the period ending July 31, 2011. In the last quarter Ciena greatly disappointed the market by posting a loss that was 11 cents per share greater than consensus estimates. That poor performance has resulted in the stock losing almost 60% of their value.
At current prices Cien trades for 19 times fiscal year 2012 earnings estimates. Wall Street has the company losing money this year. There is more room for the stock to fall. Until the company can prove that it can make a profit on a consistent basis Cien deserves no better than a 10 multiple on trailing earnings. A disappointing report on Thursday could have share down $1 per share or more.
Jos A Bank
You do not want to own clothing retail stocks in the current market environment. Given the performance of a number of high profile names investors would be wise to sell
Jos A Bank
(JOSB)
in advance of the company reporting results on Thursday before the market opens for the period ending July 31, 2011. Even companies reporting strong results are being punished by ruthless bears expecting the worst for the economy.
A poor report would add fuel to an already incendiary atmosphere. Making matters worse, Jos. A Bank shares have held up relatively well during the recent market correction. Shares are down13% since July 22. A disappointing report would be unsettling. The risk for significant loss here is high.
A warning was given by the company in the last reporting period. The company missed analyst estimates by 2 cents per share. For the full year ending January 31, 2012 the average Wall Street estimate is for Jos A. Bank to make $3.41 per share. That number increases 13% to $3.85 per share in the following year.
Shares current trade for 13 times estimated earnings. Analyst estimates have barely changed since the disappointing report last quarter. This company is already showing weakness and yet forecasts haven't been lowered significantly. They will be soon if the company reports disappointing results as I expect next week.
Campbell Soup
Strange things are happening in the world. Earthquake and hurricanes are having their way with the East Coast. What's next, frogs falling from the sky? Strange occurrences are happening in the market as well. The action in
Campbell Soup
(CPB) - Get Campbell Soup Company Report
is one example.
This supposedly defensive stock, a stock that will do well irrespective of economic activity, has been steadily losing value. The argument that everyone must eat no matter the economy just doesn't seem to be holding water with respect to Campbell Soup. Shares of this supposed defensive stock are down 18% over the last 12 months.
The losses come thanks to the company missing expectations in two out of the last four quarters. On Friday the company reports results for the period ending July 31, 2011. In early July Citigroup lowered profit estimates for the company citing declines in its soup brand. It would appear no company is immune from competitive forces and challenging operating conditions.
The view from Citigroup is one firm's opinion. Average estimates for the current reporting period have actually increased by 4 cents per share over the last 90 days. Those increases add more risk for investors should Campbell's miss estimates. Despite the estimate increase Wall Street expects the company to earn less in the year following the current fiscal year ending July 2012.
This is a stock to avoid or sell short before it reports results on Friday. The odds for a miss are higher than the odds for a beat in my estimation.
Watch these stocks in action in the portfolio
5 stocks that could sink on poor earnings
on Stockpickr.
RELATED LINKS:
>>5 Euro Stocks From 5 Countries
>>5 Stocks With Strong Fundamentals, Momentum
Follow Stockpickr on
and become a fan on
Facebook.
-- Written by Jamie Dlugosch in Minneapolis.
At the time of publication, author had no positions in stocks mentioned.
Jamie Dlugosch is a founder and contributor to
MainStreet Investor
and
MainStreet Accredited Investor
. Formerly, he was president and CEO of Al Frank Asset Management. He has contributed editorially to
The Rational Investor
,
The Prudent Speculator
,
Penny Stock Winners
and
InvestorPlace Media
.