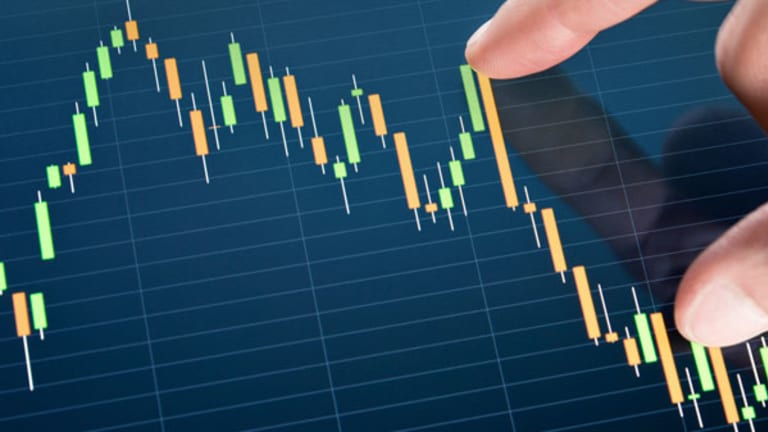 5 Stocks Set for a Short-Squeeze Pop
ConEd, Campell Soup and Garmin are among the shorted stocks that could skyrocket.
BALTIMORE (Stockpickr) -- It's no secret that dividends are looking attractive right now. That's a theme that I've been bemoaning in recent weeks as stock market valuations slid out of synch with corporate earnings.
And now, the current scenario is creating an impressive short squeeze opportunity in a handful of dividend payers...
With corporate profits sitting at an all-time high for the
S&P 500
and the
Dow
right now, it makes sense to focus on stocks that are willing to share their cash with shareholders. That means that the onus is on dividend payers once again. Not everyone shares that sentiment, however -- heavy shorting in a handful of high-yield dividend payers is providing a prime short squeeze opportunity right now.
Related:
5 Technical Setups for Breakout Gains
In case you're not familiar with the term, a short squeeze is the buying frenzy that ensues when a heavily shorted stock starts to look attractive again to investors, causing share price to skyrocket. One of the best indicators of just how high a short-squeezed stock could go is the short interest ratio, which estimates the number of days it would take for short-sellers to cover their positions. The higher the short ratio, the higher the potential profits when the shorts get squeezed.
Naturally, these plays aren't without their blemishes -- there's a reason that these stocks are being heavily shorted. But for investors looking for exposure to a speculative play with a beefier risk/reward tradeoff, these could be powerful upside plays for the coming year.
With that,
with a mix of hefty dividends and explosive price potential in 2011.
Consolidated Edison
In spite of all of the selling that's been taking place this summer, $16 billion regulated utility
Consolidated Edison
(ED) - Get Consolidated Edison, Inc. Report
is still having a solid year. Shares of the firm have rallied almost 12% year-to-date, registering outperformance of almost 20% over the
S&P 500
. Even though this stock is the stereotypical core income holding, short sellers are betting against this stock. A short interest ratio of 10.3 indicates that it would take more than two weeks of buying to cover all short positions at current volume levels.
ConEd provides electric, steam, and gas service to the New York metropolitan area, an enviable service region that consistently boasts high levels of demand. A distribution network spanned the NYC metro area is practically impossible to replicate, and ConEd's infrastructure assets are extremely valuable as a result. Non-regulated energy businesses make up around a quarter of revenue, but they're currently not the compelling portion of the firm's operations.
Instead, the firm's utility business has been the fuel behind a consistent annual dividend hike for nearly four decades. The increases have left ConEd currently paying out a 4.33% yield at current prices, a yield that's nearly twice as high as the S&P 500 right now. Frankly, this stock is too consistent and predictable to be a rational short candidate right now. Once Mr. Market comes to terms with that fact, it could mean a sizable short squeeze for investors.
Consolidated Edison shows up on recent lists of
7 Dividend Stocks Mutual Funds Are Buying
and
Top-Rated Multi-Utilities Stocks
.
Williams Partners LP
Williams Partners LP
(WPZ)
is a master limited partnership that owns natural gas pipelines and processing operations. As an MLP, Williams is essentially a vehicle that was designed to generate dividend income: The firm's 5.66% dividend yield is almost three times the rest of the energy sector.
The tradeoff for MLPs is the absence of the kind of balance sheet that investors normally want to see from a core income holding. Because the firm is obligated to pass through the vast majority of its earnings in the form of shareholder distributions, it's forced to turn to the capital markets to raise funds. That said, Williams has a balance sheet in line with its peers -- and more importantly, a cash flow statement that boasts significant cash generation from operating activities.
Despite Williams' income producing prowess, short sellers are entrenched against this MLP; the firm's short interest ratio currently rings in at 10.4. That hefty shorting could play out well once equities move higher.
Williams Partners shows up on recent lists of
20 Top-Yielding Chemicals Stocks
.
Campbell Soup Company
It's not just the iconic can that makes
Campbell Soup Company
(CPB) - Get Campbell Soup Company Report
such an important household name -- the firm weighs in as one of the biggest food processing firms in the world. Brands include namesake Campbell's as well as Pace, Pepperidge Farm, Swanson, and V8. Those brands have helped the company generate a 3.76% dividend yield, a payout that easily bests the industry's average 1.8% yield.
Campbell's name recognition is one of the keys to its success. As the world's largest soup maker, the firm is able to generate much heftier margins than its peers by cashing in on name cachet that hasn't been eroded away be the increased popularity of private-label store brands. While input costs are on the rise, increased international exposure is at least offsetting the majority of the firm's margin squeeze. A better ability to pass prices onto consumers should account for much of the rest.
The firm's storied name and generous payout aren't scaring away short sellers right now. Cambell's short interest ratio currently comes in at 11.
Campell Soup shows up on recent lists of
20 Top-Yielding Food & Beverage Stocks
.
Garmin
But the highest short interest ratio on this list has to go to
Garmin
(GRMN) - Get Garmin Ltd. (GRMN) Report
. The GPS maker currently has a short interest ratio of 25.4 -- that means that it would take short sellers more than a month to cover their positions in the firm at current volume levels. As a result, Garmin is offering up an excellent short squeeze opportunity right now.
Garmin is one of the biggest names in the GPS business, with products that range from personal and in-car navigation to bigger ticket navigation and positioning systems for boasts and aircraft. It's Garmin's expertise in the latter that makes this firm so interesting -- with transformational all-in-one navigation and flight deck systems coming out of the firm's R&D arm, the trickle-down of impressive technology should keep fuelling the consumer segment with attractive offerings in the next few years.
From a financial perspective, Garmin is looking equally attractive. The firm has approximately $1.4 billion in cash and no debt, two nice factors in Garmin's ability to keep paying out what amounts to a 5% dividend payout at current price levels. This stock is looking especially cheap right now with a price that's only ten times earnings and approximately $7.21 per share in cash.
Garmin shows up on recent lists of
Top-Yielding Electronics Stocks
.
R.R. Donnelley & Sons
Meanwhile, the highest yield on our list is coming from commercial printing firm
R.R. Donnelley & Sons
(RRD) - Get R.R. Donnelley & Sons Company Report
. The firm currently sports a 7.42% dividend yield.
R.R. Donnelley is the world's largest commercial printer, producing everything from business forms and books to catalogs and direct mail pieces. As a result, the firm is very exposed to the general level of economic activity in the U.S., which accounts for around 75% of sales. The firm is also beholden to serious competition from a slew of companies that offer commercial printing services -- while R.R. Donnelley has scale that many other printers can't compete with, most medium-sized peers can handle larger jobs without too much adjustment. Those two factors are the biggest reason why short sellers have pushed the firm's short ratio to 10.8.
Still, history is on R.R. Donnelley's side. The firm boasted pretty solid operations during the depths of 2008's recession, and continued to pay out its dividend throughout. At the same time, it's important to remember that a big part of R.R. Donnelley's 7.42% payout is the 20% haircut that share prices have taken in 2011. With shorts looking overblown, this stock could easily see a squeeze this year.
R.R. Donnelley shows up on recent lists of
Top-Yielding Diversified Services Stocks
.
To see these plays in action, check out the
High-Yield Short-Squeeze portfolio
at Stockpickr.
And to find short-squeeze plays of your own, be sure to check out the
community for insights and investment ideas.
RELATED LINKS:
>>5 Technical Setups for Breakout Gains
>>5 Rocket Stocks for Another Volatile Week
>>Baidu: China's 'Google' Trading at Fair Value
Follow Stockpickr on
and become a fan on
Facebook.
-- Written by Jonas Elmerraji in Baltimore.
At the time of publication, author had no positions in stocks mentioned.
Jonas Elmerraji is the editor and portfolio manager of the
Rhino Stock Report
, a free investment advisory that returned 15% in 2008. He is a contributor to numerous financial outlets, including
Forbes
and
Investopedia
, and has been featured in
Investor's Business Daily
, in
Consumer's Digest
and on
MSNBC.com
.