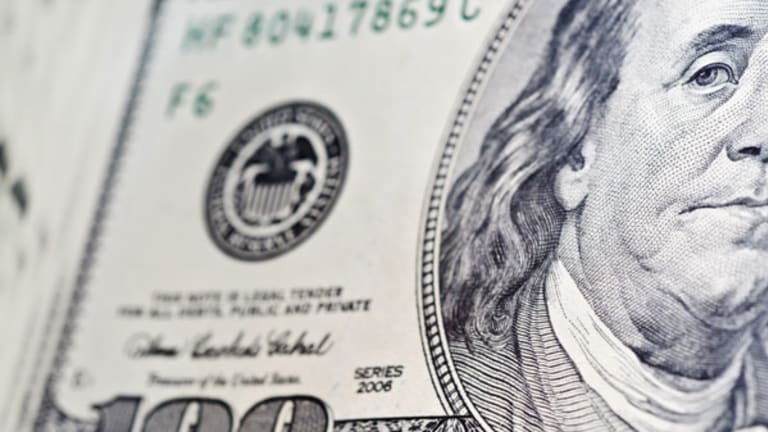 5 Stocks Ready for Big Dividend Boosts
These profitable companies could easily absorb a big jump in their payout ratios.
These profitable companies could easily absorb a big jump in their payout ratios.
NEW YORK (Stockpickr) -- The economic crisis of 2008 put a real scare into many companies. It was shocking to see business suddenly plunge, and the race began to make sure that enough cash was on hand in case it turned into an extended downturn.
As it turns out, the scariest moments were fairly short-lived, and many companies bounced back and quickly saw profits rise to fresh heights.
Still, many of these companies have taken a go-slow approach when it comes to dividend hikes. They've been authorizing modest increases in the dividend, but at a rate that is far slower than profits have been growing. As a result, the payout ratio (which is dividend payments divided by net income) remains extremely low for many companies. They are paying out 10%, 20% or 30% of their income in the form of dividends, but could easily afford payout ratios in the 40% to 50% range.
>>5 Stocks Setting Up to Break Out
History says they can do better. Wells Fargo calculates that companies in the
S&P 500
paid out an average 53% of their profits in the form of dividends in the 30 years after World War II. That figure stands at 27% today. Back then the average dividend yield hovered in the 4% to 5% range. These days, we're talking 2.1%.
Software provider
CA
(CA) - Get Report
is a great example. Like other the technology companies, it never thought much about a dividend before, issuing a puny annual one of 16 cents. Well, it's just been super-sized to $1 a share (good for a 3.7% yield), and it could easily go to $1.50 a share in 2013 or 2014 and still represent a reasonable payout ratio.
Here's a look at
five other companies that could be in for a huge dividend hike
in coming years.
Nash Finch
Nash Finch
(NAFC)
, a provider of wholesale and retail food distribution, has been focusing on paying down debt, which stood above $400 million back in 2005 and is now below $300 million and dropping. All the while, the annual dividend has been fixed at 72 cents, year after year, equating to a current payout ratio below 25%.
Though management aims to take debt down even more, Nash Finch's solid recurring cash flow should start to boost talk of a dividend hike. Investors are only mildly pleased with the current 2.6% dividend yield, but by taking the payout ratio up to 40%, that yield would quickly move above 5%.
Standard Motor Products
Auto parts supplier
Standard Motor Products
(SMP) - Get Report
, one of the
highest-yielding automotive stocks
, faces limited growth prospects, with sales likely to grow less than 5% in 2012 and again in 2013.
But investors can be count on solid profits; Standard Motor earned $1.07 a share in 2010 and $1.57 a share in 2011 (prior to a one-time tax gain). A slowly improving economy should help further the profit momentum, and analysts see the company earning around $1.70 a share this year and around $1.90 a share in 2013.
Yet management appears a bit gun-shy when it comes to the dividend. Standard Motor maintained an annual dividend of 36 cents a share from 2003 through 2008, before eliminating it in 2009 while the U.S. auto industry was in a funk. The dividend has been slowly rebuilding to a recent 28 cents but could easily move up to 75 cents, implying a reasonable payout ratio of 40%. That would be good for a 4.1% yield.
The Andersons
The Andersons
(ANDE) - Get Report
, a diversified provider of agricultural, freight and retail-related products, has been doling out ever-higher dividends for the last decade. The company has done it again with a recent hike in the quarterly payout to 15 cents, implying an annual dividend of 60 cents.
That's not good enough. This is a company that has made at least $1.79 a share in each of the last seven years, more recently earning $4 to $5 a share. How about boosting the payout ratio up to 40%? That implies a $1.80 annual dividend (based on 2012 forecasts), which would push the yield to around 3.75%.
Ford Motor
Auto maker
Ford
(F) - Get Report
is now on much stronger financial footing than anyone would have guessed just a few years ago. Debt has been reduced, cash reserves have been built up, and profit margins are back at pre-crisis levels.
To show off its new financial muscle, Ford has even begun paying a 5-cent quarterly dividend again, good for an annual payout of 20 cents and a 1.6% yield.
That's not good enough. Ford is earning $1.50 to $2 a share these days and should be earning $3 a share or more when the global economy is truly healthy. How about targeting a 30% payout ratio? That implies a current dividend of around $0.50 (good for a 4% yield). And by mid-decade, that would translate into a $0.90 annual payout, which works out to be a 7.3% yield.
If shares continue to languish in the low teens, management may just get peeved enough to radically boost the payout from its current paltry levels.
I also featured Ford in "
5 Cheap Stocks for an Auto Industry Renaissance
."
Western Union
Financial services company
Western Union
(WU) - Get Report
has started to run out of growth opportunities. Sales steadily rose throughout the last decade, reaching $5.3 billion by 2008. Yet four years later, they're likely to be less than 10% higher to a projected $5.8 billion in 2012.
In lieu of robust growth opportunities, management has instead begun to return more cash to shareholders. Western Union used to pay out a tiny nickel-a-share dividend, but it boosted it to 25 cents a share in 2010 and 31 cents in 2011, and
this year to 40 cents a share.
In the words of Oliver Twist: "Please sir, some more." Heck, any company that routinely earns $1.50 to $2 a share can afford to part with 60 cents or even 70 cents a share. Management would find that as the yield rises towards the 4% mark, a whole new class of investors would open up for the company.
To see these stocks in action, visit the
portfolio.
RELATED LINKS:
>>5 Earnings Stocks Poised to Pop
>>6 Dividend Stocks That Want to Pay You More Money
>>5 Rocket Stocks Worth Buying This Week
Follow Stockpickr on
and become a fan on
Facebook.
At the time of publication, author had no positions in stocks mentioned.
Stockpickr is a wholly owned subsidiary of TheStreet.com.