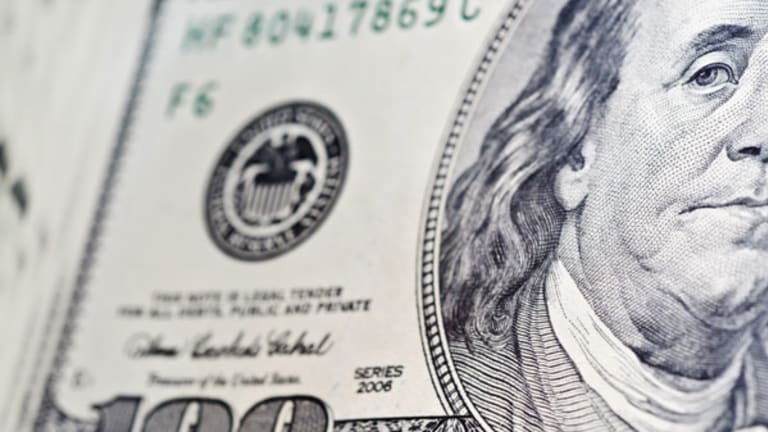 5 Stocks Ready for a Dividend Boost in 2012
These stocks could be about to increase their dividend payments in the next quarter
These stocks could be about to increase their dividend payments in the next quarter
BALTIMORE (Stockpickr) -- There's a very good reason why saying that something "pays dividends" has meaning outside of the investment world. People get that stock dividends are a good thing.
But what many folks may not get is just
how
good dividends have been historically for investors. According to research from Wharton Professor Jeremy Siegel, reinvested dividends account for as much as 97% of total market performance. Better yet, dividends even impact how big your capital gains are. Over the last 36 years, dividend stocks have outperformed the rest of the S&P 500 by 2.5% annually, and they outperformed nonpayers by nearly 8% every year, all while paying out cash to their shareholders, according to data compiled by Ned Davis Research.
>>5 Hated Stocks Poised to Pop on Earnings
So it shouldn't be a big surprise that finding firms ready to boost their dividend payouts is a big priority.
That's why we're scouring the stock market today for a new group of big-name stocks that look ready to hike their dividend payouts in the coming quarter. In other words, these five firms are getting ready to boost dividends; they just don't know it yet.
In the past few months we've had some stellar success in finding future dividend hikes just by zeroing in on a few key factors. Now we'll look at our crystal ball and try to do it again.
>>8 Stocks With Big Dividends, Steady Returns
For our purposes, that "crystal ball" is composed of a few factors: namely a solid balance sheet, a low payout ratio, and a history of dividend hikes. While those items don't guarantee dividend announcements in the next month or three, they do dramatically increase the odds that management will hike their cash payouts, especially as investors start to get antsy about this late-2012 rally.
Without further ado, here's a look at
five stocks that could be about to increase their dividend payments
in the next quarter.  
Carnival
At first glance, it may seem strange to see
Carnival
(CCL) - Get Report
topping off our list. Even though Carnival is the world's largest cruise line operator, the whole cruise industry has been facing some stiff economic headwinds in the last few years.
But Carnival's financials put the firm a cut above its peers in the cruise industry -- and now, consistently higher cash generation puts CCL in solid shape for a dividend hike. Currently, the firm pays out a quarterly 25-cent dividend for a 2.6% yield.
>>5 Stocks Hedge Funds Love -- and So Should You
Carnival owns more than 100 ships flying a host of different line flags. In addition to Carnival's namesake line, the firm's portfolio includes names like Holland America, Cunard, Princess, and more than a half-dozen other lines. That broad portfolio of brands diversifies Carnival across geographic areas and across demographic group,
giving the firm exposure to vacationers in all income brackets and on three continents. The cruise business is capital intense -- new ships can ring up at a price tag of nearly $1 billion -- so Carnival's scale is critical. Because of its size, the firm can spread costs across more vessels. And while fuel costs have been rising materially over the years, CCL indexes its prices to the cost of oil, reducing risk and taking the need for commodity hedging off the table.
Financially, the firm is in solid shape, with an investment-grade balance sheet and an ample cash position sitting in its coffers. With 2013 expected to be a much stronger year for cruising, Carnival should benefit more than most of its less profitable peers. That sets the stage for a dividend hike next quarter.
Mosaic
Fertilizer company
Mosaic
(MOS) - Get Report
is one of the biggest phosphate and potash producers in the world, supplying farmers with the crop nutrients they need to meet the market's demand for soft commodities. That demand has been ravenous over the last couple of years as agricultural commodity prices rocketed to new highs. Those high market prices mean that farmers will be willing to shell out more cash for Mosaic's offerings, adding some cushion to net margins that already look attractive.
>>5 Big Stocks to Train for Gains
One big reason for deep, double-digit net margins is Mosaic's vertical integration. The firm mines phosphate in Florida and mines potash at its properties in New Mexico, Saskatchewan, and Michigan. By owning the production facilities for the nutrients that MOS ultimately processes and sells to farmers, the firm doesn't have to cede any of its profitability to middlemen. That vertical integration could really shine in the coming years as its global distribution network really starts bearing fruit in emerging markets where modern farming operations continue to expand.
A restructuring effort in the wake of the Great Recession has left Mosaic's shareholders in great shape. The firm carries around $3.6 billion in cash right now, easily offsetting a $1 billion debt load. As ag commodities continue to pad MOS' profits, the firm's cash should keep moving higher -- and so should its dividend payout.
Currently, Mosaic pays a quarterly 25-cent dividend. I expect that payout to climb in the next quarter.
As of the most recently reported quarter, Mosaic was one of
.
Discover Financial Services
Sometimes, it pays not to be the number-one name in an industry.
Discover Financial Services
(DFS) - Get Report
embodies that. The firm is way behind its bigger rivals in terms of the number of transactions it processes and the dollar volume it moves, but that's enabled DFS to quietly and profitably build its market share over the last several years. Discover owns its namesake payment network as well as Diner's Club International, another closed-loop credit card network.
>>5 Big Trades From the Financial Sector
Discover has been working hard on its network, building up acceptance levels to even the playing field with league-leaders such as
Visa
(V) - Get Report
and
MasterCard
)
(MA) - Get Report
. While they're not there yet, DFS has clearly increased acceptance enough to move from being a niche to mainstream player in the credit card business. That fact should help Discover earn some more pricing power with its merchants, replicating the approach taken by
American Express
(AXP) - Get Report
. Deals with big name retailers such as
Wal-Mart
(WMT) should continue to be lucrative for both parties. They give stores more attractive proprietary cards, and they give Discover a huge lead generation engine.
Because the biggest card issuer for Discover is Discover itself, the firm does carry credit risk. That said, DFS has done a good job handling liquidity, and has built up an attractive financial position. As more consumers move away from cash and checks and toward electronic payments, Discover should continue to grow faster than its bigger peers.
In the nearer-term, the firm's financials put it on track for a boost to its quarterly 10-cent payout.
Discover also shows up on lists of
9 Consumer Finance Stocks to Consider
and
5 Leanest and Meanest Bank Stocks
.
Pentair
Pentair
(PNR) - Get Report
is an industrial manufacturing name that builds water pumps, filters, and valves as well as enclosures that house sensitive electronics. Let's face it, that's a pretty boring business -- but boring is generally a good thing for dividend investors. With a host of factors pointing toward a hike to Pentair's 22-cent quarterly dividend payout, we're taking a closer look at this Schaffhausen, Switzerland-based firm today.
As the go-to name in commercial and residential water filtration, Pentair has a big economic moat over rivals trying to break into the market. Filtration is a quality over cost business; in other words, customers are more elastic to pricing changes as long as they know that their water is being filtered well -- that, and the huge sunk costs of switching filter types, has give PNR sticky revenues. And since filters are consumables, those sales tend to be recurring too.
PNR's industrial pump and valve business has been growing on the heels of filters. In recent years, PNR has embraced non-industrial revenues like those from the food and beverage industry, capitalizing on a market that's used to spending a premium for cleaner water. Pentair doesn't carry much balance sheet liquidity, but that's due in part to how much cash PNR consistently generates from operations. With that cash number ticking higher, the firm looks likely to announce a dividend hike in the next quarter.
Beam
Spirits manufacturer
Beam
(BEAM)
isn't boring, but it is part of another group that's traditionally linked to dividend payouts: the "sin stocks." Sin stocks tend to have sticky, recurring revenues that are less tied to the ebb and flow of the economy -- and they also typically generate bigger net margins than the average. Both of those factors are favorites for income investors.
Beam owns such brands as Jim Beam and Maker's Mark bourbon, Sauza tequila, and Cruzan rum. The firm is a relative newcomer to the public markets as a standalone company, going public last fall as the result of a split-off of Fortune Brands' disparate businesses. While many of the firm's brand names are second-tier, its bourbon portfolio is extremely strong -- and the entrance in to the premium pricing of small-batch bourbons should boost Beam's profitability at the same time it opens the door for small-batch variants of the firm's other spirits. Alcoholic beverage consumers are becoming increasingly discerning, with craftsmanship playing a more important role in buying decisions; Beam's entrepreneurial environment for distillers should help keep the Beam's new products on consumers' shopping lists.
While Beam's balance sheet is quite leveraged, the firm's ability to turn almost all of its income into free cash is a redeeming quality. Beam's 20.5-cent dividend payout only amounts to a 1.45% yield right now, but that payout should increase significantly once the firm stops using as much of its cash to pay down debt.
Meanwhile, management has already shown eagerness to boost the dividend with one raise since going public; while a "high yield" tag may be a while away for BEAM, a more modest increase looks likely in the next quarter.
To see these dividend plays in action, check out the at
Dividend Stocks for the Week portfolio
on Stockpickr. 


And if you haven't already done so,
today to create your own dividend portfolio. 


-- Written by Jonas Elmerraji in Baltimore.
RELATED LINKS:
>>4 Big-Volume Stocks Moving Higher
>>5 Stocks Set to Soar on Bullish Earnings
Follow Stockpickr on
and become a fan on
Facebook.
At the time of publication, author had no positions in stocks mentioned.
Jonas Elmerraji is the editor and portfolio manager of the
Rhino Stock Report
, a free investment advisory that returned 15% in 2008. He is a contributor to numerous financial outlets, including
Forbes
and
Investopedia
, and has been featured in
Investor's Business Daily
, in
Consumer's Digest
and on
MSNBC.com
.