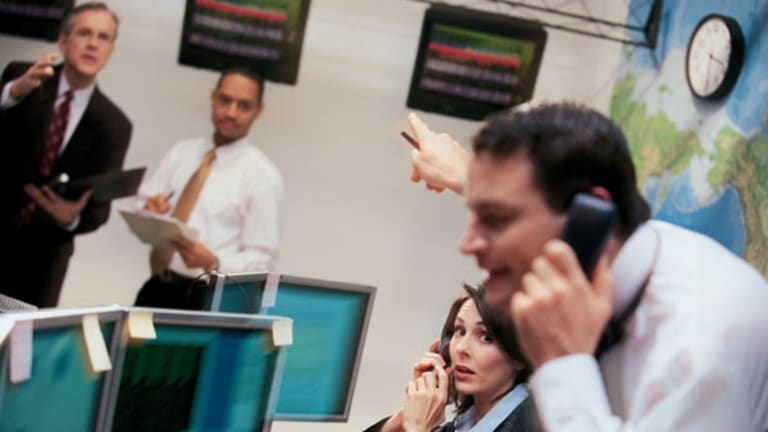 5 Stocks Hedge Funds Favor for 2012
Here's a look at stocks that saw big hedge fund buying in the most recently reported quarter.
BALTIMORE (Stockpickr) -- What if you could invest like a hedge fund? Thanks to the latest round of SEC filings, you can.
Hedge funds have sprung up on retail investors' radar in recent years, bolstered by conspicuously strong performance during 2008's market crash and the rebound in the two years that followed. While 2011 has admittedly been a tough year for hedge fund investors, with a new trading year just a few sessions away, investors are looking for a new set of investment ideas for 2012.
>>5 Stocks Setting Up to Break Out
That's all the more reason to analyze what the hedge funds are buying right now.
To do that, we're focusing on 13F filings. Institutional investors with more than $100 million in assets are required to file a 13F -- a form that breaks down their stock positions for public consumption. From hedge funds to mutual funds to insurance companies, any professional investors who manage more than that $100 million watermark are required to file a 13F.
In total, 3,081 firms filed the form for the third quarter of 2011, and by comparing one quarter's filing to another, we can see how any single fund manager is moving their portfolio around.
Today, we're zooming in specifically on hedge funds (817 of which filed 13Fs). Without further ado, here's a look at
.
Apple
Apple
(AAPL) - Get Report
has been an institutional investor favorite all year, and for good reason. Shares of the electronic maker are up more than 25% so far this year in spite of weak market conditions overall. Now, as fund managers go into window dressing mode (selling losers and loading up on winners), expect Apple to get some extra love.
In the third quarter, hedge funds picked up $3.6 million additional shares of Apple, increasing the market value of their holdings by $3.2 billion. For example,
David Einhorn's Greenlight Capital
scooped up an additional 236,000 shares, boosting its Apple stake to 1.3 million shares, and
Chase Coleman's Tiger Global Management
added 198,000 shares, for 1.7 million total.
Over the last decade, Apple has successfully transitioned from a computer company to an electronics and media company, selling millions of iOS devices (such as iPhones, iPods, and iPads) in addition to billions of dollars' worth of apps, music, and video content each year. The integrated nature of every product in Apple's portfolio, from the Macintosh to the iPod, means that the firm is able to generate much higher revenues per user than its peers, and it's able to create stickier customers when it comes time to buy a new computer or cell phone.
That's not to say that Apple doesn't still face risks. While the firm's iCloud service has the potential to strengthen its overall offerings, the current iteration of iCloud lacks some of the features consumers will need to really add value. At the same time, the loss of Steve Jobs is an unquestionable blow to the company - it will be crucial for the culture he fostered at Apple to remain alive if the firm wants to retain the same appeal for consumers.
From a valuation standpoint,
. Investors will need to wrap their heads around this firm's scale for shares to continue their climb.
Apple shows up on recent lists of
and
Goldman Sachs' Top Tech Stocks for 2012
.
Motorola Mobility Holdings
Another major hedge fund favorite from last quarter was Apple rival
Motorola Mobility Holdings
(MMI) - Get Report
, a firm that's currently in the process of being acquired by
Google
(GOOG) - Get Report
for $40 per share. With shares currently trading at a 3.1% discount to MMI's acquisition price, it's likely that funds are looking to the mobile phone firm as a merger arbitrage play.
Hedge funds bought up 49.8 million shares of MMI in the most recent quarter. For example,
initiated a 9 million-share position in the stock, which shows up on a list of
Paulson's 10 Best New Investment Ideas
for the quarter.
By and large, the decision to purchase MMI is a defensive move for Google, who hopes that the addition of Motorola's intellectual property portfolio will help to defend its Android OS against the likes of Apple from a legal perspective. It will also provide Google with a better way to finance the litigation of Android-related patent disputes on behalf of other handset makers.
While the discount to the deal value is small, it does provide a nice limited-risk merger arbitrage opportunity for investors looking to diversify their strategies in 2012. The merger still needs regulatory approval to move forward -- that's the contingency that investors are effectively paying for right now.
News Corp.
It's been a strong year for shares of
News Corp.
(NWSA) - Get Report
. In spite of ongoing scandals at several of the media firm's key divisions, shares have still rallied more than 20% in 2011 -- a sign that while salacious, the scandals are likely to have a mitigated impact on News Corp's profitability.
The company has its hand in a wide range of media businesses, from TV networks and film studios to newspaper publishing and satellite systems. While News Corp. has long been known for its international exposure (the venue for the scandal, in fact), the firm's crown jewels remain firmly stateside: the U.S. accounts for more than half of the total company's revenue generation. Still, exposure to new markets (particularly in Asia) holds dramatic growth potential right now, and News Corp.'s first-to-market status should have an impact when they mature.
Other ventures haven't been quite as successful. The firm's online initiatives have been a debacle -- and a pricey one at that. In the near-term, NWSA would be best served by leveraging its massive content vault for its networks, and generating large margins in the process.
While not cheap, News Corp. is financially healthy and provides solid exposure to diversified media; hedge funds bought 144.7 million shares last quarter. For example,
initiated a 6.5 million-share position in the stock, and News Corp. comprises 2.2% of
Lee Ainslie's Maverick Captial portfolio
.
News Corp., one of TheStreet Ratings'
, shows up on a recent list of
7 U.S. Stock Picks for 2012 From Addison Capital
.
Medco Health Solutions
Medco Health Solutions
(MHS)
is the largest pharmacy benefit manager in the country, handling nearly 1 billion prescriptions through its mail order and retail pharmacies. The firm is currently in the process of merging with
Express Scripts
(ESRX), another PBM firm that operates a similar business to Medco's. Management expects the deal to go through during the first half of 2012.
The merger could be transformational for Medco shareholders, particularly because it's mainly stock deal. That means that any efficiencies that the combined firm realizes will ultimately be reflected in the market value of shareholders' portfolios -- in addition to the premium that Express Scripts is paying for shares. It looks likely that there's additional value to unlock here.
But there are certainly risks to the PBM business. Pharmacy benefit managers are effectively middle-men between healthcare providers and pharmaceutical firms. If either of those parties thinks that the PBM business is too profitable, it will incentivize them to cut out firms such as Medco altogether. That risk is exacerbated by the fact that there's substantial customer concentration in this business.
Hedge funds bought 28.4 million shares of Medco last quarter. For example,
picked up 1.45 million shares.
I'd recommend caution over this industry.
Electronic Arts
2011 has been a strong year for shares of
Electronic Arts
(EA) - Get Report
. This $6.8 billion video game maker has seen its shares climb more than 26% year-to-date, besting the broad market by a massive margin. Like many of its peers, EA has built its business on the backs of franchises, brand names that are capable of sustaining many titles. Some of the firm's most well known franchises include Madden NFL, Need for Speed, and the Sims.
While the franchise concept has proven successful, the fact that EA's franchises are largely dependent on other brands (such as NFL, Ferrari, or FIFA) means that they're also subject to volatile licensing fees that eat into profitability. Despite that fact, EA has the capabilities to generate new hit games -- it'll just be crucial for management not to rest on its laurels with their current successes. New inroads into online and mobile gaming look very promising for the firm going forward.
A net cash position and massive cash flow generation capabilities make this stock all the more attractive right now. Hedge funds picked up 17.1 million shares of EA in the most recent quarter.
To see these stocks in action, check out the at
Hedge Fund Favorites portfolio
on Stockpickr.
-- Written by Jonas Elmerraji in Baltimore.
RELATED LINKS:
>>5 Stocks That Could Rocket Higher
>>5 Top S&P 500 Bargain Stocks for 2012
>>7 Hot Stocks on Traders' Radars
Follow Stockpickr on
and become a fan on
Facebook.
At the time of publication, author had no positions in stocks mentioned.
Jonas Elmerraji is the editor and portfolio manager of the Rhino Stock Report, a free investment advisory that returned 15% in 2008. He is a contributor to numerous financial outlets, including Forbes and Investopedia, and has been featured in Investor's Business Daily, in Consumer's Digest and on MSNBC.com.