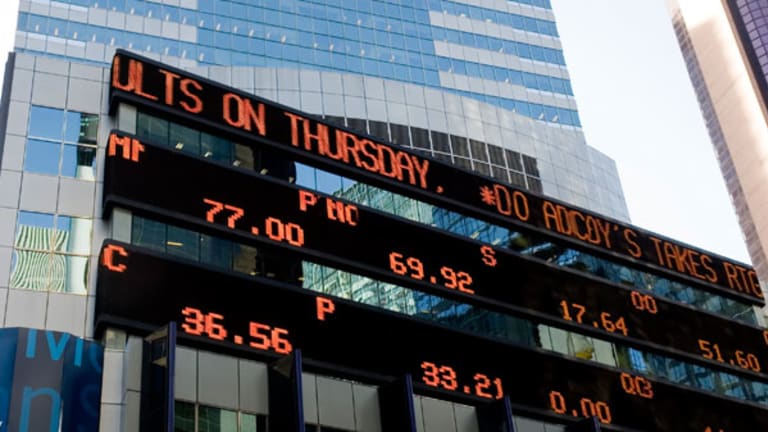 5 Stocks Getting Ready to Pay Bigger Dividends
These five firms are getting ready to boost dividends; they just don't know it yet.
BALTIMORE (Stockpickr) -- Between renewed hopes for QE3 and the bond moves that the ECB is planning across the pond this week, central banks are hard at work holding interest rates below the level of inflation right now. For income-focused investors, that's a very bad thing.
The current environment has been difficult to traverse for income seekers. Low-risk fixed income investments just don't offer palatable returns anymore, as the piling-in of other investors spiked prices of treasuries and corporate debt, smashing yields to the floor. And if this past week's headlines are any indication, that low-rate/high-inflation scenario isn't changing anytime soon.
But there's a different story in dividend stocks.
>>5 Stocks Set to Soar on Bullish Earnings
Many investors have summarily ignored equities for the better part of 2012, opting to avoid the volatility of the stock market and go with lower-risk options. But that outflow of capital from stocks has left stocks trading at a discount this year (earnings have outpaced price appreciation for the
S&P 500
even from last year's arguably low valuations). But with a rally underway, those discounts aren't going to last long.
So today, we're scouring the stock market for a new group of big-name stocks that look ready to hike their dividend payouts in the coming quarter. In other words, these five firms are getting ready to boost dividends; they just don't know it yet.
In the past few months we've had some stellar success in finding future dividend hikes just by zeroing in on a few key factors. Now we'll look at our crystal ball and try to do it again.
>>12 Dividend Growth Stocks to Buy Now
For our purposes, that "crystal ball" is composed of a few factors: namely a solid balance sheet, a low payout ratio, and a history of dividend hikes. While those items don't guarantee dividend announcements in the next month or three, they do dramatically increase the odds that management will hike their cash payouts, especially as investors start to get antsy about this mid-2012 rally.
Without further ado, here's a look at
five stocks that could be about to increase their dividend payments
in the next quarter.  
VF Corp.
First up today is $16 billion apparel maker
VF Corp.
(VFC) - Get V.F. Corporation Report
, the company behind a brand portfolio that includes Nautica, Lee, The North Face and now Timberland. While VFC isn't exactly a high yield name (it currently yields 2%), the cost yield for investors has increased considerably in the last few years thanks to price appreciation and consistent dividend hikes. Now this stock looks likely to hike its 72-cent quarterly payout.
VF Corp. has a couple of big advantages in the highly competitive apparel business. For starters, it's got scale; with the ability to operate a single manufacturing and distribution network for a whole portfolio of brands, the firm is able to cut costs and generate deeper margins than it could if it had a smaller footprint.
>>5 Consumer Stocks Hedge Funds Love
At the same time, a very diversified brand portfolio means that if demographics for Vans shoes are struggling, the demographics at Lee could be turning up. That diversification helps to spare VFC from the trend risks of selling clothes.
Financially, VFC is in solid shape, with a reasonable debt load that spiked higher after the firm's $2 billion Timberland acquisition. The firm has been working to pay down that debt in the last year, and it's eliminated close to a half-billion dollars of debt from its balance sheet in the process.
That ability to pay off obligations bodes well, particularly if interest rates start to turn up in the long-term. VFC looks well-positioned for a dividend hike in the next quarter.
Parker-Hannifin
Manufacturing firm
Parker-Hannifin
(PH) - Get Parker-Hannifin Corporation Report
is in the motion and control business. The company builds everything from fluid control systems to air conditioner parts to flight controls. By focusing its business around building subsystems, making the aircraft wheel rather than the whole aircraft or valves and fittings rather than the whole air conditioner, Parker enjoys a bigger moat with less competition.
PH bounced back from the recession relatively fast, in large part because its boring business provided a solid moat with that wasn't overly exposed to any single industry. Like many manufacturers, PH took the recession as an opportunity to cut costs and boost net margins, efforts that show up each quarter on Parker's income statement -- and increasing the earnings that get passed on to shareholders in the form of dividends.
>>5 Rocket Stocks to Buy Into September
For a manufacturing firm, Parker employs relatively little leverage on its balance sheet. The firm's debt currently sits at well under two times cash, an indication that PH could materially cut its obligations or smooth dividend payouts with retained earnings if the economy hit a rough patch.
Currently, PH pays a 41 cent quarterly dividend per share, a 2% yield at current price levels. I'm expecting that dividend payout to get bigger in the coming quarter.
Kroger
Kroger
(KR) - Get Kroger Company (The) Report
is having a tough year. The grocery chain has tumbled more than 10% so far in 2012, poor performance given the fact that the S&P 500 is up 11.5% over that same period. That performance has come at the hands of some serious headwinds pressuring the grocery business. Input costs are on the rise quickly as a bull market for agricultural commodities pushes into full swing, and competition and consolidation remain fierce among grocery stores.
Combine either of those factors with the thin margins that grocers book, and it's not hard to see why KR is under pressure.
>>10 Profitable and Oversold Stocks Ready to Move Higher
But Kroger remains a best-in-breed grocery chain in spite of those problems. And the firm has a plan to deal with both of those industry headwinds. More private-label offerings in Kroger stores should help to fight off some of the margin squeeze the company has seen lately -- particularly if Kroger is successful at targeting products that have the biggest margin problems right now.
At the same time, Kroger has been the biggest challenge for its rivals, gaining market share through loss leaders like discounted gasoline and a tempered acquisition strategy.
So despite challenges, Kroger remains in solid shape for an increase to its quarterly 11.5-cent dividend. With a cash position that's ballooned in the last couple of quarters, KR is one grocer that's capable of hiking its payouts in 2012.
Airgas
In the most literal sense of the phrase,
Airgas
(ARG)
pulls profits out of thin air. The firm is the country's largest industrial gas supplier, providing customers like industrial manufacturers and hospitals with gases such as oxygen, nitrous oxide, and acetylene, in addition to complementary hard goods such as welders and eye protection.
Airgas enjoys a lucrative business with relatively low costs. Gasses are high margin consumables that are recurring in nature -- customers need to keep coming back to Airgas if they want to keep their operations running smoothly. And some of the firm's biggest returns come from renting out gas cylinders, equipment that customers rarely want to own and maintain themselves.
The gas supply business is fragmented, with a couple national names and many small operations. That means that large clients who want to simplify suppliers are much more apt to turn to a national operator like Airgas. And since gas is relatively low cost (compared to customers' other overhead items), the firm also has considerable pricing power.
While a growth-by-acquisition strategy means that Airgas' balance sheet is no stranger to debt, the firm is more than capable of hiking its 40-cent dividend in the next quarter.
Jabil Circuit
When large tech firms need electronics manufactured, they turn to
Jabil Circuit
. The $4.8 billion firm builds everything from consumer electronics to medical devices for customers such as
Cisco
(CSCO) - Get Cisco Systems Inc. Report
and
Hewlett-Packard
. Jabil benefits in a big way from the fact that most tech firms want to develop products, not deal with the headaches of building them. By establishing an entrenched manufacturing infrastructure, Jabil can typically build products more cheaply than its customers can themselves.
Jabil has put a lot of effort into building its medical device manufacturing business, a unit that comes with deeper margins than consumer electronics and enterprise infrastructure offer. That said, a rising tide of spending among all of the markets Jabil serves should help the firm continue boost its top line and bottom line in 2012 and 2013.
Historically, Jabil has generated significant cash, which more than covers debt obligations and dividend payouts. That leaves room for a bigger payout than the 8 cents that JBL currently delivers to investors.
To see these dividend plays in action, check out the at
Dividend Stocks for the Week portfolio
on Stockpickr. 


And if you haven't already done so,
today to create your own dividend portfolio. 


-- Written by Jonas Elmerraji in Baltimore.
RELATED LINKS:
>>5 Toxic Stocks You Need to Sell Now
>>5 Stocks Poised for Breakouts
>>5 Huge Stocks That Could Slingshot Higher
Follow Stockpickr on
and become a fan on
Facebook.
At the time of publication, author had no positions in stocks mentioned.
Jonas Elmerraji is the editor and portfolio manager of the
Rhino Stock Report
, a free investment advisory that returned 15% in 2008. He is a contributor to numerous financial outlets, including
Forbes
and
Investopedia
, and has been featured in
Investor's Business Daily
, in
Consumer's Digest
and on
MSNBC.com
.