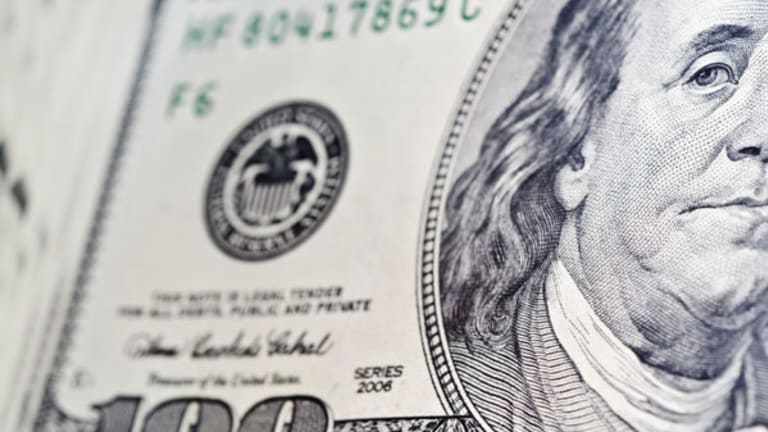 5 Stocks Crossing the 200-Day Moving Average
Crossing the 200-day moving average suggests that a stock has significant buying support. Is that true for these five stocks?
MINNEAPOLIS (Stockpickr) -- Traders like to use charts for directional signals on particular stocks. One of the more reliable bullish signs to trade stocks is a recent cross of the 200-day moving average. Such action suggests that a stock has significant buying support.
To the extent a stock has fewer sellers than buyers, such would always be the case. Of course, if it were only that simple, we could all retire nicely to the beach secure in the wealth built from such a trading strategy.
Investing is never that simple. Technicians have moved way beyond the moving day average, looking for clues in all sorts of places. Incorporating things such as
, oscillation and candlesticks, traders will use whatever tools available to gain an edge.
What if there was another way?
As a trained fundamental value investor, I use balance sheets and income statements to determine value instead of patterns on a chart. That said, I am certainly cognizant of what happens on the charts, and the 200-day moving average can be a valuable tool in finding investment opportunity.
So today I'm taking a close look at a few stocks that
crossed their 200-day moving averages recently
.
Quicksilver
(ZQK)
Relying solely on one technical indicator is a bit dangerous for any number of reasons. One obvious flaw is that a stock can tick significantly higher on some news or rumor.
That is the case with Quicksilver. The teen retailer shot higher yesterday on reports that French luxury retail group PPR might have an interest in buying the company. Shares jumped more than 20%.
As a result, Quicksilver traded above its moving-day average on Thursday, but is the move sustainable? If the reports prove to be false, will the stock price collapse?
Analysts expect the company to make 25 cents in the current year ending in October and a small improvement to 28 cents in the following year. At the after-pop price of $5.68, Quicksilver traded for 21 times forward earnings. That is a steep price considering the expected 12% earnings growth next year.
With the stock down today, it is clear that simply crossing the 200-day moving average does not necessarily imply further riches. In fact, I would still sell the stock with the expectation that price continues to fall.
Helen of Troy
(HELE) - Get Helen of Troy Limited Report
The personal care products company shot up Thursday on the news that it would be acquiring privately held Kaz. Kaz markets products to retailers under license from
Procter & Gamble
(PG) - Get Procter & Gamble Company Report
and
Honeywell
(HON) - Get Honeywell International Inc. Report
.
Investors loved this deal, pushing shares of HELE more than 12% higher. The deal is not expected to be a burden on Helen, and the company has a history of acquiring assets and integrating into its business model.
This deal indeed merits traders' attention, since the stock crossed its 200-day moving average on Thursday. Expect more gains in this stock going forward.
ValueVision Media
(VVTV)
ValueVision's ShopNBC home shopping network looks to be having a blockbuster holiday selling season so far. The company recently announced that
and Cyber Monday sales improved by 12% and 36%, respectively. In the last month alone, shares have gained more than $1 per share.
The small-cap stock has been on fire of late, having doubled in value over the last three months. Are the gains sustainable? The answer depends on the economy.
ValueVision needs to show positive earnings results before shares can move higher. Yes, the company now has the technical winds behind it, but I would be a bit cautious on the name going forward. Shares may have come too far too fast.
If we get a
, as I expect we will, ValueVision could give up some of those gains. I don't see many bullish reasons to own this name from a fundamental perspective. I would take a wait and see.
Eastman Kodak
( EK)
Buyout rumors helped propel Eastman Kodak 11% higher Thursday. It too has crossed above its 200-day moving average.
Run as fast as you can. Sell, sell, sell. Eastman Kodak is finished in my book. The company failed to adapt to the digital realm. To slow to react, it is only a matter of time before this company becomes completely irrelevant. If some other sucker wants your shares, give them up gladly.
Trading above its 200-day average means absolutely nothing. Late in the day Thursday, the company was removed from the
S&P 500
index. That will bring selling pressure in its own right. There is nothing bullish about Eastman in my opinion.
Dean Foods
(DF) - Get Dean Foods Company Report
Shares of Dean Foods moved nearly 12% higher Thursday on the heels of a successful note sale at the company. The deal helped the company retire debt and push its rating from negative to stable, according to Standard & Poor's.
Prior to the deal, the company was on the verge of violating debt covenants. Those balance sheet problems shaved 50% off Dean's market cap in 2010. The big move yesterday may be just the start as shares of Dean Foods are cheap relative to earnings.
The company is expected to make 79 cents in the year ending in December. Next year, that number grows to 85 cents. That growth is nothing to write home about but is more than enough to support the current share price and beyond. I would use the fact that shares are trading above the 200-day average as of Thursday to take a long position in the stock.
To see these stocks in action, check out my
portfolio.
-- Written by Jamie Dlugosch in Minneapolis.
RELATED LINKS:
>>Must-See Charts: BAC, SLV, XOM
>>Technical Setups: Nucor, Petrobras, Rite Aid
>>4 Gold and Silver Breakout Stock Plays
Follow Stockpickr on
and become a fan on
Facebook.
At the time of publication, author had no positions in stocks mentioned. Jamie Dlugosch is a founder and contributor to
MainStreet Investor
and
MainStreet Accredited Investor
. Formerly, he was president and CEO of Al Frank Asset Management. He has contributed editorially to
The Rational Investor
,
The Prudent Speculator
,
Penny Stock Winners
and
InvestorPlace Media
.