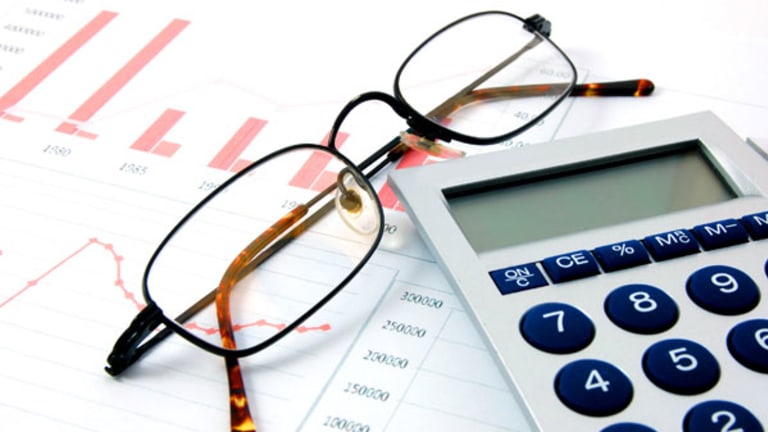 5 Stocks Big Funds Love for 2012
Here are five of the stocks that got the most buying pressure from institutional investors last quarter.
BALTIMORE (Stockpickr) -- We're on the heels of 13F filing season. Do you know what the pros have been buying this past quarter?
Every quarter, institutional investors with more than $100 million in assets are required to file a 13F -- a form that breaks down their stock positions for public consumption. From hedge funds to mutual funds to insurance companies, any professional investors who manage more than that $100 million watermark are required to file a 13F.
>>5 Rocket Stocks for a Relief Rally
Not surprisingly, peering into the portfolios of some of the world's greatest investors has become a popular pastime for so-called "coattail investors," the people who generate investment ideas by looking at what the likes of
or
are buying. But looking at individual funds' holdings doesn't exactly give a representative picture of what portfolio managers think about the market; to get that, we'd have to analyze buying activity in the aggregate.
Today, we'll take a look at
five stocks that big funds love for 2012
. They're five of the names that got the most buying pressure from institutional investors last quarter based on every 13F filed with the SEC for the past quarter.
Apple
Not surprisingly, a Wall Street darling kicks off the list.
Apple
(AAPL) - Get Report
was the
most heavily added stock to institutional investors' portfolios
in the last quarter.
David Einhorn's Greenlight Capital
increased its stake in Apple by 21.9%, for example, while
George Soros' Soros Fund Management
boosted its position by 17.8% and
Chase Coleman's Tiger Global Management
added nearly 200,000 shares.
So was the buying value-driven or just window dressing for funds that have been struggling in 2011?
Apple has been one of the most popular names in the last several years, thanks in no small part to the 307% gains that shareholders have raked in over the last five years as the firm's iPod, iPhone, iPad, and Macintosh product lines reached unimaginable popularity. That success has been a double-edged sword, however, with already anxious investors wondering when Apple will misstep and see investors flee from shares.
But a meaningful misstep looks unlikely. Despite this stock's prodigious rally in the last few years, Apple is still fundamentally cheap. The firm trades for a P/E of just 13.5 right now, but when the company's enormous cash position is factored out, its trailing-12-month P/E is actually 10.52. That's a shockingly low multiple for a firm that's been dominating the tech industry this year.
Part of the concern over Apple comes from its mountain of cash -- $81.57 billion at last count. While foolhardy acquisitions haven't been a problem for Apple in the past, the company will need to be especially vigilant about not overpaying for acquisitions in the future.
At this point in Apple's maturity, it makes sense to start returning some of that cash to shareholders. A dividend payout is possible, but less likely considering the precedent that it sets -- instead, an aggressive stock buyback program would make sense as a way for Apple to reward shareholders by concentrating their ownership stakes.
Apple shows up on recent lists of
5 Gadget Stocks for the Holidays
and
9 Top Goldman Sachs Stocks for 2012
.
Marathon Petroleum
Recent IPO
Marathon Petroleum
(MPC) - Get Report
is a $12 billion independent oil refinery and transportation company. The firm owns six refineries spread throughout the Midwest, Gulf Coast and Southeast, as well as the terminal and transportation systems that help them get petroleum products to and from their facilities.
The company was the second most heavily added name to institutional investors' portfolios this past quarter.
Marathon's positioning as an independent refiner provides some advantages for the firm, as well as some challenges. Compared to vertically integrated oil companies, Marathon is at a disadvantage -- after all, they produce higher-value products like gasoline from extraction cost prices; Marathon has to buy oil at market prices. But its geographic positioning, particularly in the Midwest, gives Marathon some margin advantages that Gulf Coast-focused oil supermajors just don't have.
The firm's recent IPO is another factor that bodes well for investors. MPC went public back in July, just as the bottom was falling out of the market. While that timing meant smaller proceeds for Marathon from the offering, it also means that shares are cheap right now, trading for a just 4 times earnings right now.
Coupled with a 3% dividend payout and favorable product mix for the winter months, this stock should see solid upside as we approach 2012.
Marathon shows up on a list of
Hedge Funds' Best Picks for 2012
.
Google
Large-cap tech stocks were a big theme for institutional investors last quarter -- and search giant
Google
(GOOG) - Get Report
was the second most heavily bought stock in the sector according to 13Fs. Buyers included
Julian Robertson's Tiger Management
, which increased its stake by 17.3%, and
, which initiated a new position in the stock.
Google is the standard bearer in paid search, with a name that's literally become synonymous with web searching, and as a result, the company attracts more than 60% of the world's search traffic. At present, the Google still more than 80% of its net revenue from the search business, providing a stream of cash that the company uses to finance its other pet projects.
Investors need to watch those projects: right now, Google has its hand in everything from social networking to mobile phones. In the past, the firm has played fast and loose with cash for acquisitions that have been of questionable value to shareholders. For that reason, the risk of distractions from the search business is a real one. Google's profitability still lies squarely on the shoulders of search...
Even though cash management hasn't been terrific for the company since its public debut in 2004, the fact remains that Google still has almost $39 billion in net cash. That gives the company a major cushion to find its next transformational business. With strength in the tech sector right now, Google is a reasonable way to ride the trend. Just keep an eye on it.
Google, one of TheStreet Ratings'
, shows up on a list of
11 Low-PEG, High-Momentum Stocks
.
Ventas
Healthcare REIT
Ventas
(VTR) - Get Report
has had a sluggish year in 2011, essentially breaking even on the year thanks to its hefty dividend payout. At nearly $15 billion, Ventas is one of the biggest healthcare REITs on the market today, holding a portfolio of more than 600 properties that include senior housing facilities, skilled nursing facilities, hospitals, and medical offices.
With an aging baby boomer population needing more healthcare services in the coming years, Ventas is riding a secular trend that should keep its properties occupied and rent paid up.
>>5 Homebuilder Stocks With Bright 2012 Outlooks
As with most REITs, Ventas' tenants sign long-term triple net leases. That means that the firm owns the property but isn't responsible for paying things like maintenance and property taxes -- instead, Ventas sits back and collects preset rent checks that grow with inflation as long as properties are occupied. And occupancy hasn't been a problem for the firm; only a tiny fraction of Ventas' properties are up for lease renewal next year.
While share performance has been muted this year, Ventas should start to gain traction as investors realize that the firm's revenues are here to stay for the foreseeable future. A 4.57% dividend payout makes it an attractive income-generation name for investors right now.
Amazon.com
Finally, continuing with the tech theme is
Amazon.com
(AMZN) - Get Report
, the $86 billion e-commerce website that stands a world apart from its closest competitors in terms of sales. Buyers included
and
.
Tough economic environments are familiar territory for Amazon: the company survived the dot-com meltdown in the early 2000s by maintaining cheap operations and pushing massive dollar volume through its website. The company is following up on that performance in this environment with consistent profitability.
Amazon has been working its way into new territory in recent years with its Kindle e-reader, a device that Amazon sells at a loss in order to spur e-book sales on its website.
While breakneck Kindle sales have been a drag on earnings in the short-term, the long-term benefits are significant for the company. Competition in the e-reader space remains stiff, especially with the launch of the Kindle Fire, a device designed to compete with Apple's dominant iPad. Amazon can't drop the ball on this one...
In the mean time, Amazon has been growing its business in more immediately beneficial ways. Adding names like Zappos.com and Diapers.com to the Amazon stable while keeping their unique brands and company structures has been a smart move, adding sales to Amazon's books without alienating the customers that made those sites successful.
If Amazon can keep up its operational track record, institutional investors should see their bets pay off in 2012.
Amazon shows up on a recent list of
6 Holiday Retail Stocks to Watch
.
To see these stocks in action, check out the
Institutional Buying Q3 portfolio
on Stockpickr.
-- Written by Jonas Elmerraji in Baltimore.
RELATED LINKS:
>>5 Earnings Stocks That Could Squeeze the Bears
>>4 Stocks Under $10 With Big Upside Potential
>>5 Stocks With Big Insider Buying
Follow Stockpickr on
and become a fan on
Facebook.
At the time of publication, author had no positions in stocks mentioned.
Jonas Elmerraji is the editor and portfolio manager of the Rhino Stock Report, a free investment advisory that returned 15% in 2008. He is a contributor to numerous financial outlets, including Forbes and Investopedia, and has been featured in Investor's Business Daily, in Consumer's Digest and on MSNBC.com.