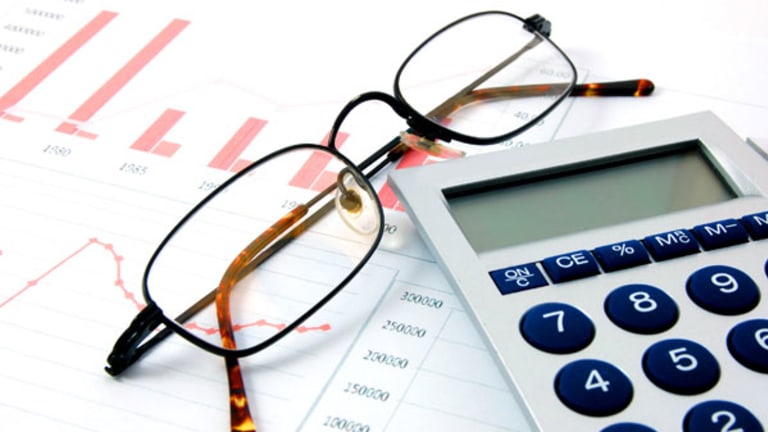 Publish date:
5 Stocks at Risk of Falling off the Fiscal Cliff
The imminent fiscal cliff is just the first hurdle. We can count on government spending pressures for years to come, greatly impacting these companies.
The imminent fiscal cliff is just the first hurdle. We can count on government spending pressures for years to come, greatly impacting these companies.
NEW YORK (Stockpickr) -- The U.S. presidential election is now less than two months away. And with almost everyone in Washington squarely focused on that event, little new legislation will be passed.
That means the "
" will linger into November and beyond. This cliff, which calls for a wide range of automatic spending cuts and tax hikes at the end of 2012, is seen as such a draconian move that few have believed it will really happen. Yet in recent weeks, a small chorus of investors is beginning to wonder if such a cavalier attitude is warranted.
>>5 Stocks Set to Soar on Bullish Earnings
Washington has achieved little in recent years, and it may be unwise to expect our nation's legislators to wake up and take action at the very last minute. Many politicians appear more inclined to score points against rivals than actually figure out ways to hammer out bipartisan agreements. So we may just head over that cliff anyway.
If so, many companies are very vulnerable. The U.S. government buys a wide range of goods and services every year, and massive automatic cuts would mean that virtually every government contract would need to be re-written.
>>5 Dividend Stocks Ready to Boost Payouts
Here are
five companies that can ill afford to see the fiscal cliff put into action
.  
General Dynamics
Though many defense stocks count on the U.S government for a big part of their revenue, few are as vulnerable as
General Dynamics
(GD) - Get General Dynamics Corporation (GD) Report
, which has been slow to pursue international sales to offset possible U.S. defense cuts.
>>5 Stocks to Buy to Be Like Buffett
Not only that, but GD has made a big push into information technology, taking on many systems and projects that the U.S. government has outsourced in the past decade. As the government tightens its belt in the years ahead, outsourcing is expected to be replaced by "insourcing" as contracts are cut.
Goldman Sachs noted in a July 2012 report that "GD has the largest exposure to Government IT & Services and to the US Army of any of the large-cap Defense primes, two end markets which we expect to be the most challenged within the Defense sector for several years." Goldman sees shares falling from a recent $66 to $56.
GD shows up in
as of the most recently reported period.
Computer Sciences
Fully one-third of technology services company
Computer Sciences'
(CSC)
$16 billion revenue base is tied to government contracts. In fact, almost every government agency uses CSC in some capacity, from the Navy to the IRS to motor vehicle departments. You can already see government budget pressures impacting this company. Fiscal first-quarter sales (ended June) rose just 1% from a year ago, the lowest growth rate in recent memory. In fact, revenues tied to commercial customers rose roughly 7%, offset by a 7% shrinkage in government work.
>>8 Tech Stocks Leading the Market
The fiscal cliff only exacerbates the pressure. Even if the lawmakers strike some sort of last-minute agreement to avert such a drastic move, they will still likely take a hatchet to any non-essential government spending, so projects such as IT modernization programs -- CSC's bread and butter -- are likely to be deferred or outright eliminated.
As of now, EPS for CSC is expected to drop from $3.24 in fiscal (March) 2012 to around $2.20 a share in the current fiscal year. Yet analysts see EPS rebounding back up towards the $3 mark in fiscal 2014, though that will be virtually impossible to achieve if the government's IT budget shrinks further, as many suspect.
Life Technologies
The U.S. government has long prided itself as a global leader in basic science research. From the National Science Foundation to the National Institutes of Health, billions have been spent on the sciences, often using this company's lab equipment.
Well, under the fiscal cliff scenario, spending on basic science and research would take a quick double-digit haircut, affecting such companies as
Life Technologies
(LIFE) - Get aTyr Pharma, Inc. Report
as well as science lab equipment providers
Sigma-Aldrich
(SIAL)
and
Thermo-Fisher Scientific
(TMO) - Get Thermo Fisher Scientific Inc. Report
.
Life also shows up on a recent list of
10 Stock Picks of the Highest-Rated Money Managers
.
Raytheon
Defense contractor
Raytheon
(RTN) - Get Raytheon Company Report
clearly saw U.S. spending pressures coming and has been pushing to beef up its international business. The trouble is that governments elsewhere are also feeling pinched. That helps explain why Raytheon posted a book-to-bill of just 0.94 in the June quarter (which is a measure of new orders compared to revenues, and any number below 1.0 means backlog is shrinking).
Analysts see Raytheon's sales shrinking 1% in 2012 and again in 2013, to $24.3 billion. Yet that may just be the start of even bigger declines. Note that the Defense Department has nearly doubled in size since 2001, and a 10% to 20% reduction in size over the coming decade is a real possibility, fiscal cliff or not.
Budget hawks in the Republican Party, coupled with national security doves in the Democratic Party, may increasingly look to form an unusual alliance in a bid to finally address our nation's pernicious budget deficits, and the likes of Raytheon and General Dynamics may be hard-pressed to fight that trend.
DeVry
DeVry
(DV)
provides a wide range of academic programs, from nursing to accounting to technical degrees. Like many other for-profit schools, DeVry has come under increasing scrutiny in Congress over rising student loan defaults. That's not a banking problem, it's a government problem: 80% of all student loans for DeVry's students are backed up the U.S. government, and a hefty chunk of funding for these loans would be cut from the budget if the fiscal cliff comes to pass. Even if legislators agree to a short-term fix to avoid the cliff, student loan funding looks to be a long-term sacrificial lamb as the government starts to pare back in size.
We may already be seeing the long-term challenges faced by DeVry and others. Enrollment in its various programs this summer is roughly 15% below year-ago levels. And though analysts are currently modeling for a 5% drop in fiscal (June) 2013 revenues to around $1.97 billion, they expect DeVry's revenues to rebound slightly in fiscal 2014.
Fiscal cliff or not, that may be hard to pull off as future government outlays for student loans become more meager.
To see these stocks in action, visit the
5 Stocks at Risk of Falling off the Fiscal Cliff
portfolio.
RELATED LINKS:
>>5 Stocks Poised for Breakouts
>>5 Blue-Chip Stocks Ready for Buyers
>>5 Metals Stocks to Trade for Gains This Year
Follow Stockpickr on
and become a fan on
Facebook.
Stockpickr is a wholly owned subsidiary of TheStreet.com.