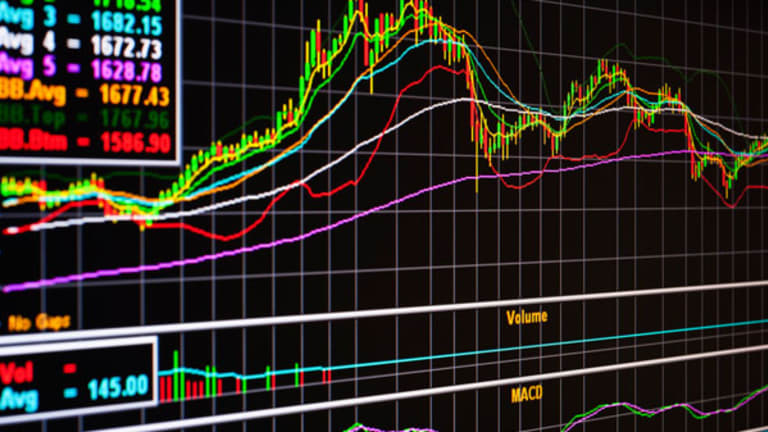 Publish date:
5 S&P 500 Stocks Poised for Stellar 2013 Sales Growth
Indeed a few dozen companies in the S&P 500 are set to boost sales in 2013 in excess of 20%.
Indeed a few dozen companies in the S&P 500 are set to boost sales in 2013 in excess of 20%.
According to most economists, the hangover from the Great Recession of 2008 continues to linger, and the U.S. economy is unlikely to grow much more than 2.0% or 2.5% in 2013. And most American companies will be grateful if they can boost sales by just 5% or 7% in such a slow economy. Yet in every economic cycle, you'll still come across the select stocks and sectors that are powering up. Indeed a few dozen companies in the S&P 500 are set to boost sales in 2013 in excess of 20%.
>>Outwit the S&P in 2013 With 5 Hated Stocks
Of course, some of those companies are goosing the top line with acquisitions, which only gives the appearance of impressive growth. But here are five companies sporting the highest projected 2013 sales growth rate on an organic basis. The foundations they've laid for growth in years past are finally paying off.
Here are five impressive growth stories for the year ahead that can help your portfolio power higher.
>>5 "Magic Formula" Stocks for 2013
Cabot Oil and Gas
Projected 2013 sales growth: 46%
This company has spent the past few years developing its massive energy fields in Pennsylvania's Marcellus shale region. By the end of this year, Cabot (
) expects to be pumping out more than one billion cubic feet of gas per day at its wells. That sets the stage for revenues to rise from a projected $1.1 billion in 2012 to $1.7 billion in 2013.
Cabot, like many other drillers, almost ran into a big problem that would have derailed its ambitious growth plans: There weren't enough pipelines built in the region to get all that natural gas to customers. Yet in recent months, pipeline building has accelerated, and management recently noted that the company will be able to deliver and sell every last drop of gas it can produce.
This should be a great growth stock in 2014 as well as the company completes more wells and the pipeline network receives further development. Sales should top $2.5 billion by then, and those revenues should carry EBITDA margins exceeding 60%, according to analysts.
Lennar
Projected 2013 sales growth: 34%
Investors will look back at 2012 as the year that housing got up off the sickbed. Both home prices and the sales of existing homes have been rising at a nearly 10% pace for much of the year, and in an industry where psychology matters, success is likely to beget further success in 2013 as the huge swath of American renters finally decide to become homeowners.
Lennar (
), a homebuilder of mid-priced homes (the average of the 11,000 homes it built in 2011 sold for $244,000), spent the entire downturn cleaning up its act, shedding bloated land holdings, cutting overhead and shoring up its balance sheet. Nowadays, Lennar is one of the leanest operators in the business, with gross margins in the low 20's, several percentage points above the industry average.
You can see the industry's projected upturn by gauging this company's top line. Sales are on track to rise more than 30% in 2012 to more than $4 billion, and could reach nearly $5.5 billion in 2013, according to analysts. And the strength should continue into mid-decade as housing rebounds tend to last for several years.
Alexion Pharmaceuticals
Projected 2013 sales growth: 31%
While many drug companies aim to grow through the sale of a range of pharmaceuticals, this company is a one-trick pony. Its lone drug, Soliris,which treats a rare blood disease called paroxysmal nocturnal hemoglobinuria, has been a clear success.
Sales of Soliris have risen at least 40% in each of the past five years (to $783 million in 2011), and sales show no signs of slowing down. Analysts expect Alexion's (
) sales to exceed $1 billion in 2012, and approach $1.5 billion by 2013. Per share profits are likely to eclipse $2 this year, handily beating the record $1.63 in 209, before hitting $2.80 a share in 2013, according to analysts.
Amazon.com
Projected 2013 sales growth: 28%It's a broadly accepted notion that once a company grows sufficiently large, the rate of growth must invariably slow. Indeed the "laws of bigness" almost always kick in for every firm, though Amazon (
) CEO Jeff Bezos never got that memo.
With every passing year, Amazon pulls out a fresh growth initiative that manages to tack on more revenues to the income statement. Back in the last decade, Amazon's sales grew an impressive $3 to $4 billion annually. More recently, sales shot up $10 billion in 2010 (to $34 billion), $14 billion in 2011, and are projected to grow at a similar pace in both 2012 and 2013. How many other companies can pull off that kind of growth without resorting to acquisitions? Only Apple (
) and Google (
) can make a similar claim.
Still, it's far to wonder when Jeff Bezos will start to pay attention to the bottom line as well. Amazon has never earned more than $2.50 a share in any given year in its existence, and that's unlikely to happen in 2012 or 2013 either. At some point, this $250 stock will have to morph into a really impressive profit growth story for shares to scale new heights.
DVita Healthcare
Projected 2013 sales growth: 26%
This is fast-becoming one of Warren Buffet's favorite stocks. His investment firm, Berkshire Hathaway (
), has been acquiring roughly one million shares a month and speculation has risen that Berkshire might eventually expand its current 13% stake to 100%.
You can understand the appeal. This operator of 1,900 dialysis clinics is a steady grower that throws off ample cash. Free cash flow has steadily risen from $300 million in 2008 to roughly $780 million in 2011, and should exceed $1 billion by 2013.
Still, investors need to be aware of the cost pressures on healthcare as they assess an investment in DaVita (
).
The company currently bills Medicare and Medicaid an average of $88,000 per patient, and the total national tab now exceeds $30 billion. You can be sure the government will seek to drum some savings out of Medicare and Medicaid as the Federal budget tightens, and Davita will have to lobby hard to be sure that it's reimbursement rates don't get trimmed.
To see these stocks in action, visit the
5 S&P 500 stocks poised for stellar sales growth in 2013
portfolio.
RELATED LINKS:
>>5 Dividend Stocks to Fight Off the Fiscal Cliff
>>5 Stocks Warren Buffett Loves
>>5 Toxic Stocks to Dump Before 2013
Follow Stockpickr on
and become a fan on
Facebook.
At the time of publication, author had no positions in stocks mentioned.
Stockpickr is a wholly owned subsidiary of TheStreet.com.