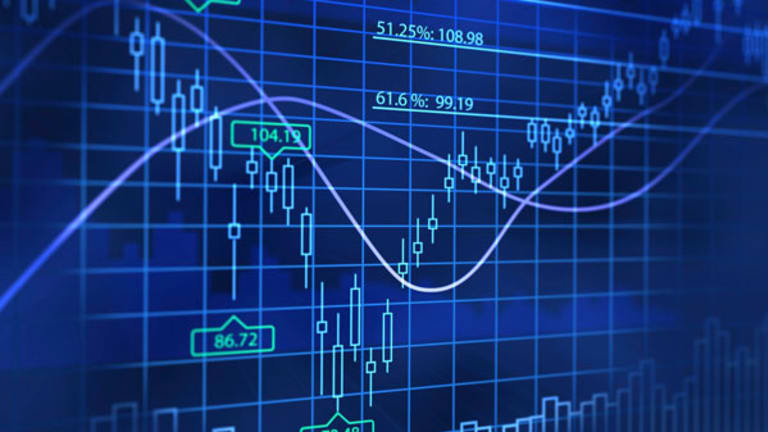 5 Small-Caps at Risk From Shaky Earnings
Volatility exploded last week. Stocks fell, but there was no real panic. That raises the possibility of further losses.
MINNEAPOLIS (Stockpickr) -- The market had a relatively orderly retreat last week and that should have investors nervous. Sure volatility exploded as stocks fell, but I did not get the sense of real panic selling by investors. That perceived complacency puts us at risk for further losses.
What we are seeing Monday is an adjustment to stock market value given the expectation of smaller cash flows. I've been most worried about the sensationalist nature of a market correction becoming a self-fulfilling prophecy, and yet that is what I think we are getting when it comes to the future of the economy.
With policy responses limited by a debt strapped national government and zero interest rates of the Federal Reserve what is out there to save us? I'm honestly not sure. As such selling in the market of late actually makes some sense.
One group of stocks getting hit particularly hard is the small-cap space. A small company that disappoints the market can be pummeled. One of the stocks I follow,
ValueVision
(VVTV)
lost some 30% of its value last week after reporting profit results that fell short of expectations. Particularly troubling is the fact that the losses came on the heels of a stock that was already down hard.
Related:
5 Rocket Stocks to Buy for Another Volatile Week
In this market environment there are plenty of other small-cap stocks that could be vulnerable to a collapse in share value. Here are
that could lose a ton should the numbers fail to impress.
Daktronics
Daktronics
(DAKT) - Get Daktronics, Inc. Report
has a niche business of providing electronic displays for stadiums and outdoor advertising. The company's fortunes would appear to be closely correlated to the business cycle. When times are good the Daktronics does well and vice versa.
Given the expectation of a double-dip recession shares of the company are down 23% since the market closed on July 22. Over the last year Daktronics has beaten earnings estimates, but those beats have been smaller and smaller each consecutive qquarter. For the current quarter ending July 31 the average Wall Street estimate is for the company to make 11 cents per share.
For the full year ending April 30, 2012, the expectation is for a profit of 45 cents per share. That number increases 29% to 58 cents per share. With the economy slowing it is hard to imagine the company hitting the numbers. Trading for 19 times current year estimates, any miss is likely to send this stock significantly lower. I would sell this stock before Daktronics reports earnings on Tuesday before the market opens.
La-Z-Boy
One of the reasons the economy is struggling is the overhang from the housing market. With new construction far below previous levels and still haunted by excess supply of homes for sale on the market, businesses tied to that sector are struggling.
Even though furniture sales have recovered since the end of the great recession of 2008 a double dip would not be kind. At the bottom of the market in March, 2009 shares of
La-Z-Boy
(LZB) - Get LaZBoy Incorporated Report
were below a dollar per share. Although the stock is down 24% since July 22, shares of La-Z-Boy trade for more than $7 per share today.
There is clearly room for this stock to fall much further. At the moment things are looking rosy, but that might change when the company reports results after the market closes on Tuesday. La-Z-Boy beat estimates in each of the last two quarters and Wall Street is looking for year over year profit growth from the current fiscal year to the next to grow by 40%.
With shares trading for just 10 times current year profit estimates the stock is in value trap territory. This profit report will be quite telling. A significant miss and look for Wall Street estimates to drop in a big way. The same will happen to the stock. I'd sell this one in advance of the report.
Sigma Design
Small-cap stocks get hurt in a double-dip recession because economic growth or lack thereof can be the difference between profits and losses. With the economy as fragile as it has been several small companies are only now just becoming profitable. Take away economic growth and poof go the profits.
Sigma Design
(SIGM)
is a specialized semiconductor maker scheduled to report earnings for the quarter ending on July 31 on Wednesday after the market closes. Analyst project that the company will lose money in the period and have an average profit estimate for the year ending January 31, 2012 of 15 cents per share.
With the company having missed estimates by a wide margin in the most recently reported quarter, investors are rightly cautious about the stock. Shares are down 11% since July 22, but were nearly $13 per share before the latest earnings miss. Look for a second leg down if the company misses estimates this period. I would sell this stock in advance of the report.
Krispy Kreme
The donut business is alive and well what with Dunkin Donuts doing very well since becoming a publicly traded company recently. Before that it was Tim Horton's, but the king of the publicly traded donut world is
Krispy Kreme
(KKD)
. The busted IPO story of Krispy Kreme is well known, but the last year has been all about recovery for the company.
Shares had zoomed to nearly $10 per share before the July market correction hit the stock for a more than 20% loss to its current price just above $7 per share. It took some time, but Krispy Kreme appears to have found the formula for profits. The company beat estimates by 4 cents per share in the most recently reported period and Wall Street expects the company to make 6 cents per share in the current quarter ending July 31, 2012.
For the year ending January 31, 2012 the average estimate is for a profit of 31 cents per share jumping 32% in the following year. If there is a recession all bets are off. Precariously close to profit and loss, Krispy Kreme could find itself losing money if the economy sputters. With shares trading for 24 times earnings this small-cap stock is an easy sell in advance of its earnings report to be released after the market closes on Thursday.
Regis
The low cost barber shop,
Regis
(RGS) - Get Regis Corporation Report
should do well during a recession. Its business model is set-up to do well against high cost salons especially when times are tough. Unfortunately over the last year the company has stumbled on an operating basis and shareholders are upset. Since last November shares of Regis have fallen from $21 per share to its current price below $14 per share.
The selling has nothing to do with the recent correction. Instead it is all about profits missing expectations. In three of the last four quarters Regis has missed the average Wall Street estimate. Is another miss in store when the company reports results for the quarter ending June 30, 2011 before the market opens on Thursday?
Institutional investor, Starboard Value and Opportunity Master Fund sent a letter to the company demanding changes along with its intent to nominate board members. In the company's response Regis acknowledged having private discussion with Starboard regarding how to enhance shareholder value.
The timing is suspect. Does Starboard know something other investors are not aware of? Why jump the gun demanding change a week before operating results are released? My assumption would be that Starboard is aware of operating performance failing in the current period. If the company beats, no need to send the letter, correct?
I would sell this stock immediately. This one could go down 30% or more on the news. Starboard's action is highly suspect and might have been an attempt to defuse the issue before it happens. The market is likely to be unkind here if the company misses expectations.
-- Written by Jamie Dlugosch in Minneapolis.
RELATED LINKS:
>>10 Small-Cap Stocks With Positive Earnings Trends
>>5 Earnings Stocks That Could Surge
Follow Stockpickr on
and become a fan on
Facebook.
At the time of publication, author had no positions in stocks mentioned.
Jamie Dlugosch is a founder and contributor to
MainStreet Investor
and
MainStreet Accredited Investor
. Formerly, he was president and CEO of Al Frank Asset Management. He has contributed editorially to
The Rational Investor
,
The Prudent Speculator
,
Penny Stock Winners
and
InvestorPlace Media
.