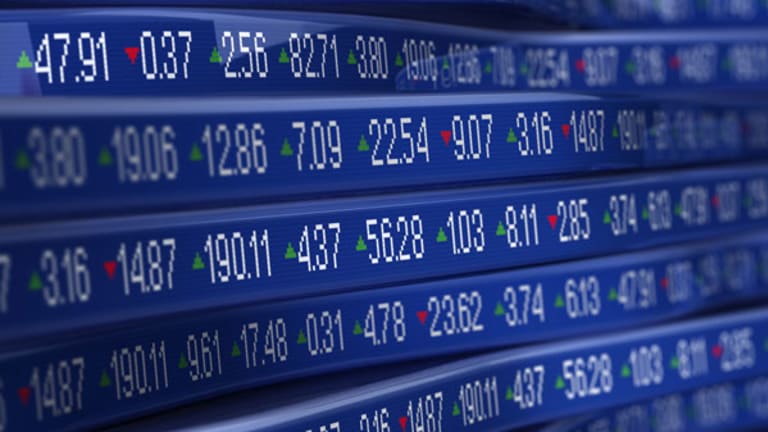 5 Small-Capitalization Stocks to Buy on the Strong U.S. Dollar
These companies have much less exposure to the strong greenback that's hurting a lot of large-cap stocks.
NEW YORK (TheStreet) -- The U.S. dollar has been on a tear, up 6% relative to the euro so far in 2015 after rising 12% against its European counterpart in 2014. Analysts at Goldman Sachs are even predicting parity between the greenback and the euro by the end of 2015.
That is a troubling trend for many large-cap stocks, because multinational companies that generate significant profits overseas lose in this situation, as a strong dollar effectively reduces the revenue the companies are able to repatriate from other currencies and makes their products more expensive for international consumers.
Small caps, on the other hand, could be in a good position for growth based on the same factor. These companies often generate most of their revenue domestically, and so they are less susceptible to the currency swings that ding their multinational competitors.
In fact, after underperforming the Standard & Poor's 500 Index through most of 2014, the Russell 2000 and the S&P 600 small-cap indexes have outperformed their larger peers since the October lows in the equity markets and are now nearly even with the overall market year to date.
"Given the fact that most small-cap companies have less exposure, generally speaking, to the foreign markets, the dollar's going to have a much more muted impact on small-cap returns," said Dan Veru, chief investment officer at Palisade Capital Management. "We could be entering a period where the small-cap stocks become reasserted, and perhaps even outperform."
Jonathan Golub, chief market strategist at RBC Capital Markets, echoed that sentiment in a research note last week, noting that large caps tend to face increasing foreign transaction-based obstacles as the U.S. dollar rises.
"Small caps do not participate in these capital shifts," he wrote, adding that small caps' earnings are likely safeguarded from a higher dollar as a result.
Picking the winners
The key to identifying small-cap stocks that are likely to benefit from the strong dollar is finding those with little to no overseas revenue, said Ken Roberts, with Universal Value Advisors, an investment advisory firm in Reno, Nev.
"Typically small caps have less foreign revenue," he said, "and you can even find some that have absolutely zero."
Two that fall into this latter category, he said, are NorthWestern Corp. (NWE)  , an utility company, and Medical Properties Trust (MPW) , a real estate investment trust that is focused on hospitals. Both companies report no overseas revenue.
John Reese, CEO of Validea Capital and manager of the Validea Market Legends ETF (VALX) , likes Lydall (LDL) , a maker of automotive-filtration and industrial thermal-insulation products, and PC Connectionundefined , a provider of information-technology services and distributor of computers and other technology products.
"(The) stronger dollar could help lower the cost of electronics and component parts, which would benefit this seller of IT products, assuming it can maintain its pricing power," Reese said of PC Connection.
He also likes Douglas Dynamics (PLOW) , which makes snow and ice-control equipment for trucks. The company could be by reduced import costs and cheaper prices for raw materials.
On the flip side, Roberts warned that not all small caps are in position to benefit from the strong dollar. Companies such as chip makers Monolithic Power Systems (MPWR) and Entropic Communications (ENTR)  generate more than 95% of their revenue from foreign markets, he said,.
ETF Alternative
Investors who are interested in playing the strong-dollar, small-cap trend with exchange-traded funds should look to funds such as the iShares S&P Small-Cap 600 Index (IJR) , SPDR 600 Small Cap (SLY) , iShares S&P Small-Cap 600 Value Index (IJS) and iShares Russell 2000 Index (IWM) .
Tom Lydon, president of the Irvine, Calif.-based investment advisory firm Global Trends Investments, recommends PowerShares S&P SmallCap Consumer Staples ETF (PSCC) and PowerShares S&P SmallCap Consumer Discretionary ETF (PSCD) . In the past 12 months, PSCC is up 13.2% and PSCD is up 11.9%, he says.
"Candidly, we want exposure to the United States right now," Veru said of small caps. "I feel like Europe's going to muddle along, Asia -- and in particular China -- probably is maybe six-nine months away from a turn in their economy. I just think all of the ingredients are for the U.S. to continue to grow," which will benefit small cap stocks in particular this year.
This article is commentary by an independent contributor. At the time of publication, the author held no positions in the stocks mentioned.