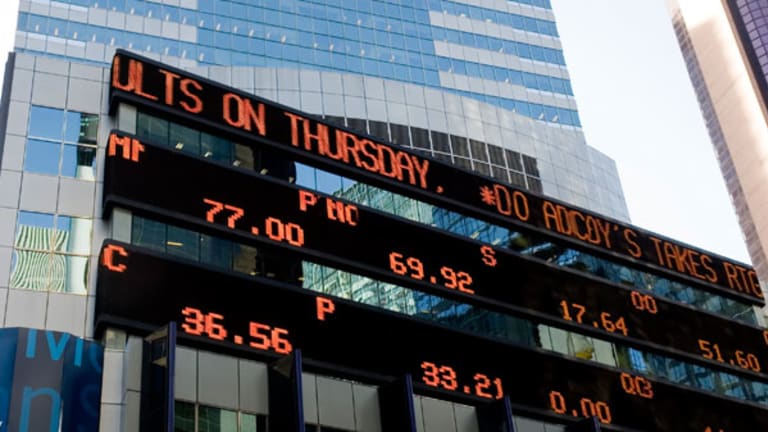 5 Small-Cap Growth Stocks With Zero Debt
These small-caps don't deserve their high short interest.
These small-caps don't deserve their high short interest.
MILLBURN, N.J. (Stockpickr) -- I am always in search of growth stocks. I am also always seeking out stocks that have unique blends of financial metrics that line up to try to help whittle an investment edge -- either on the long or short side.
Recently, I decided to seek out some excellent growth candidates by taking a look at small-cap stocks with market capitalization below $1 billion that were members of the Russell 3000 Index (RUA). To achieve the growth characteristics of my search, I further screened out stocks with price-earnings-to-growth, or PEG, ratios that were less than 1. In other words, these stocks are selling at a discount to their earnings growth. I made sure to eliminate stocks that carried any debt.
>>7 Relative Strength Stocks to Beat the Market
I wanted to be contrarian and culled out stocks with high short interest ratios. In other words, I sought out small-cap growth stocks that many people were betting would fail.
Then I performed a fundamental review of these stocks to select those with business models that I felt were consistent with my economic outlook.
What I arrived at was a portfolio of
five small-cap growth stocks with high short interest
. Let's take a closer look.
Integrated Silicon Solutions
Integrated Silicon Solutions
(ISSI)
is a specialty memory chip manufacturer that focuses on products for the communications, consumer products, automotive, industrial, medical and military end user. The company designs products in the U.S. and then outsources production to the Far East, much like
Apple
(AAPL) - Get Report
does. Customers include a huge cross section of the companies in the
S&P 500
and global large-capitalization tech companies.
Nearly 4% of the stock is sold short, with the short ratio hovering around 11. This high level of short interest, I believe, is due to a near-500-basis-point decline in gross margins for the fiscal year ended September 2011. This occurred despite revenue climbing nearly 8% for that year.
The company recently reported first-quarter 2012 results that disappointed on the top and bottom lines. Perhaps the shorts saw that coming. But the stock did not react as the shorts expected; it held its ground. To me, this means that there is so much negativity in the stock that any positive news will propel it higher.
With Integrated Silicon Solutions selling at about 8 times earnings with about $3 per share in net cash, and with my expectations for an improving tech market for 2012, the stock can surprise to the upside in the future.
Integrated Silicon Solutions shows up on a list of
10 Stocks for a Multi-Cap Portfolio
. For more on semiconductor stocks check out
Goldman Sachs' 7 Semiconductor Picks
.
Insperity
Insperity
(NSP) - Get Report
provides one-stop shopping human resource services for small and medium-sized business. Its services include payroll processing, benefits, human resource administration, workers compensation, insurance, compliance, expense management and technology services to business that are trying to grow and not get bogged down in these costly and time consuming activities.
Small business creation has been challenged in the last few years, but there is evidence that trend may be slowly reversing, and analysts expect NSP's earnings to grow by 30% in 2012. Nevertheless, the stock sells for only 22 times trailing earnings and 17 times forward earnings.
The company bettered earnings expectations for the last four quarters. Cash and short-term investments account for nearly $10 of the $28 stock price. The stock's yield of 2.14% is just above the market average.
In the face of all of those positive signs, short positions represent nearly 4% of outstanding shares and a short ratio of nearly 9. Insperity could inspire your portfolio in the future.
Transcend Services
Transcend Services
( TRCR) provides technological solutions to doctors, hospitals and other health care services. In particular, Transcend provides speech recognition and documentation services, which reduces cost and increase efficiency for health care providers.
You might be aware of a company that provides speech recognition services to consumers,
Nuance
(NUAN) - Get Report
. Nuance manufactured the popular Dragon voice recognition product. Transcend takes the Dragon concept one step by specializing in medical transcription and then providing outsourced solutions.
The company is expected to grow earnings by 45% in 2011 and by 15% in 2012, yet the stock trades at only 18 times trailing earnings and 16 times forward earnings. The shorts don't necessarily buy into the story at Transcend as about 6.5% of the outstanding shares are sold short with nearly a 13 short ratio. The increasing documentation burden that medical professionals and facilities are having placed upon them by the government, insurance companies and legal profession, will provide fertile growth opportunities in the future for Transcend.
Transcend is one of TheStreet Ratings'
top-rated health care technology stocks
.
Rue21
Rue21
(RUE)
is a specialty clothing retailer focused on the teen/tween/young adult consumer. Make no mistake about it, Rue21 has a very fickle customer base as can be seen by the ups and downs of many of its competitors in the industry such as
Aeropostale
(ARO)
,
Abercrombie & Fitch
(ANF) - Get Report
,
Urban Outfitters
(URBN) - Get Report
and
American Eagle Outfitters
(AEO) - Get Report
.
2011 was a tough year for this sub-sector. With the exception of Abercrombie & Fitch and Rue21, all of the other companies experienced significant earnings declines in 2011.
Rue21 is expected to grow earnings by 25% in 2011 and 15% in 2012. The company is on an expansion program which should help feed future growth. I believe that the current year's estimates may be on the low side by as much as 5 to 10 cents.
This stock is heavily shorted, with nearly 40% of the float being short and a short ratio of about 13. Any surprises to earnings could send this stock into a major short squeeze.
Dorman Products
Dorman Products
(DORM) - Get Report
produces original equipment dealer replacement parts for automobiles. One lingering result of the financial crisis is that the age of the existing fleet of cars in the U.S. is at a record high 10.8 years. As a result, consumers and even commercial operators of automobiles have been spending more money repairing their existing vehicles.
The company is expected to increase earnings by 16% in 2011 and 14% in 2012. The stock sells at 13 times forward earnings, a discount to its growth rate. Short-sellers think the stock will break down alongside the road and have shorted about 5% of outstanding shares with a short ratio of about 13.
Dorman Products might not be a sleek high growth sports car but it is cheap by the numbers and it too heavily shorted.
To see these stocks in action, check out the
5 Small-Cap Growth Stocks With High Short Interest
portfolio.
-- Written by Scott Rothbort in Millburn, N.J.
RELATED LINKS:
>>5 Stocks Setting Up to Break Out
>>7 Dividend Stocks Paying More Cash in 2012
>>20 Dividend Stars Among Mid-Cap Crowd
Follow Stockpickr on
and become a fan on
Facebook.
At the time of publication, Rothbort was long NUAN, although positions can change at any time.
Scott Rothbort has over 25 years of experience in the financial services industry. He is the Founder and President of
, a registered investment advisor specializing in customized separate account management for high net worth individuals. In addition, he is the founder of
, an educational social networking site; and, publisher of
The LakeView Restaurant & Food Chain Report
. Rothbort is also a Term Professor of Finance at Seton Hall University's Stillman School of Business, where he teaches courses in finance and economics. He is the Chief Market Strategist for The Stillman School of Business and the co-supervisor of the Center for Securities Trading and Analysis.
Mr. Rothbort is a regular contributor to
TheStreet.com's RealMoney Silver
website and has frequently appeared as a professional guest on
Bloomberg Radio
,
Bloomberg Television
,
Fox Business Network
,
CNBC Television
,
TheStreet.com TV
and local television. As an expert in the field of derivatives and exchange-traded funds (ETFs), he frequently speaks at industry conferences. He is an ETF advisory board member for the Information Management Network, a global organizer of institutional finance and investment conferences. In addition, he is widely quoted in interviews in the printed press and on the internet.
Mr. Rothbort founded LakeView Asset Management in 2002. Prior to that, since 1991, he worked at Merrill Lynch, where he held a wide variety of senior-level management positions, including Business Director for the Global Equity Derivative Department, Global Director for Equity Swaps Trading and Risk Management, and Director for secured funding and collateral management for the Global Capital Markets Group and Corporate Treasury. Prior to working at Merrill Lynch, within the financial services industry, he worked for County Nat West Securities and Morgan Stanley, where he had international assignments in Tokyo, Hong Kong and London. He began his career working at Price Waterhouse from 1982 to 1984.
Mr. Rothbort received an M.B.A., majoring in Finance and International Business from the Stern School of Business, New York University, in 1992, and a B.Sc. in Economics, majoring in Accounting, from the Wharton School of Business, University of Pennsylvania, in 1982. He is also a graduate of the prestigious Stuyvesant High School in New York City. Mr. Rothbort is married to Layni Horowitz Rothbort, a real estate attorney, and together they have five children.