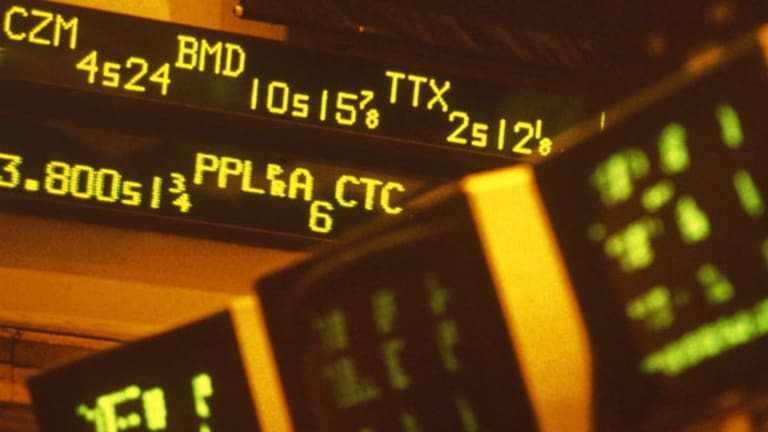 5 'Sinful' Stocks to Buy for 2012 Gains
It's time to turn to a life of sin -- for your portfolio, that is.
It's time to turn to a life of sin -- for your portfolio, that is.
BALTIMORE (Stockpickr) -- It's time to turn to a life of sin -- for your portfolio, that is.
As investor anxiety ramps up in April, market participants are getting desperate about their trades, turning to treasuries, cash, and -- dare I say it --
sin stocks
.
But don't let the name fool you; sin stock companies aren't exactly in the business of burning down old folks' homes. Instead, alcohol, tobacco, gambling and weapons firms are all classical examples of sin stocks.
>>7 Stocks With Relative Strength to Beat the Market
So what makes sin stocks so attractive when anxiety ratchets higher?
For starters, sin stocks tend to be businesses that provide a stress outlet for consumers. As a result, recession resistant revenues and sticky customer bases are the norm. The devil's in the details with sin stocks; because these firms generally sport wide economic moats and deeper margins than traditional consumer plays, sin stocks benefit from an extra qualitative boost that you can't find in any other group right now. In 2012 the data already prove that to be the case.
In the past three months, the
S&P 500
has gained around 5% -- but over that same period, the aptly-named
Vice Fund
(VICEX), a sin stock-focused mutual fund, has actually gained nearly twice as much over that same period. That's an auspicious sign for investors looking for relative strength right now.
Not all of the names in this group are created equal right now. Here's a look at
five sin stocks that could outperform in this market
.
Philip Morris International
First up is tobacco giant
Philip Morris International
(PM) - Get Report
, the second-largest tobacco company in the world, with around 16% of the overseas tobacco market. "Overseas" is the operative word in that sentence -- PM is the result of
Altria's
(MO) - Get Report
splitting off its international business in 2008. As such, all of its operations are based outside the U.S. PM owns a handful of popular tobacco brands, including flagship Marlboro, and L&M, Parliament and Chesterfield.
Staying out of the U.S. tobacco market carries a mix of advantages and disadvantages. On the plus side, PM is spared from the drag of potential litigation here at home, and it gets to operate in markets that aren't as saturated as the U.S. But the minus column includes having to deal with the impact of a strong U.S. dollar over the last few years. Because PM earns its sales in foreign currencies and reports earnings in dollars, a strong dollar effectively reduces the firm's profitability.
But ultimately those factors are secondary to PM's growth story. Exposure to attractive markets like China and India has fuelled impressive revenue growth over the last several years. Key partnerships (like the one with China National Tobacco in the People's Republic) should help Philip Morris take share from smaller regional brands.
Meanwhile, a 3.54% dividend yield on shares is a pretty attractive incentive for investors right now.
I also featured Philip Morris, one of
6 Big-Dividend Stocks to Light Up Your Portfolio
, in "
."
Molson Coors Brewing
Another sin stock giant is
Molson Coors Brewing
(TAP) - Get Report
, one of the largest beer brewers in the world. Brands in TAP's stable include namesake Molson and Coors, as well as Keystone, Blue Moon and Leinenkugel. Through a partnership with
SABMiller
(SBMRY: Pink Sheets), the firm also owns a stake in Miller's brands here in the U.S.
Molson Coors has focused on cost savings in recent years, realizing more than $750 million in annual synergies from its MillerCoors joint venture alone. In a mature, saturated market, that focus on cost has been a critical component in TAP's success. So has embracing the craft beer category, one of the fastest-growing areas in the alcoholic beverage market. By offering its own craft beers, like Batch 19, Molson Coors is able to find growth that it can't touch with its mainline beer brands.
This month's announcement that TAP was acquiring StarBev for $3.5 billion marks a big revenue shift for the firm -- it'll add significant exposure to the Central and European beer markets, places where beer consumption has traditionally been strong.
On the investor side, Molson Coors currently pays out a 3.13% dividend yield.
Molson Coors shows up on a list of
.
General Dynamics
General Dynamics
(GD) - Get Report
is a defense giant, producing everything from ships and tanks to secure communications equipment for the Defense Department. That exposure to warfare gives GD "sin stock" status.
But GD's exposure to Uncle Sam is actually one of its best attributes. Unlike most peers, which generate nearly all of their income from DoD, only around 72% of GD's sales come from Uncle Sam. That sales diversification should help to take some risk away from the potential for a defense budget cut. The other 28% of revenues come from a mix of foreign sales of defense equipment to our allies, as well as the sale of Gulfstream business jets.
A massive product backlog is one of the biggest aces in GD's pocket right now. With around two years of work already lined up, the firm isn't quite as beholden to near-term sales fluctuations as most manufacturers are. Because GD builds and sells vehicle platforms to the military, the firm also has a much smaller chance of getting squeezed out by budget constraints - Uncle Sam's massive installed base of tanks and armored vehicles will require to demand parts and total replacements for the foreseeable future.
With a solid balance sheet and a nearly 3% dividend payout, General Dynamics is a good way to get exposure to the defense sector without the added risks of some peers.
General Dynamics, one of
18 Dividend Stocks That Will Outlive the Hype
, shows up on a list of
18 Dividend Stocks That Will Outlive the Hype
.
Wynn Resorts
Luxury casino resort operator
Wynn Resorts
(WYNN) - Get Report
has offered some impressive performance in the last few years, in spite of weakness challenging most casino operators in the country.
There are two big reasons why Wynn has been so successful: It boasts some of the newest and most luxurious properties on the Vegas Strip, and most of its revenue
isn't
earned stateside. Instead, a full 69% of revenue comes from Macau, the Chinese gambling district that's become a crown jewel for the few casino operators who are able to secure a coveted gaming license from the government.
>>5 Stocks Endowment Funds Are Buying in 2012
Wynn has two properties in Macau, with a third on the way. With demand for gaming in Macau expected to increase in the next several years, ramping up supply of new luxury gaming space should continue to secure Wynn's spot as the go-to destination in Macau.
And in 2012, things are even looking up for Las Vegas, a town that's been a thorn in most casino operators' sides for the last few years. According to some projections, Vegas is expected to break its own record for visitors this year, a feat that bodes well for the town's casino properties -- and Wynn in particular.
As this sin stock continues to surpass Wall Street's expectations for the gaming industry, investors should be giving it a second look.
Diageo
$59 billion spirit company
Diageo
(DEO) - Get Report
, one of the
top-yielding food and beverage stocks
, owns some of the industry's most popular brands, including Smirnoff vodka, Captain Morgan rum, and Johnnie Walker scotch. Because consumers tend to stick to their favorite brand of vodka or whisky, DEO's deep portfolio of brands affords it an economic moat worth drinking to.
Scale has its advantages: Major benefits from Diageo's size are its distribution network and sales force. The firm has more than 2,800 sales people who only sell Diageo's offerings, supported by a distribution network that reaches 180 countries. The sales force drives top line growth for DEO, climbing revenues to almost $10 billion in the most recent fiscal year -- and the distribution network ensures that the firm is able to deliver those liquor bottles without cutting too deeply into margins.
Diageo has been focusing on the emerging market for growth in recent years, acquiring regional liquor varieties rather than trying to force Smirnoff and Bailey's Irish Cream on markets that aren't receptive to new offerings. That strategy should continue to be a key growth driver in the coming years.
To see all of these sin stock trades in action, check out
on Stockpickr.
-- Written by Roberto Pedone in Winderemere, Fla.
RELATED LINKS:
>>5 Stocks Under $10 Poised to Move Higher
>>5 Big Stocks to Trade for Gains in April
>>10 Dow Dogs That Are Barking for Gains
Follow Stockpickr on
and become a fan on
Facebook.
At the time of publication, author had no positions in stocks mentioned.
Jonas Elmerraji is the editor and portfolio manager of the Rhino Stock Report, a free investment advisory that returned 15% in 2008. He is a contributor to numerous financial outlets, including Forbes and Investopedia, and has been featured in Investor's Business Daily, in Consumer's Digest and on MSNBC.com.