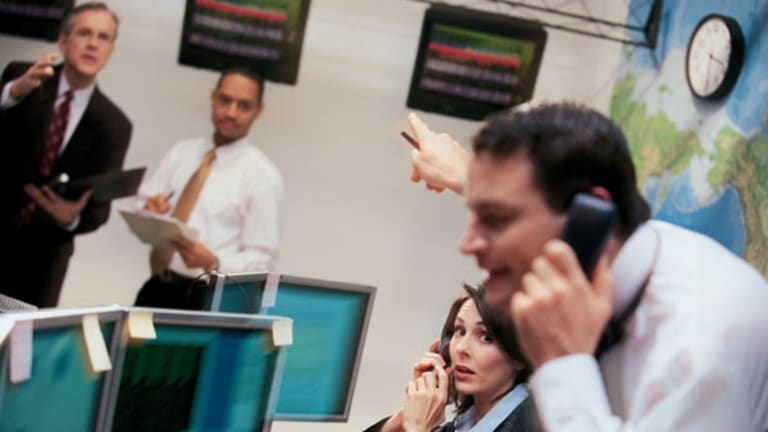 5 'Sin Stocks' to Play Defense in 2014
Defensive stocks don't have to be boring. Sin stocks offer an interesting mix of downside protection, income generation and fun.
BALTIMORE (Stockpickr) -- As the S&P 500 enters another corrective week, it's time to turn defensive with your portfolio. And one of the best ways to do that is by turning to a life of sin. Let me explain.
>>4 Big Stocks to Trade (or Not)
As an investor, the best defense is a good defense. And the best offense is a good defense too. Thats not just some investing platitude. Its backed up by stock market research. According to data collected by Cambria Investment Management CIO Mebane Faber, missing both the best and worst days of the year with a defensive market posture actually outperforms a buy-and-hold approach.
That's a pretty ringing endorsement for putting defensive names in your portfolio. But contrary to popular belief, defensive stocks don't have to be boring. Sin stocks offer an interesting mix of downside protection, income generation and, well, fun
Dont let the name fool you; sin stock companies aren't in the business of burning down old folks' homes. Instead, alcohol, tobacco, gambling and weapons firms are all classical examples of sin stocks. So what makes sin stocks so attractive when anxiety ratchets higher?
>>5 Active Trades for a Quiet Month
For starters, sin stocks tend to be businesses that provide a stress outlet for consumers. As a result, recession resistant revenues and sticky customer bases are the norm. The devil's in the details with sin stocks; because these firms generally sport wide economic moats and deeper margins than traditional consumer plays, sin stocks benefit from an extra qualitative boost that you cant find in any other group right now. That's not to say that sin stocks are recession-proof -- they're not. But they are certainly recession-resistant, which is more than an offense-centered investment strategy can offer.
Here's a look at five sin stocks that could outperform in this market.
Boston Beer
The last 12 months have been stellar for shares of Boston Beer (SAM) - Get Boston Beer Company, Inc. Class A Report -- the Samuel Adams brewer has rallied more than 59% since last January, gaining around double what the S&P 500 was able to turn out. So while SAM isn't quite as defensive as some of the other names on this list, it's a pedigreed sin stock with a very interesting business in 2014.
>>5 Stocks With Insider Buying
Boston Beer owns just 1% of the U.S. beer market, but that share is enough to make SAM the fourth-largest brewer in the country. If there's ever a poster child for an oligopoly, the beer business is it. But Boston Beer has been doing an impressive job of changing that -- the firm's Samuel Adams brand has grown from regional favorite to a national staple in the last couple of decades, and it's got exciting growth prospects in new offerings such as its Angry Orchard cider brand.
Much of SAM's success comes from evolving consumer taste for beer that's made the craft beer segment the fastest-growing corner of the alcoholic beverage industry. If SAM can continue to ramp up its production abilities, it should continue to grab a more meaningful chunk of the market.
Financially, Boston Beer is in stellar shape. The firm carries more than $43 million in cash and effectively zero debt. It also earns attractive margins thanks to the premium pricing that buyers are willing to pay for its craft brews.
While shares are hardly cheap right now, the momentum continues to look impressive in shares of SAM. I'd expect a near-term correction in the next couple of weeks followed by a low-risk buying opportunity.
Altria
Altria (MO) - Get Altria Group Inc Report has a business that's fraught with regulatory challenges -- and worse, it's dying a slow death. So why would you want to own shares of the tobacco giant?
>>Should You Invest in the Government's 5 Favorite Stocks?
In short, it's because all of those black clouds are already priced into shares. That makes Altria a cheap, relatively low risk income play in 2014.
Altria is the biggest tobacco company in the U.S., led by its Marlboro brand. The firm also owns non-cigarette businesses that include cigars and smokeless tobacco, Ste. Michelle Wine Estates and a massive stake in SABMiller (SBMRY). So yes, those holdings make MO the quintessential sin stock. Altria long ago spun its growth prospects off into Phillip Morris International (PM), keeping the atrophying U.S. business. But the key is that U.S. tobacco sales are declining slowly, so cigarette volumes should see slips in the mid-single digits for the next few years. In the meantime, the firm generates massive cash flows, and it pays out a huge chunk of those cash flows in the form of dividends.
There is some growth on Altria's horizons, however. The firm's investments in e-cig products and a partnership with Phillip Morris International could spur some new sales in 2014. And the firm's huge alcoholic beverage holdings give it a deceptively low-risk balance sheet: the firm's 27% stake in SABMiller adds up to around $7 per share for MO shareholders, greatly reducing the risks in this name.
Perhaps most important, shares currently pay out a 5.15% dividend yield.
Wynn Resorts
Wynn Resorts (WYNN) - Get Wynn Resorts, Limited (WYNN) Report is another name that's having an amazing year for shareholders. Since January 2013, shares of the $21 billion casino resort operator have rallied close to 71%. But that performance is more than just a roll of the dice; Wynn's deep economic moat makes it a best-in-breed gambling name right now.
>>5 Rocket Stocks to Stomp the S&P in 2014
As a major casino operator in Las Vegas and China, the firm operates a concentrated portfolio of high-end properties in each location. Even though the Wynn name is synonymous with Las Vegas (and 82% of Wynn's hotel rooms are located in Vegas), it's profitability isn't. Instead, around 70% of revenues actually come from Macau, the high-end Chinese gambling district. Macau is Wynn's crown jewel in large part because the firm is one of the few that's been granted a gaming license from the government. Wynn has two properties in Macau, with a third on the way.
One of the secrets to Wynn's success is its high-end positioning. With some of the newer five-star properties on the Vegas strip (all of Macau's megaresorts are relatively new), and positioning that caters to high-rollers, Wynn has been able to attract the big money and, just as significantly, the aspirational small money.
As the gambling industry enjoys some tailwinds heading into 2014, Wynn's still a great way to get exposure.
Raytheon
Lots of people forget that defense stocks -- such as Raytheon (RTN) - Get Raytheon Company Report -- fall into the "sin stock" category. Then again, too many investors forget about Raytheon too; the $28 billion defense contractor is dwarfed by its bigger rivals, but it's on our list today. At current prices, Raytheon pays out a 2.43% dividend yield.
>>4 Stocks Spiking on Big Volume
Raytheon is a U.S. defense contractor with a hand in everything from aircraft and missiles to computer networks and technical services. It earns around 75% of its revenues from the U.S. government, with the balance coming from foreign allies. Contracts with those U.S. allies are helping to expand international sales growth at a double-digit annualized pace and should take away some of the downside risk that Wall Street has already priced in from budgetary concerns at DoD.
Financially, the company has done a good job of leveraging its balance sheet in a positive way for the last few years. And while debt has grown to $4.7 billion, the firm's cash position has grown in lock-step to $3.9 billion. That liquidity gives RTN lots of options right now, especially as it ramps up its IT services arms here in the U.S. With a history of returning value to shareholders, this underappreciated defense contractor is a solid way to get exposure to the sector.
Diageo
Last, but certainly not least, is Diageo (DEO) - Get Diageo plc Sponsored ADR Report, the $81 billion alcoholic beverage stock that wears the crown of being the largest spirits producer in the world. The London-based firm owns a collection of segment-leading brands that include Smirnoff, Johnnie Walker, Captain Morgan and Crown Royal. And while Diageo may be best known for its liquor labels, it also owns the hugely popular Guinness stout beer brand.
Diageo is a mature alcoholic beverage maker. The firm's 25 premium liquor brands are sold in more than 180 countries, and its distribution channel includes more than 2,500 sales representatives whose job is to get Diageo's brands stocks on store shelves and behind bars. While a mature business makes growth prospects more challenging, the firm's growth-by-acquisition strategy has added some key labels to DEO's portfolio in recent years, particularly in emerging markets like China, where the firm has a subsidiary.
Even though the firm's acquisition appetite has levered up its balance sheet, DEO still operates under a pretty reasonable debt load of around $6.5 billion net. That level of borrowings leaves enough cash generation for the firm to pay a 2.3% dividend yield. With spirits volume increasing at a swift organic pace, DEO offers a hard-to-find combination of scale and growth potential right now.
To see all of these sin stock trades in action, check out The Sin Stocks 2014 Portfolio on Stockpickr.
-- Written by Jonas Elmerraji in Baltimore.
RELATED LINKS:
>>3 Retail Stocks on Traders' Radars
>>5 Stocks Under $10 Set to Soar
>>5 Big Tech Stocks to Sell Right Now
Follow Stockpickr on Twitter and become a fan on Facebook.
At the time of publication, author had no positions in stocks mentioned. Jonas Elmerraji, CMT, is a senior market analyst at Agora Financial in Baltimore and a contributor to TheStreet. Before that, he managed a portfolio of stocks for an investment advisory returned 15% in 2008. He has been featured in Forbes , Investor's Business Daily, and on CNBC.com. Jonas holds a degree in financial economics from UMBC and the Chartered Market Technician designation. Follow Jonas on Twitter @JonasElmerraji