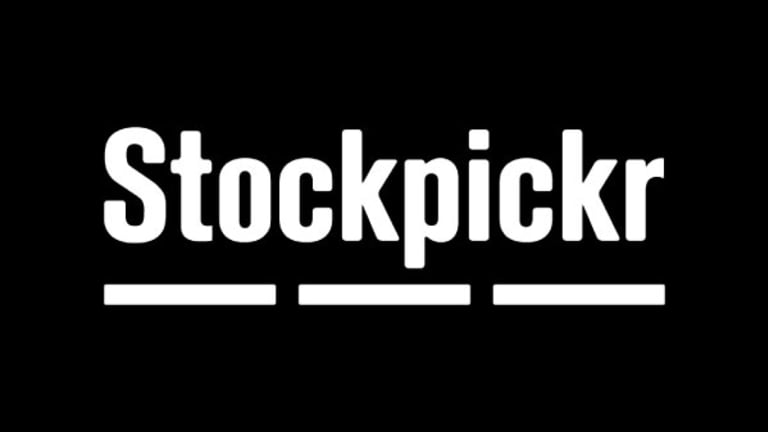 5 Scary Stocks to Sell Now
Beware of these investments; they could deliver frightful returns.
NEW YORK (Stockpickr) -- They say "a rising tide lifts all boats." And when it comes to stocks, a strong economy can propel even the most challenged business models.
But what about a lackluster economy? Well, that can really expose a weak hand as a lack pricing power, balance sheet weakness and few compelling new products can keep sales growth at a minimum and profits at bay.
Right now, we're looking at
five stocks that are losing money in 2011
(or seeing profits fall from past peaks) and could face an ever-bleaker picture in 2012 and beyond.
>>Also See: 5 Breakout Stocks That Could Soar
Eastman Kodak
Former blue-chip
Eastman Kodak
( EK) has fallen far from its once-mighty perch. The current $300 million market value is now down more than 95% from its peak, and even that valuation may be rich. The company hasn't earned a profit since 2004, is choking under more than $1.4 billion in debt and is looking to sell assets just to keep the creditors at bay.
Trouble is that those assets, such as the company's patents (and the royalty streams they engender), are one of the few sources of cash flow for the company.
Kodak is set to unveil quarterly results this Thursday, and judging by the plunging stock price, results won't be pretty. Rumors swirl that cash is getting tight and lenders are getting anxious. The Kodak brand may well live on as the company's still-appealing assets (such as a printing division) get acquired by rivals, but equity investors may no longer play a role in that future, if current bankruptcy rumors come to fruition.
Kodak shows up on a recent list of
3 Iconoic Companies on the Brink
.
Nokia
Nokia
has surged nearly 50% since early August as investors come to focus on a potential rebound for this former highflyer. Don't bet on it. With every passing quarter, rival cell phone vendors such as
Apple
(AAPL) - Get Apple Inc. Report
and
Samsung
pull farther and farther away. Even mighty
Google
(GOOG) - Get Alphabet Inc. Class C Report
aims to be a big player in the industry, thanks to its proposed acquisition of
Motorola Mobility Holdings
(MMI) - Get Marcus & Millichap, Inc. Report
.
In a bid to stay relevant, Nokia has hitched its wagon to
Microsoft
(MSFT) - Get Microsoft Corporation Report
. Trouble is, Microsoft is slipping into irrelevance in the battle for mobile software. How many people do you know that have recently shunned the iPhone or an Android phone in favor of a Windows phone?
Short-sellers already smell blood in the water, holding roughly 85 million shares in short-focused accounts.
>>5 Heavily Shorted Stocks Poised to Pop
Rite-Aid
The famous business dictum "lead, follow or get of the way" surely applies to drugstore chain
Rite-Aid
(RAD) - Get Rite Aid Corporation Report
.
CVS Caremark
(CVS) - Get CVS Health Corporation Report
is the leader, and
Walgreen
(WAG)
is following behind. Rite-Aid may need to "get out of the way" as the third player in a two-horse race.
The company is saddled with more than $6 billion in debt, and it surely hopes that any changes to Medicare don't result in a drop in the number of drugs that receive reimbursement coverage. It's those drugs that help bring customers into the stores, and without that foot traffic, sales would surely slump and current losses would expand.
>>12 Companies That Carry the Most Debt Risk
Rite-Aid hasn't made a dime since fiscal 2006, and that's unlikely to change any time soon. The open-ended losses are partially attributable to that debt load, which causes the drugstore operator to dole out more than $500 million in interest payments every year. That's money that could have been spent on store improvements.
An opportunity to get rid of the onerous debt load in an organized restructuring would be a wise move but would likely wipe out existing shareholders.
Barnes & Noble
When rival bookstore chain Borders tumbled into bankruptcy, it was a rare bit of good news for beleaguered retailer
Barnes & Noble
(BKS) - Get Barnes & Noble, Inc. Report
. The market may be shrinking, but at least Barnes & Noble is set up to control a bigger slice of the pie. But will there still even be a pie in five years?
Online bookseller
Amazon.com
(AMZN) - Get Amazon.com, Inc. Report
isn't looking to make books obsolete. But tablet computers such as Apple's iPad and Amazon's soon-to-launch Kindle Fire are leading more consumers to switch to digital reading. Of course, Barnes & Noble's Nook also wants some of that business, but that may be inadvertently hastening the whole company's demise.
>>Practice your stock trading strategies and win cash in our stock game.
In the world of retail, sales at any given store need to at least exceed fixed costs (such as labor, rent and utilities). If foot traffic drops below a certain level (as more people download rather than buy books), then a store becomes unprofitable. That's what happened to Blockbuster as Netflix's surging popularity turned Blockbuster's stores into ghost towns.
Will Barnes & Noble's Web site come to the rescue? Well, the online division is currently unprofitable, and with a rival like Amazon to worry about, it will probably never be able to boost prices and margins to a point where the website is solidly in the black.
Barnes & Noble is one of the
top-yeilding specialty retail stocks
, with a current yield of 8.3%.
AMR
The airline industry always seems to be one step away from its next major crisis. Whenever the economy slumps, debt-laden airline carriers suffer huge losses and suddenly look like bankruptcy candidates. This time is different. It really is. Most major carriers cleaned up their act in the last downturn of 2008 and 2009 and operate in a lean fashion with few balance sheet bombs lurking in the shadows.
The only carrier that didn't get the memo:
AMR
(AMR)
, parent of American Airlines. It's balance sheet carries an unhealthy level of debt, its fleet of planes are aging and consume far too much fuel, and key labor groups are angling for long-stalled pay arises.
Right now, AMR faces a Catch-22. If the economy gets better in 2012 and demand for its plane tickets rises, jet fuel prices are likely to become onerously high as global oil demand perks up. If the economy slows, jet fuel prices would fall but AMR would sell fewer tickets -- and at lower prices.
Is bankruptcy inevitable? Not necessarily. Management hopes to muddle through 2012 with decent customer demand and sub-$100 oil prices. That would give AMR time to get a better handle on the many operating headwinds. A sudden shock, such as a recession or a spike in oil prices toward the $120 per barrel mark, would be catastrophic for this industry laggard.
AMR is also on the list of
3 Iconic Companies on the Brink
.
To see these stocks in action, check out the
.
RELATED LINKS:
>>11 Low-PEG, High-Momentum Stocks
>>5 Rocket Stocks to Claim Gains This Week
>>5 Retail Stocks for Your Shopping Bag
Follow Stockpickr on
and become a fan on
Facebook.
Stockpickr is a wholly owned subsidiary of TheStreet.com.