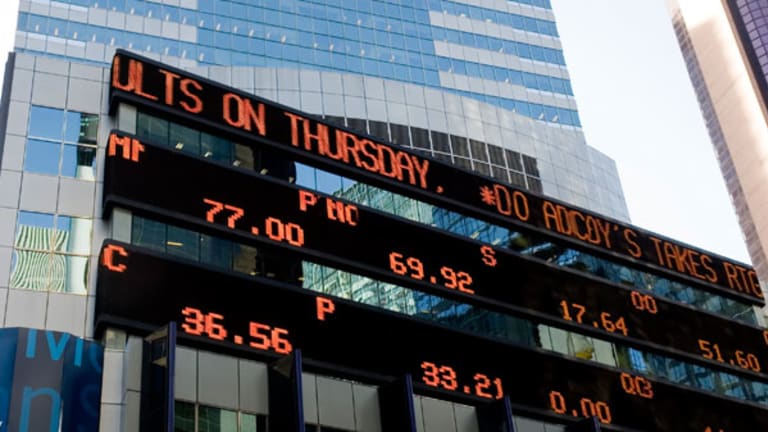 5 Rocket Stocks You Should Buy as Stocks Bounce
These stocks have both short-term gain catalysts and longer-term growth potential.
BALTIMORE (
) -- A bout of spring snow moving in on Wall Street is putting traders back in the holiday spirit this March morning, as Mr. Market stages a big bounce from last week's consolidation phase. While the real reason for this morning's buoyancy in stocks probably has more to do with Cyprus and the broad market's technicals than it does with the weather, the important thing is that the
is continuing its orderly rally this week.
With the S&P within grabbing distance of all-time highs before the open this morning, investors have good reason to ascribe some importance to today's price action. New highs are significant from a psychological perspective, and these highs are especially compelling because they haven't been led by big names such as
Apple
(AAPL) - Get Free Report
,
Exxon Mobil
(XOM) - Get Free Report
and
Wal-Mart
(WMT) - Get Free Report
. Instead, the rally has soldiered on in spite of them.
As the biggest market cap components of the S&P 500 start playing catch up, we could see some significant fuel thrown on top of this stock ascent. That's reason enough to take a closer look at five new Rocket Stock names this week.
>>5 Huge Stocks to Trade for Gains
For the uninitiated, "Rocket Stocks" are our list of companies with short-term gain catalysts and longer-term growth potential. To find them, I run a weekly quantitative screen that seeks out stocks with a combination of analyst upgrades and positive earnings surprises to identify rising analyst expectations, a bullish signal for stocks in any market. After all, where analysts' expectations are increasing, institutional cash often follows. In the last 192 weeks, our weekly list of five plays has outperformed the S&P 500 by 72.4%.
Without further ado, here's a look at
.
>>5 Must-Own Dividend Stocks for 2013
Johnson & Johnson
Up first is health care giant
Johnson & Johnson
(JNJ) - Get Free Report
. This $217 billion health stock is one of the mega-cap names that's been leading the push to new highs in 2013, with shares up close to 14% since the first trading session of the new year. Johnson & Johnson's positioning as the prototypical blue-chip stock gives it some extra shimmer in this market environment; the firm's 3% dividend yield is an attractive bonus while interest rates remain near historic lows.
Johnson & Johnson is best known for is consumer health care products, with items such as Band-Aid brand bandages and Tylenol in its product portfolio. But the firm's bread and butter comes from less consumer-driven pharmaceuticals and medical device sales, which generate a combined 78% of sales. That product diversification provides a huge advantage for JNJ, especially as investors remain anxious about the economic recovery.
Financially, Johnson & Johnson boasts a strong balance sheet with more than $5 billion in net cash (the number was higher before the acquisition of Synthes, a Swiss medical device maker that JNJ finalized last summer for almost $20 billion). With rising analyst sentiment adding onto JNJ's 2013 rally, we're betting on shares this week.
American Express
The financial sector has enjoyed some stellar performance of late, and
American Express
(AXP) - Get Free Report
has been no exception. Shares of the $73 billion payment network have rallied 15% already this year. American Express is the biggest of the vertically integrated payment networks; the firm has a hand in everything from retail and commercial banking to network operation to card issuing. That makes Amex stand apart from peers such as
Visa
(V) - Get Free Report
and
MasterCard
(MA) - Get Free Report
, which only run payment networks.
American Express boasts impressive brand positioning. The firm's flagship charge card products feature faster turnover than typical revolving credit lines, and they attract a more affluent consumer. That's why even though Amex has fewer customers than Visa or MasterCard, Amex's cardholders spend more money. That translates into higher revenues for American Express. And because AXP charges merchants dramatically higher rates to accept payments than other card networks, Amex sports thick net margins.
A rising tide of electronic payment adoption should benefit all payment network firms over the next few years -- there's no shortage of customers for this market. That said, Amex's market positioning courting more affluent (and spend-centric) consumers should ensure that the firm continues to grab the cream of the cardholder crop. To be sure, issuing cards does add significant risk to AXP's balance sheet -- but with a better handle on risks now, the firm also stands to earn much more for its trouble.
VMWare
VMWare
(VMW) - Get Free Report
is the league leader in computer virtualization, the software that enables a single physical computer into multiple virtual machines. The real-world uses of the firm's technology range from making data centers more cost efficient to operate to enabling employees remote access to their work PCs. Virtualization is big business because it's complex and it's hugely cost effective -- it makes far more financial sense for a data center to license VMW's software than it does to buy additional high-cost servers and rent more space to install them. The rising tide of data in the cloud bodes well for VMW in 2013.
The datacenter infrastructure business has largely been VMware's bread and butter since the firm's founding, but desktop solutions have become an attractive (if competitive) market for the firm. A robust customer Rolodex gives VMW plenty of corporate doors to knock on for the desktop business, and much like the credit card business, it's likely that a rising tide in virtualization will lift all ships in the near-term.
The victories that VMW earns right now are going to matter a lot down the line. That's because datacenters have huge switching costs if they decide to go with a different virtualization vendor, so customers aren't likely to jump ship unless they've got a good reason. International sales should continue to be a big growth opportunity for VMWare over the next few years.
Kellogg
Food manufacturer
Kellogg
(K) - Get Free Report
is more than just its portfolio of breakfast cereals -- the firm also owns convenience food brands such as Keebler, Pringles and Morningstar Farms. That product diversification offers Kellogg some distinct advantages, particularly because it enables firm to avoid concentrating risk in a single product line but it still lets the firm consolidate its distribution efforts to cut costs.
Like most food manufacturers, the biggest headwind for Kellogg in recent years has been input cost inflation. As agricultural commodities like corn and wheat uptick in price, K has to make the difficult decision of eating costs and ceding net margins or hiking prices and potentially ceding its market share. While margins haven't been as robust in recent years as a result, Kellogg has been doing a decent job of managing those risks.
An emphasis on marketing has been a big benefit for Kellogg -- the firm has consistently spent more than many peers on advertising, particularly on advertising new products. That's helped to keep consumers throwing dollars at Kellogg's offerings in grocery stores around the world. Today, international sales only account for around a third of the firm's total sales, a mix that leaves considerable room for overseas expansion. The addition of internationally popular brands like Pringles to the firm's operations should help achieve that.
AutoZone
Car parts retailer
AutoZone
(AZO) - Get Free Report
has been enjoying a multi-year rally fueled by an aging national car fleet, economic uncertainty, and the largest store network in the industry. At last count, AZO sported more than 4,700 U.S. stores as well as 320 locations in Mexico and one location in Brazil. The decision to focus international growth efforts on Latin America makes sense, particularly because the region's aging car fleet gives it more upside than the newer automobile trends in other emerging economies.
For AutoZone, it's not all about retail -- the firm also runs a lucrative commercial business, which provides parts to repair shops and service stations. While the margins aren't as deep for the commercial part supply business, the volumes are, and they enable AZO to take advantage of repair trends that extend beyond the do-it-yourselfers who stroll into one of the firm's stores. After all, the average car on the road in the U.S. today is older than it's ever been, and as a result, those cars are costing more to keep on the road.
New cars also cost more -- and buyers are looking to spread the costs of such large purchases over longer time horizons than ever before. That means that even as new car sales continue to power on, AZO shouldn't expect to see its core market dry up. Analyst sentiment has been surging lately in shares of this stock, so we're betting on shares this week.
To see all of this week's Rocket Stocks in action, check out
at Stockpickr.
-- Written by Jonas Elmerraji in Baltimore.
RELATED LINKS:
>>5 Stocks Under $10 Triggering Breakouts
>>5 Stocks Insiders Love Right Now
>>5 Toxic Tech Stocks You Should Sell in March
Follow Stockpickr on
and become a fan on
Facebook.
At the time of publication, author had no positions in stocks mentioned. Jonas Elmerraji, CMT, is a senior market analyst at Agora Financial in Baltimore and a contributor to
TheStreet
. Before that, he managed a portfolio of stocks for an investment advisory returned 15% in 2008. He has been featured in
Forbes
,
Investor's Business Daily
, and on
CNBC.com.
Jonas holds a degree in financial economics from UMBC and the Chartered Market Technician designation.