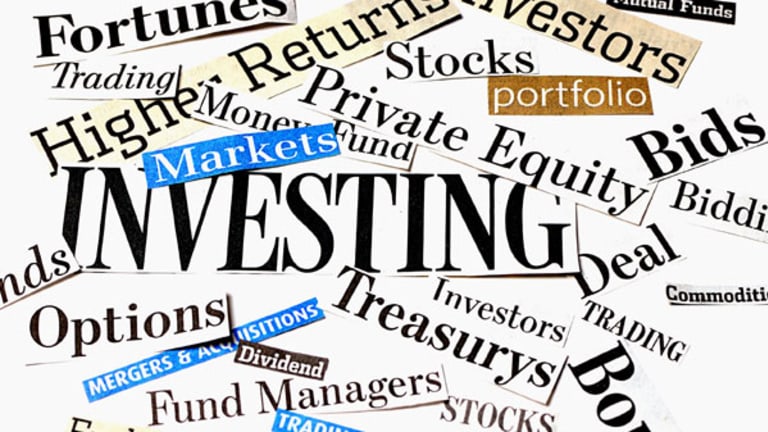 5 Rocket Stocks Worth Buying This Week
These stocks, including Visa and Devon, have both short-term gain catalysts and longer-term growth potential.
BALTIMORE (Stockpickr) -- Investors are finger-pointing this morning, looking for justification for the modestly lower direction in stocks to start the final week of February. Plausible explanations include everything from ECB cuts to G20 disappointment to oil prices to Greek debt.
Regardless of what's pushing stocks this morning (in reality, it's likely a combination of all four, plus myriad other factors on investors' minds), a little bit of perspective is needed as we sit just a couple of trading days away from a new month. So far in 2012, stocks have rallied more than 8.6% as U.S. equities post one of the strongest starts in the last decade. And on Friday, the
S&P 500
rose to its highest level in nearly four years, testing an important technical resistance level at 1365.
If the index can show some continuation later this week, Mr. Market would be sending a very strong bullish signal to investors.
>>5 Stocks Under $5 Making Big Moves
To take advantage of that potential momentum, we're looking at a handful of new Rocket Stock names that could benefit:
For the uninitiated, "Rocket Stocks" are our list of companies with short-term gain catalysts and longer-term growth potential. To find them, I run a weekly quantitative screen that seeks out stocks with a combination of analyst upgrades and positive earnings surprises to identify rising analyst expectations, a bullish signal for stocks in any market. After all, where analysts' expectations are increasing, institutional cash often follows.
In the last 141 weeks, our weekly list of five plays has outperformed the S&P 500 by 81.5%.
With that, here's a look at
.
Visa
While 2012 has been already been a good year for the broad market, it's been an even better one for electronic payment network
Visa
(V) - Get Visa Inc. Class A Report
. Shares of the $95 billion firm have rallied nearly twice as much, just shy of 16% on the year. And with consumers worldwide swiping their cards more frequently of late, that trend should continue to be strong for investors for the near-term.
Visa is the standard bearer in the payment card business. Approximately 60% of payment cards worldwide carry Visa's logo, which means that they contribute to the firm's top-line with every purchase of everything from beer to bedroom furniture.
In past years, the lack of credit risk on Visa's balance sheet has been one of its biggest plusses. Because the firm is the network -- not the issuer -- for its cards, it doesn't face the same liquidity threats that lenders do when times get tough.
Even better, the firm's relatively asset-light model keeps margins in the very deep double-digits and throws off considerable cash.
Another big plus for Visa is the continuing trend toward electronic payments over alternatives such as cash or checks. While competition remains pretty tough in the payment card business, a rising tide should help to lift all ships as consumers switch to the security and convenience of cards, particularly in emerging markets.
With rising analyst sentiment creeping up in shares of Visa this week, we're betting on shares.
Visa one of
, shows up on a recent list of
15 Best Stocks at Top-Performing Mutual Funds
.
eBay
Continuing the trend of this year's highfliers is
eBay
. The online auction site has seen its shares rally close to 20% this year, buoyed in large part by an electronic payments business of its own.
The firm's PayPal unit makes up nearly 40% of the firm's total sales, and owns approximately 20% of the online payments business. While that puts PayPal head-to-head against Visa in some respects, PayPal's compatibility with most credit card networks for buyers has helped to increase its popularity.
eBay's namesake online marketplace is still its claim to fame, even if the business has transitioned a bit over the years. Auctions are still an important part of the business, but "Buy It Now" and fixed-price sales now make up the bulk of the firm's top-line as businesses look for new ways to take advantage of the millions of users that hit eBay's site each day.
Cash is king right now for eBay. The firm holds close to $6 billion in cash with a relatively modest offsetting debt load. All of that dry powder gives the firm ample resources to consider another acquisition spree.
That's something that investors will want to keep a tight lid on. While targets like PayPal have been lucrative, other buys have proven less prescient. If management is going to deploy some of those cash reserves, they'll need to do it carefully. Ideally some sort of value return for shareholders (either a dividend or new buyback initiative) will come into play in the mid-term.
eBay is one of the
top holdings at Leon Cooperman's Omega Advisors
as of the most recently reported quarter, comprising 1.8% of the total portfolio.
Priceline.com
Priceline.com
(PCLN)
has been a standout stock over the course of the last year and change. As one of the world's biggest travel aggregators, Priceline's business has been plagued by weak demand for travel -- but that didn't stop the firm from tripling its share price since the start of 2008. Now the question is whether the highflying can continue.
As the floor fell out of the U.S. travel market a few years ago, Priceline was grabbing up share of the international market with both hands. That focus on international travel markets helped the company achieve jaw-dropping growth rates if only because it was a new entrant in a highly fragmented, competitive market. Many travel segments have effectively become commoditized in the last decade, a factor that's actually a big benefit for aggregators like Priceline. It means that the firm doesn't need to carry inventory, and as a result, it's able to generate profits even when travel prices are on the decline.
Hotel bookings are the lynchpin of Priceline's business, driving the majority of the firm's performance numbers. That gives Priceline some extra room to expand its bookings of other travel services to improve its cross-selling opportunities for its already robust customer Rolodex.
The combination of a unique model (the "Name Your Own Deal" concept), excellent room and flight sourcing, and overseas brand growth should continue to propel this stock in the months and years ahead.
Priceline, one of
Renaissance Technologies' top holdings
, shows up on a list of the
Top 10 Stocks of the Past Decade
.
MetLife
At first glance, it may seem like insurance is a boring business. But in reality, insurance is a buinsess that's full of excitement as firms are forced to walk the tightrope between risk and reward. As the largest insurer in the United States,
MetLife
(MET) - Get MetLife, Inc. Report
is no stranger to managing risk. The firm lives and dies by its ability to accurately gauge the risks of the policies it underwrites, as well as the investment portfolios of premiums that it manages to payout claims.
And MET is looking alive and well right now.
MetLife sells a diversified portfolio of insurance products, ranging from traditional life and auto insurance to retirement products like annuities. That wide base of offerings provides the firm with ample opportunities to sell complementary products to consumers in search of financial solutions. Because customer acquisition costs are one of the biggest expenses for insurers (short of misjudging risk exposure), that's an important competitive advantage in an industry where advantages are few and far between.
The firm's late April shareholder meeting looks like the next significant catalyst for share movement, following positive fourth quarter numbers announced earlier this month.
With analyst sentiment on the upswing, this stock is making our Rocket Stock list this week.
MetLife shows up on a recent list of
10 Stocks JPMorgan Says May Rise Up to 58%
and was one of
3 Top Financial Stock Picks for 2012 From Barclays
.
Devon Energy
$30 billion oil and gas exploration and production company
Devon Energy
(DVN) - Get Devon Energy Corporation Report
is benefitting in a big way from the slow climb of oil prices over the past few months. That's not to say that oil is all investors should be thinking about right now -- Devon actually generates the lion's share of its business from natural gas, with oil only accounting for around 40% of the firm's reserves.
But while oil makes up the minority of Devon's assets, the increasing price of crude is helping to help profits disproportionately in 2012.
That increasing crude price is also helping to make a case for Devon's bread-and-butter asset, natural gas. Nat gas prices have been under significant pressure over the last couple of years, but as oil climbs higher it's making a good substitution case for oil consumers to switch some of their energy needs over to nat gas. If that happens, demand for the commodity would increase dramatically, sending Devon's profitability higher in kind.
The fact that Devon enjoys deep margins already makes higher gas or oil prices look all the more attractive in 2012; they'll be able to contribute profitability at an increasing rate as prices climb at a linear rate.
Devon shows up on a list of
.
To see all of this week's Rocket Stocks in action, check out
at Stockpickr.
-- Written by Jonas Elmerraji in Baltimore.
RELATED LINKS:
>>5 Stocks Insiders Love Right Now
>>7 Dividend Stocks That Want to Pay You More Money
>>5 Big Stocks to Trade for Gains
Follow Stockpickr on
and become a fan on
Facebook.
At the time of publication, author had no positions in stocks mentioned.
Jonas Elmerraji is the editor and portfolio manager of the Rhino Stock Report, a free investment advisory that returned 15% in 2008. He is a contributor to numerous financial outlets, including Forbes and Investopedia, and has been featured in Investor's Business Daily, in Consumer's Digest and on MSNBC.com.