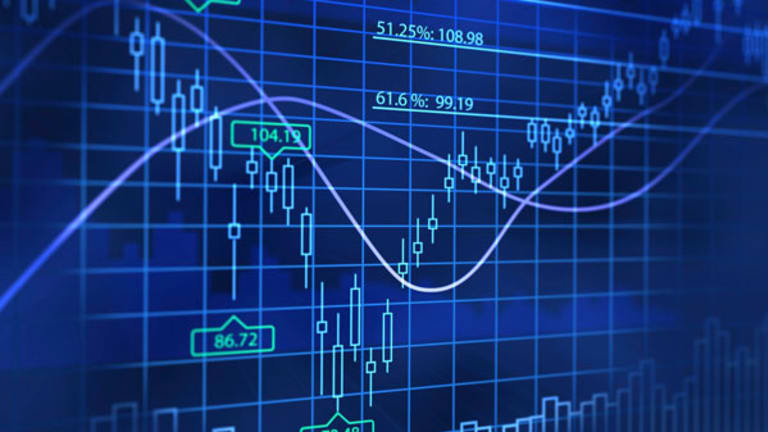 5 Rocket Stocks to Claim Gains This Week
These stocks have both short-term gain catalysts and longer-term growth potential.
BALTIMORE (Stockpickr) -- Today may be Halloween, but it looks like Mr. Market has already shaken the skeletons out of his closet. So far, October has produced the biggest single-month gains since 1974 -- unless you're short the market right now, there's nothing scary about that.
As of this writing, October gains in the
S&P 500
have weighed in at 13.4%. In a few ways, that number is a bit misleading -- year-to-date gains still sit in the very low single-digits for most major indices. The fact that the broad market found a bottom as the calendar ticked over to October looks more coincidental than causal. Even so, that large bullish push in stocks indicates a massive shift in investor sentiment right now.
It also means that stocks actually stand a chance at re-testing April's highs before the end of 2011. To take advantage of that upside momentum, we're turning to a new set of Rocket Stocks this week.
>>5 Stocks Under $10 With Big Upside Potential
For the uninitiated, Rocket Stocks are our list of companies with short-term gain catalysts and longer-term growth potential. To find them, I run a weekly quantitative screen that seeks out stocks with a combination of analyst upgrades and positive earnings surprises to identify rising analyst expectations, a bullish signal for stocks in any market. After all, where analysts' expectations are increasing, institutional cash often follows.
In the last 127 weeks, our weekly list of five plays has outperformed the S&P 500 by 78.2%. This week, we'll aim to continue beating the market with another set of names.
With that, here's a look at
.
IBM
IT behemoth
IBM
(IBM) - Get Report
tops off our list of Rocket Stock names for this week. The $220 billion firm is one of the largest names in the industry, with a diversified portfolio of technology-related businesses and an equally diversified geographic base. IBM was one of the first firms to realize that the commoditized PC business offered little in the way of advantages, selling off to Lenovo back in 2005. Since then, the company has been focused on the enterprise IT business -- and competitors have been stuck playing catch up.
IBM's hardware offerings include everything from mainframes to servers -- and its software and services units are focused on helping its enterprise clients deal with a huge breadth of IT needs. The fact that IBM casts a wide net is important; that scale helps the firm capture emerging trends (such as cloud computing) early.
While IBM's advantages are large, competition is clearly mounting as computer makers get crowded out. That means that IBM will need to continue to be an innovator if it's going to be able to sustain industry leading EPS growth rates. With analyst sentiment on the upswing, we're betting on shares this week.
IBM, one of TheStreet Ratings'
, is also one of the
highest-yielding computer hardware stocks
.
Occidental Petroleum
$80 billion energy exploration and production company
Occidental Petroleum
(OXY) - Get Report
released positive third-quarter earnings last week, with the firm's bottom line increasing by 48%. Occidental's 700,000+ barrels per day of production cements it status as a large oil play, even if it lacks the high profile of a supermajor. F
rom a strategic standpoint, Occidental isn't known for knocking it out of the park with speculative gambles. Instead, the company focuses on acquiring and developing projects with proven reserves. While that's a more costly strategy, it's been a successful one.
As a result, Occidental boasts a strong balance sheet with very minimal debt. Rather than borrowing, the firm has traditionally used cash flows to finance its growth -- and while that's resulted in relatively little balance sheet liquidity on an ongoing basis, the firm's ability to either hoard cash or borrow more makes lowered oil prices less of a concern in the mid-term.
>>5 Oil & Gas Stocks to Take Advantage Of
Occidental's expertise at extracting more oil from older fields should be of particular importance, particularly down the road as more established projects reach their peak production. In the shorter term, I suspect that inflationary pressures will help to sustain oil prices in very profitable territory for this firm.
Occidental, one of the
top holdings at Ken Heebner's Capital Growth Management
, shows up on a recent list of
Large-Cap Stocks With Room to Grow Dividends
.
Citrix
Citrix
(CTXS) - Get Report
is another name that announced earnings late last week. The technology firm is the league leader in virtualization right now, and it shows: Sales grew 20% over the quarter a year ago, prompting shares to rally in response.
We're going to take advantage of that upside momentum this week.
By carving out a narrow niche in desktop virtualization, Citrix stands to be at the front of an increasing trend in technology. Virtualization has been a common theme on the enterprise IT side of the tech world for a while now, but virtualization and remote access on the end-user side is only now becoming commonplace. Experience marketing its consumer offering, GoToMyPC, is likely to be one of the hardest nuts for competitors to crack.
As of the most recently reported period, Citrix shows up in the portfolios of
Leon Cooperman's Omega Advisors
,
John Griffin's Blue Ridge Capital
and
.
Dick's Sporting Goods
Aptly named sporting retailer
Dick's Sporting Goods
(DKS) - Get Report
owns 444 eponymous stores spread throughout the U.S., as well as 81 Golf Galaxy locations. Like most retailers, the firm got hit hard during the height of the recession, as consumer spending stalled and stores who aggressively grew their geographic footprints got punished for their overleveraged balance sheets.
But Dick's has managed better than most to do well in the years since. Part of that success is thanks to particularly strong retail margins, which have traditionally fuelled double-digit returns on equity in the past. A focus on higher-end merchandise is the reason why the firm's margins come in as high as they do -- by marketing name brands and higher-priced equipment, the firm is able to take home a bigger piece of each sale.
>>5 Retail Stocks for Your Shopping Bag
If the recession taught Dick's anything, it's that pricey brands aren't the only path to high margins. Now the firm's growing private label products are providing the company with another way to grow its profitability. As long as Dick's doesn't try to immediately supplant brand-dependent products (such as apparel), they should be a successful complement to sales.
Dick's is one of TheStreet Ratings'
top-rated specialty retail stocks
.
Williams-Sonoma
Another retail name to watch this week is
Williams-Sonoma
(WSM) - Get Report
, home furnishing seller whose concepts range from kitchen products (Williams-Sonoma) to furniture and accessories (Pottery Barn). Angst over Williams-Sonoma's double exposure to both retail and housing caused the firm's share price to more than halve between 2007 and 2008, but ultimately, neither of those arguments played out like Wall Street expected.
On the retail side, WSM's exposure to the higher-end of the spectrum turned out to be the firm's saving grace, as luxury spending held up better than other categories. At the same time, with housing crashing, consumers who could no longer afford a new, bigger house were compromising by upgrading their furnishings instead. While the sinking tide of a contracting economy certainly impacted Williams-Sonoma's top-line, those factors helped to offset the pain.
Margins and product mix have been two of WSM's biggest directives in the years since. By trimming operating expenses and marketing to new niches, the firm has been able to build its share price back to pre-recession levels. Shares have been relatively lackluster in 2011 -- but rising analyst sentiment for this housewares retailer could help to spur a fourth quarter rally.
To see all of this week's Rocket Stocks in action, check out
at Stockpickr.
-- Written by Jonas Elmerraji in Baltimore.
RELATED LINKS:
>>11 Low-PEG, High-Momentum Stocks
>>5 Breakout Stocks That Could Soar
>>5 Big-Name Stocks to Trade for Gains
Follow Stockpickr on
and become a fan on
Facebook.
At the time of publication, author had no positions in stocks mentioned.
Jonas Elmerraji is the editor and portfolio manager of the Rhino Stock Report, a free investment advisory that returned 15% in 2008. He is a contributor to numerous financial outlets, including Forbes and Investopedia, and has been featured in Investor's Business Daily, in Consumer's Digest and on MSNBC.com.