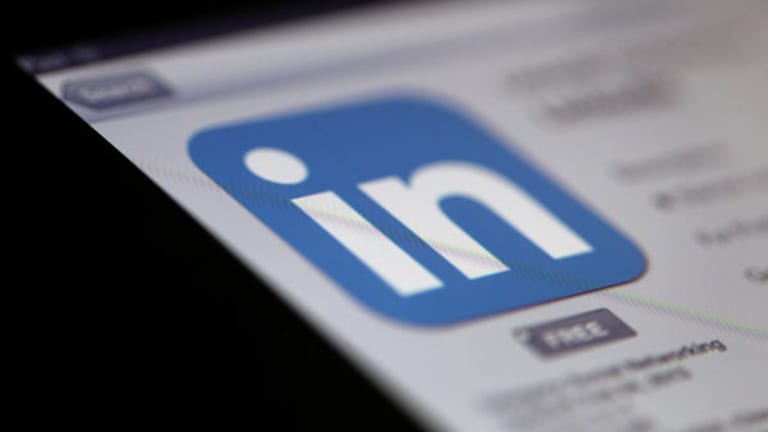 5 Rocket Stocks to Buy This Week: Schwab, LinkedIn and More
U.S. markets are getting back to business this morning with the first full week of trading for 2015.
U.S. markets are getting back to business this morning with the first full week of trading for 2015.
BALTIMORE (Stockpickr) -- Well, that's it. The holiday's over. After two straight weeks of shortened, low-volume trading surrounding the Christmas and New Year's holidays, U.S. markets are getting back to business this morning with the first full week of trading for 2015.
At first glance, 2015 is turning into an extension of the big macro factors that moved markets just a couple of weeks ago. For instance, crude prices plummeted overnight, dropping more than 3% overnight to a more than five year low below $55 a barrel. And after a lower inaugural 2015 session on Friday, U.S. markets are pointing slightly lower again to start Monday.
To get on the right side of the price action, we're turning to a fresh set of Rocket Stocks this week.
For the uninitiated, "Rocket Stocks" are our list of companies with short-term gain catalysts and longer-term growth potential. To find them, I run a weekly quantitative screen that seeks out stocks with a combination of analyst upgrades and positive earnings surprises to identify rising analyst expectations, a bullish signal for stocks in any market. After all, where analysts' expectations are increasing, institutional cash often follows. In the last 281 weeks, our weekly list of five plays has outperformed the S&P 500's record run by 77.42%.
Without further ado, here's a look at this week's Rocket Stocks.
Charles Schwab
Up first is discount broker Charles Schwab (SCHW) - Get Report -- though calling Schwab a broker probably isn't a very accurate description. In recent years, the firm has greatly expanded its reach in the financial sector, branching out to offer banking and asset management services. Ultimately, Schwab's fortunes are inextricably tied to the stock market's performance, so as this multi-year rally kicks off on another year, buying Schwab is a little like a leveraged bet on stock prices.
Like other brokers, low interest rates have been a huge hit to Schwab's profitability. Typically, brokerage firms earn a huge chunk of their revenues on float and margin interest, two revenue sources that have fallen off a cliff thanks to low rates. And contrary to popular belief, it seems unlikely that the Fed will have the capabilities to raise rates in the first half of this year. But SCHW has been expanding its reach into fee-based businesses to counter that "new normal" rate environment, and that's reflected in share prices.
Schwab's new "robo-advisor" platform has the potential to shake things up, particularly as similar startup services have garnered huge attention in the last year. Schwab's existing customer Rolodex gives it an inherent advantage in setting up Schwab Intelligent Portfolios, and if it's successful, the firm will have little trouble monetizing those low-touch advisory clients. Trading revenue has quietly been coming back in the last couple of years, and Schwab has seen material year-over-year growth since 2010 as a result.
Investors will get their next hint of SCHW's progress during the firm's fourth quarter earnings call on Jan. 15.
LinkedIn
$28 billion professional social network LinkedIn (LNKD) hasn't been getting the attention of, say, much bigger peer Facebook (FB) - Get Report in the past year. Since last January, LinkedIn has only generated a quarter of the total returns that FB has paid out. But it's a big mistake to ignore LNKD in 2015. What LinkedIn lacks in scale and scope it more than makes up for with attractive revenue channels in a job market that's been heating up.
While other social media firms earn revenue by distracting their users with advertising (while they're trying to stalk their friends, for instance), LNKD makes money by helping its 300 million users with the exact task they're trying to accomplish: find a job, network or hire someone. More specifically, the firm earns revenues through online advertising, premium subscriptions, and job listings. Because LinkedIn has a clear-cut value proposition for consumers (it helps them market themselves to employers), its user stickiness is significantly higher than rival social media sites.
Importantly, LinkedIn continues to generate growth at double-digit annual rates. In the most recent quarter, the firm grew its top-line by more than 45% versus the prior year, and earnings grew in kind. There's no question that LinkedIn trades for a pricey valuation right now, but its momentum in recent months helps justify being a buyer here.
Western Digital
Tomorrow, International CES kicks off in Las Vegas, and $25 billion computer storage stock Western Digital (WDC) - Get Report will be making a big showing at the mammoth-sized tech event. The firm is hoping to tack onto the performance it generated for the last year, closing the books with more than 32% gains for 2014. As WDC steps deeper into the solid-state drive (SSD) market, it's securing growth for the years ahead.
Western Digital still earns 95% of its revenues from conventional hard drives. The firm is one of the biggest storage manufacturers on the planet, laying claim to a big share of a very attractive growth market. Taking into consideration cloud computing services that back up consumers' mobile devices and PCs, the growth of high-resolution streaming video, and big data on the enterprise side, WDC will have no trouble finding buyers for its products in the years ahead. The future, though, is in SSDs. So as Western Digital takes advantages of some of its big investments in the SSD space, expect to see margins make their way higher.
The dual-pronged storage business at Western Digital means that it can continue to sell hard drives in volume, particularly in cost-conscious markets, and it can establish a foothold in the SSD space higher along the cost spectrum. Financially speaking, WDC is in great shape, with approximately $3 billion in net cash stuffed in its balance sheet. That works out to nearly 12% of the firm's market cap paid for in cold, hard cash today.
Look for another upside catalyst in fiscal second quarter earnings scheduled for Jan. 20.
CDW
2014 was a stellar year for another tech-centric name: CDW (CDW) - Get Report . In the last 12 months, CDW has rallied more than 49%, beating the rest of the broad market by a huge margin -- and there's reason to believe that this IT solutions outfitter can keep up that trajectory in 2015.
CDW is one of the largest technology resellers to businesses, governments and other organizations, booking more than $10.7 billion in sales last year. CDW provides customers with equipment ranging from the PCs sitting on employee desktops to the servers and network appliances that do the heavy lifting behind the scenes. But CDW is more than a retailer on a grand scale; like other resellers, it adds value by leveraging its expertise to help organizations make big-dollar purchase decisions, orchestrating equipment leases, maintaining equipment, and configuring it. It's that value-added proposition that keeps customers coming back -- and it keeps CDW's margins thicker than comparable retail operations.
Growing IT budgets have provided a moderate tailwind for CDW's sales growth. If the firm can establish relationships while the market remains in growth mode, it'll be able to ramp up profitability when times get leaner.
With rising analyst sentiment in CDW this week, we're betting on shares of this Rocket Stock.
Wisconsin Energy
Last up on our list of Rocket Stock names is Wisconsin Energy (WEC) - Get Report , the $12 billion electric and gas utility that provides more than 2.1 million customers in the Midwest. The planned acquisition of Integrys Energy Group (TEG) , announced in June, will add another 1.7 million customers in the region to WEC's customer list.
WEC's growth-by-acquisition strategy isn't cheap, but it does open the door to much bigger long-term growth prospects than it could find otherwise. The deal also boosts WEC's ownership in American Transmission Company to 60%, diversifying Wisconsin Energy's income statement with an attractive business that it already held a minority interest in. Ultimately, dividends and utilities go hand-in-hand, and the pending merger gives WEC the clear runway it needs to keep boosting its payouts.
Expect those big dividends to be an important factor for shares of WEC in 2015. With the Fed expected to raise rates sooner rather than later, any postponement of a rate hike should translate into a big price jump for high-yield names like Wisconsin Energy. Right now, the firm's yield sits at 3.2%.
-- Written by Jonas Elmerraji in Baltimore.
Follow Stockpickr on Twitter and become a fan on Facebook.
At the time of publication, author had no positions in the names mentioned.
Jonas Elmerraji, CMT, is a senior market analyst at Agora Financial in Baltimore and a contributor to TheStreet. Before that, he managed a portfolio of stocks for an investment advisory that returned 15% in 2008. He has been featured in Forbes , Investor's Business Daily, and on CNBC.com. Jonas holds a degree in financial economics from UMBC and the Chartered Market Technician designation.
Follow Jonas on Twitter @JonasElmerraji
Jonas Elmerraji, CMT, is a senior market analyst at Agora Financial in Baltimore and a contributor to
TheStreet
. Before that, he managed a portfolio of stocks for an investment advisory returned 15% in 2008. He has been featured in
Forbes
,
Investor's Business Daily
and on
CNBC.com
. Jonas holds a degree in financial economics from UMBC and the Chartered Market Technician designation. Follow Jonas on Twitter @JonasElmerraji.